My Pillow Standard Queen Size, Medium Fill As Seen on TV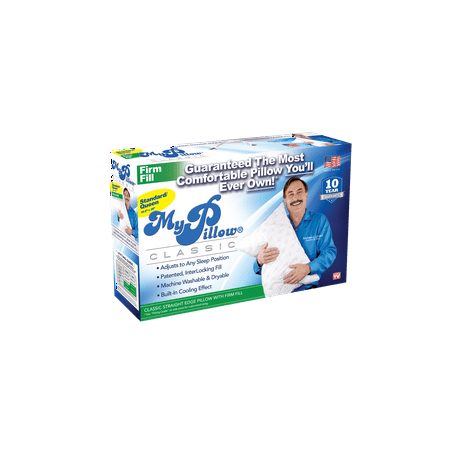 MSRP :

$59.88





Sale :

$39.88

Sold & shipped by Walmart
Product Description

Additional Information

Reviews
Product Description
Prepare yourself for a wonderful night of sleep with this As Seen on TV My Pillow. It is designed to keep your nerves and vertebrae in alignment for a more comfortable slumber. This comfort pillow will provide you with deeper and longer REM sleep so you wake up feeling more refreshed. The built-in cooling effect keeps the surface cool so you will spend your night at just the right temperature that's comfortable for you. It is easy to keep it clean and fresh. This As Seen on TV pillow creates an exact custom fit that molds to your body so it's simple to find a comfortable position. It also helps to relax the cervical nerves on each side of your neck. This allows for increased blood flow, thereby reducing the likelihood of migraine headaches and muscle cramps. It can also be helpful in improving allergy and asthma symptoms thanks to the hypoallergenic material. This helps to eliminate dust mites, mold and pollen.
Additional Information
As Seen on TV My Pillow Standard Queen Size Features:

• The World's Most Comfortable Pillow ™

• King - 18.5" x 34"

• Standard/Queen - 18.5" x 28"

• 10-Year Warranty

• Machine washable and dryable

• Adjusts to your individual needs

• Made with patented interlocking fill



Reviews
Lumpy
Saddened
I honestly could not afford this pillow but went for it anyways because of my neck pain from using flat or overstuffed pillows. I cannot tell you how disappointed I was after a week of using the my pillow. I began having headaches and the neck pain became worse. It is impossible for me to even hear this man's voice telling everyone how great this pillow is I just have to mute the tv or change the channel. I'm out my hard earned money but definitely learned my lesson. Do your homework before you buy this pillow.
cando
junk
Pillow was to firm for me and had headache in morning. Someone said to remove some foam and to my surprise the foam was just cheap shredded foam. Save your money and by a cheap pillow at Walmart for $5.00.
MYTHROWS
Love MyPillow
My Pillow does exactly what the commercial says it does. It holds its shape. I've had my pillow for a month now and I loved it so much I bought one for my husband as a Christmas present. People complain that it has chopped up foam inside. But that's what makes My Pillow so comfortable because the foam doesn't stay in one position it mixes up so he holds its shape all the time to make it comfortable for your head and neck . I highly recommend My Pillow to everyone that would like a comfortable good nights sleep.
Joyce
BIG MISTAKE: Waste of money!
My husband bought these pillows for us without reading the reviews.....big mistake! After 9 days I am returning them for a refund. I followed the instructions on heating in the dryer before use and how to position the pillow for best support. After one night the pillow had a crater from my head that I could never again seem to fill correctly. I was constantly shaking and beating the pillow trying to move the shredded foam stuffing around. I don't know how this pillow got awards or why the pillows are so expensive. Patented filling seems to be a stretch. Shredded foam pillows are most likely made from scrap foam left from manufacture of other products. I hated the lumpy texture and how small in depth and high the pillow is. If they were 1/3 the price I would probably have just not bothered to return them. But at $50 each, I felt cheated on what we received for that amount. My advice is to not buy this pillow. They are way overpriced and no better than a cheap pillow.
selhaverramos
Eh...Love Hate Relationship
Hubby bought this pillow for himself and absolutely loves it. He's a hard sleeper and squashes pillows flat. He got one for me but I did not fall in love with it like he did but still use it. Going from my super smooth and light weight down pillow to this lumpy mess was a nightmare. I needed to do something though as my neck pain was increasing and the down pillow too flat from me sleeping in a raised position due to vertigo. I continued to give MyPillow a chance for over a month, grumbling every night about the lumps and bumps and re-fluffing probably 3x a night, waking up with a headache until finally I realized I was no longer waking up with neck pain and the headaches subsided. So...this is not an instant fix pillow. I will never say I love it because I still find the lumps annoying as heck and have been known to toss the pillow on the floor lol. But it does fluff back up time after time and especially after washing. Truly a love hate relationship and for that I give it 3 stars.