As Seen on TV Atomic Beam Tactical Grade LED Flashlight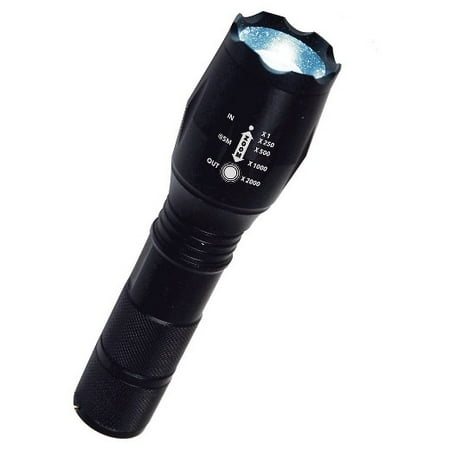 MSRP :

$19.88





Sale :

$14.97

Sold & shipped by Walmart
Product Description

Additional Information

Reviews
Product Description
As Seen on TV - The Atomic Beam USA - Waterproof Tactical LED Flash Light can be great equipment for your home improvement project. The As Seen On TV Atomic Beam - Tactical Grade Waterproof LED Bright Flashlight features 5,000 LUX of illumination, this flash light illuminates 40 times more than ordinary flashlights. This Waterproof LED flash light is built with tactical-grade aluminum case for a lightweight and tough use. This tactical grade flashlight offers a sturdy, reliable, and convenient light source for everyday uses. Ordinary flashlights might put out a feeble 125 Lux, but Atomic Beam USA tactical flashlight uses an LED that puts out up to an incredible 5000 LUX... that's 40 times more! Use the focus feature for a super-bright spotlight that can be seen from miles away or the powerful strobe to stun an intruder! The tough-grade aluminum case can withstand almost any abuse including water. It's compact, aluminum and lightweight so you can take it anywhere! Also containing 5 different beam modes: high, med, low, strobe, and SOS! The adjustable beam focus for ranges of spotlight to even floodlight, the The As Seen On TV Atomic Beam - Tactical Grade Waterproof LED Bright Flashlight will not fail you. Get rid of your old plastic flashlight and upgrade now to one you can use in water!
Additional Information
As Seen On TV Atomic Beam - Tactical Grade Bright Flashlight:
Atomic Beam Flashlight
Tough grade tactical LED flashlight
Portable and easy to use handheld flashlight
Up to an incredible 5,000 lux
Reviews
KMH
Save your money
Decent light but definitely NOT 40x brighter than anything, other than maybe 2x as bright as my phone's flashlight and 1.5x as bright as my 2 for $1.99 (9 led)cheap flashlights from the dollar store. Don't waste the money. I own a 580 Lumen Quantum tactical flashlight from Harbor Freight that is not only brighter than this, lighter, cheaper, better zoom focus ability and.....you don't have to hit the switch 5-6x to get thru all the modes just to shut it off!!! Annoying and truthfully not that bright. There are definitely comparable lights, for less money, that far exceed what this flashlight is. Don't be fooled by the "5000 lux" rating, it means nothing which is likely why they didn't bother with lumens, the standard measurement of portable light in today's market.
Gemlady
Awesome flashlight
Excellent flashlight. Better than any other I have ever used.
Robert
Awesome flashlight
Not the exact light I bought from store a year ago. Lighter and not as bright. Thought about sending back but for $13 vs. $20 from store, decided to keep it.
jerak
WOW
I bought this for my mom who walks our dog in our field in the late evening when it is dark. The beam is far brighter than I imagined, it lights up a huge area so she can really see. The focused beam is nice to for lighting up a much smaller area. It was smaller than I expected and so much lighter than most flashlights. Easy to carry, easy to use... I couldn't ask for more.
Kathy
As seen on TV Atomic Beam
After purchasing this for Christmas as a gift for my son I brought 2 more. I have never seen such beams on a small flashlight. We live on almost an acre and the wide beam lights up our whole backyard. We have a creek at the end of our property that floods during heavy rains. The next time this happens at night we will be able to shine this out the window to check on things instead of grabbing an umbrella and flashlight and walking down there in the rain.Also what an excellent extra guide light to have if you are out boating and it gets dark.Kathy I am very impressed with this product.