Scoop Away Extra Strength, Scented Cat Litter, 25 lbs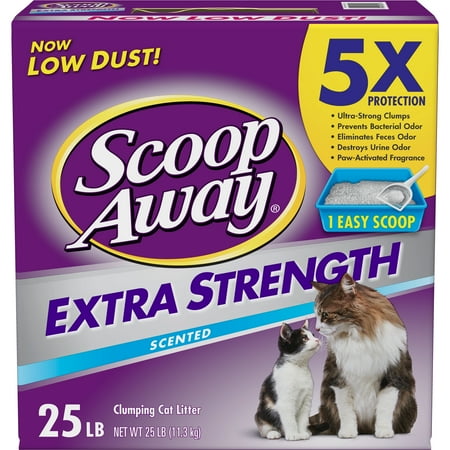 Sale :

$10.84

Sold & shipped by Walmart
Product Description

Additional Information

Reviews
Product Description
Scoop Away Extra Strength, Scented Cat Litter has Odor Guard technology to control the worst litter box odors.
Additional Information
25 pound carton of Scoop Away Extra Strength, Scented Cat Litter
Maximum Odor Control with Odor Guard Technology
Strong clumps for easy cleanup
Fresh, clean scent
Fortified with Ammonia Shield to destroy litter box odors and stop growth of bacterial odors
Reviews
Catsissie
Great kitty litter!
The litter promises to clump and not make a fuss about what it does. Considering that my elderly lady Cat has trouble these days doing the burial of her, ah, leavings, it is up to me to check on her, and the litter does its job very well. And my sweet lady is pleased, too. While it does say "scented", it isn't so much scented as you'd think. It's just not perfumed. We'll take that! One thing, however--it's a first, considering that I've had other brands of litter delivered to my home and other products, powdered and liquid, delivered, none of which have ever been a problem. The Scoop Away box broke and arrived with barely half of the product left in it. The delivery person probably was quite surprised to find it in the truck! Most of it didn't end up in the box--for which I'm sorry. So instead of 25 pounds, I ended up with about 12 or 13 pounds. Too bad, too, since I and my cat were so pleased. I'd like to order more of this.
FreebyrdNY
Better than any cat litters I've tried!
1st I would like to say that I love the new Extra Strength "Extreme odor" Scoop Away, I was able to find one box of it and was really happy with it, the smell was great, not as dusty as others and absolutely NO litter box odor at all, even if I got lazy and didn't scoop for a day! After that is said - I can't get the "Extreme Odor" Scoop Away anymore after the one box I found, I ordered 2 online and was so happy thinking that I had finally found it, because Walmart sure does show a picture of it for sale...you can imagine how mad I was that I got the old Extra Strength SA instead!!! This stuff is awful, it is so dusty that when I pour even a little in to top off the pan the cloud of dust chokes me out of the room, and it lingers forever! So, I recommend the Extreme Odor Scoop Away very much, but suggest buying it in the store to make sure that you get what you pay for...
BigK
Scoop away problems
I have two cats and have tried numerous brands of kitty litter. Scoop Away is THE best. I don't have the litter box smell when walking in my house from outside. The fragrance is light and airy, not a heavy perfume and doesn't linger heavily in the air. My cats took to it immediately while some brands I had to place them in the litter box. And it clumps so good - I don't have messes where my scoop only picks up the clump to have it break into pieces and fall through the prongs. And it lasts it seems forever!! Even though it said you don't have to toss, I do after 3 weeks - just because that's who I am. It still smells fresh and clean as it did the first day I filled the litter box. I can't rave enough about this product. The only suggestion I would make and it would apply to all litters, is to control the dust when pouring from the box.
lightlovebeing
Scoop away problems
I recently adopted a cat and this is the fourth litter I have tried and I like the Scoop Away Extra Strength the best. The scent is not so strong if you leave the top off the litter for a few hours and it does not have any more dust than others I have used. The box claims that you NEVER have to totally empty the litter because it clumps so well and I would love that - saves money and it is heavy to carry to the big trash. After 2 weeks, there is absolutely no odor in the box or house. I had to throw out the last clumping litter after 2 weeks because we could smell the box throughout the house. My cat is a talker and she let me know that she knew it was new litter, but did not seem upset and she uses it as usual. I did not purchase this online, but in a store.
Syfymel2015
Scoop away problems
I love this item so much that I switched from Fresh Step performs much better the price was perfect