Purple Power Degreaser Concentrate, 2.5 Gallons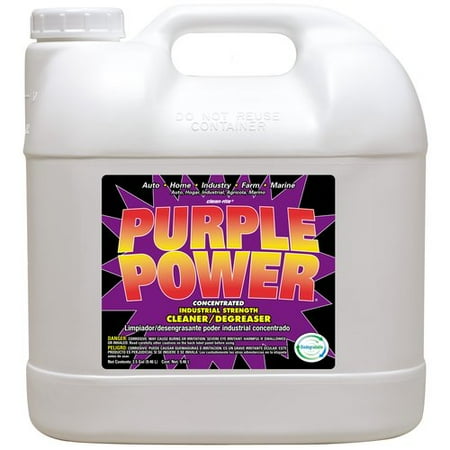 MSRP :

$46.68





Sale :

$11.67

Sold & shipped by Walmart
Product Description

Additional Information

Reviews
Product Description
The Aiken Purple Power Cleaner Degreaser's concentrated formula penetrates grease, oil and dirt on contact. After the initial application, it creates a barrier between the stain and surface, not just cleaning, but protecting as well. In just seconds, it can wipe away even the toughest mess. This Purple Power Degreaser now comes in 3.5 gallons and it is biodegradable, non-abrasive, non-flammable and phosphate-free, which makes it a safer choice for the environment. Manufactured as an industrial-strength formula, it can be used on a variety of surfaces in your auto, home, marine, farm and shop. It helps remove stains, including oil spills, from your garage or basement floor and keeps important areas looking clean and neat.
Additional Information
Purple Power Degreaser Concentrate, 2.5 Gallons:
Concentrated formula penetrates grease, oil and dirt on contact
Creates a barrier between stain and surface
Wipes away even the toughest stains
Biodegradable, non-abrasive, non-flammable and phosphate-free
Industrial degreaser concentrate with a formula that can be used on a variety of surfaces
Safer for the environment
For auto, home, marine, farm and commercial use
Reviews
carla
carla
great for laundry, use anywhere grease is, even on your stove. best cleaner I've ever bought!
stalon777
Awesome Purple Power!!!
I bought a parts washer and was told this was the best water-based degreaser. I have limited use of it so far but it seems to do a really nice job getting everything cleaned up and looking good with a little elbow grease. I still would prefer a solvent based cleaner but this works about as well. Be sure to wear gloves when using this concentrate as it is almost impossible to get off of your hands... really slick stuff. Use this degreaser undiluted for best results.
Lveester
Wonder Cleaner
I heard that it works great on engine motors. I tried a gallon and I was amazed. My motor and hood liner turned out looking new. One caution is DO NOT GET ON YOUR PAINT. I have used it as a cleaner for sinks and tubs and it can't be any easier. Just spray in your tub and wait a few minutes then rinse. It takes away soap scum in an instant and leaves chrome fixtures bright. I have cleaned our drive way and many things around the house and it seemed to clean some of the rust off of my bike. I am on my second gallon and have run out of things to clean. Try it, its cheap too. There are some Youtube reviews on line worth watching. Even removes paint from plastic model cars and planes.
dieselgman
Not the Purple Power I am used to.
Purchased 12.5 gallons of this for our shop. We use the product every day, but this brand is weak. Compared to the last batch of ZEP Purple Power cleaner this stuff in ineffective. We clean engines so the strength of the product is paramount and we cannot get the job done with this batch. I should have suspected it would be watered down because the price was very low. This is another classic "you get what you pay for" story.
Catfish106
Extremely good.
Just used it on my mobile home to clean dirt & mildew off. I dillute it down to about 1/3rd gal Purple Power to approx 2/3rds water spray it on with a insecticide pump sprayer. Let it sit for 5 min's then take a car brush and wipe over area & rinse off. To me ,it beats using Clorox or other cleaners.