Marcy Recumbent Exercise Bike: ME-709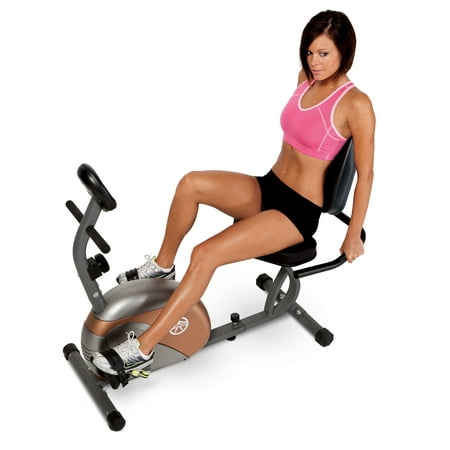 MSRP :

$199





Sale :

$139

Sold & shipped by Walmart
Product Description

Additional Information

Reviews
Product Description
Looking to get in shape at home this year or just want to switch up your fitness routine? Look no further than the Marcy ME-709 Exercise Bike and you can be tracking your speed, distance, time and calories burned in no time. The Marcy exercise bike is a step-through exercise bike that features a large console display with extra-large numbers for improved readability. This Marcy exercise bike is equipped with counter balanced pedals with adjustable foot straps. The seat is uniquely designed to adjust according to your body size. The recumbent exercise bike comes with eight levels of preset resistance and easily adjustable tension-tightening knob. The transport wheels let you roll the Marcy ME-709 Exercise Bike from room to room. Durable construction and powder-coated finish ensure a long life.
Additional Information

Marcy Recumbent Exercise Bike: ME-709:
Ideal for home or office use
Marcy exercise bike can help you burn calories and shed pounds
Compact design
Full body workout
Increase cardiovascular endurance
Reviews
PraiseTheLordalways
A great product
I bought this bike for my wife and she loves it. She is short and overweight, so the extra-wide seat is just right for her. The bike is very QUITE which is a plus for people living in apartment; in fact; she was using it at 2am and I never heard her. Some hints for those that do buy this bike(I see the price has already gone up): purchase lock-washers(they can be bought at Wal-mart) and use them with the washers that come with the bike. I found that it makes the seat bracket tighter. I put the bracket with the wheels on the back in order to move the bike easier to & from the wall. When you hook-up the tension cable, rotate the tension knob, which will lift up the cable. Also, I wasted time looking for the two mounting screws for the console: they are the 2 silver screws already on the console, just un-screw them to place the console on the frame. The shipping box was of poor quality & was damaged, so I almost rejected the bike. but I took the chance anyways & everything was fine inside: no missing or damaged parts. My only complaint is that the seat is too far back from the console. I don't know if this bike would be what the young & good-shaped people would like, but for us over-the-hill gang, I think it is great. Also, I had the bike sent to the local Wal-mart as I am to cheap to pay for shipping and it did fit in the back-seat of my wife's car(Ford Tarus). Enjoy.
POTRA
POSTED BY CUSTOMER NOT MANUFACTURER
ALL THE GREAT REVIEWS ARE TRUE. MY BIKE IS PERFECT AND EVERYTHING WORKS. IT'S QUIET, COMFORTABLE, AND EASY ON YOUR JOINTS. IT'S PERFECT IF YOU HAVE KNEE PROBLEMS LIKE I DO(I WAS A RUNNER FOR YEARS). IT'S PERFECT IF YOU'RE SHORT LIKE I AM, 4'11, SINCE YOU CAN ADJUST THE LENGTH. THE 1ST TIME I USED IT I DID 60 MINUTES AND I HADN'T EXERCISED IN 2YRS DUE TO SURGERIES (NOT MY KNEES). ALL I CAN DO IS ADVISE THE INDIVIDUALS WHO RECEIVE A DEFECTIVE BIKE, TO RETURN IT TO YOUR LOCAL WALMART AND ORDER ANOTHER BIKE. WALMART ALWAYS REPLACES OR REFUNDS ANYTHING I RETURN EVEN IF I ORDERED IT ONLINE. SOMETIMES PRODUCTS ARE DEFECTIVE. THIS DOES NOT MEAN THAT THE PRODUCT IS NOT A GOOD PRODUCT; IT JUST MEANS YOU RECEIVED A DEFECTIVE PART. COMMON SENSE DICTATES THAT SOME PRODUCTS WILL BE DEFECTIVE. NOTHING IN THIS WORLD IS PERFECT. I HOPE THIS HELPS SHOPPERS. IT'S WORTH THE PRICE. BY THE WAY, I HAVE HAD THE PRODUCT FOR OVER A YEAR AND EVERYTHING STILL WORKS; INCLUDING THE MONITOR.
Veruschka
Great for Price and Quality
I am morbidly obese and bought the bike because it said it held more weight. It was a little rough putting together, i couldnt get the wires to meetup, so i ended up using duct tape. It works perfect. I have been using everyday for 2 weeks now 15-30 minutes, and I have probably lost about 20 lbs. I was really nervous about my weight on it, but it has not been a problem at all. Not to mention the price is great!! I emailed the product info to a friend to hope she gets it! I highly recommend!!
megs21781
I am very impressed
We bought this bike because winter was on its way and we needed to drop a few pounds. I researched and looked around at different stores but didn't want to spend $1000 on a piece of exercise equipment. We found this bike at Walmart for under $200 and figured we would give it a shot and if it was terrible we would return the thing. Setup - very very easy setup, horrible instructions. I'm a very handy person and was able to figure it out but it definitely takes 2 people to setup the bike due to the wires you have to connect (just snaps into place but its hard to hold the handle bars up by yourself). Takes about 30 minutes to put together and 30 minutes to pull everything out of the box and unwrap. Use - The seat is comfy for an exercise machine and I love the straps on the pedals. The tension seems just right. I haven't worked out in a long time so even setting 2 was a challenge the first time we used the bike. We have been using it for 30 minutes every day since then and absolutely love it. Timer/Controls - these are super easy to use. You can reset each zone or just reset the timer. It also keeps track of how much use the bike has gotten in miles. Noise - When using this bike there is NO NOISE AT ALL. I was impressed. Any bike I've ever been on has been loud. We watch tv while using the bike and it doesn't disrupt anyone else. Seat Positions - There are about 6 or 7 different seat positions, sliding the seat out takes some muscle. Overall a great purchase and great quality piece of equipment. Will recommend to all my friends.
LexyLovesWalmart
I lost weight!
I love this bike! I have one in my living room and I noticed a difference in one week! I worked hard everyday, I do three to 6 miles a day at a brisk pace and changed the way I eat- fruits and veggies and little red meat. I have have lost wight all over my body and I love my body now. I love this bike! i lost 10 pounds in 2 weeks and have more energy and i get to watch tv and lose wight at the same time!