Marcy Recumbent Exercise Bike: ME-709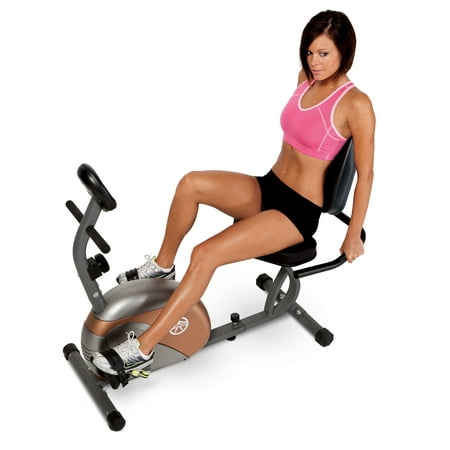 MSRP :

$199





Sale :

$139

Sold & shipped by Walmart
Product Description

Additional Information

Reviews
Product Description
Looking to get in shape at home this year or just want to switch up your fitness routine? Look no further than the Marcy ME-709 Exercise Bike and you can be tracking your speed, distance, time and calories burned in no time. The Marcy exercise bike is a step-through exercise bike that features a large console display with extra-large numbers for improved readability. This Marcy exercise bike is equipped with counter balanced pedals with adjustable foot straps. The seat is uniquely designed to adjust according to your body size. The recumbent exercise bike comes with eight levels of preset resistance and easily adjustable tension-tightening knob. The transport wheels let you roll the Marcy ME-709 Exercise Bike from room to room. Durable construction and powder-coated finish ensure a long life.
Additional Information

Marcy Recumbent Exercise Bike: ME-709:
Ideal for home or office use
Marcy exercise bike can help you burn calories and shed pounds
Compact design
Full body workout
Increase cardiovascular endurance
Reviews
popypop
review of Marcy ME-709 Recumbent Exercise Bike
Marcy ME-709 Recumbent Exercise Bike nice bike i love it
megs21781
I am very impressed
We bought this bike because winter was on its way and we needed to drop a few pounds. I researched and looked around at different stores but didn't want to spend $1000 on a piece of exercise equipment. We found this bike at Walmart for under $200 and figured we would give it a shot and if it was terrible we would return the thing. Setup - very very easy setup, horrible instructions. I'm a very handy person and was able to figure it out but it definitely takes 2 people to setup the bike due to the wires you have to connect (just snaps into place but its hard to hold the handle bars up by yourself). Takes about 30 minutes to put together and 30 minutes to pull everything out of the box and unwrap. Use - The seat is comfy for an exercise machine and I love the straps on the pedals. The tension seems just right. I haven't worked out in a long time so even setting 2 was a challenge the first time we used the bike. We have been using it for 30 minutes every day since then and absolutely love it. Timer/Controls - these are super easy to use. You can reset each zone or just reset the timer. It also keeps track of how much use the bike has gotten in miles. Noise - When using this bike there is NO NOISE AT ALL. I was impressed. Any bike I've ever been on has been loud. We watch tv while using the bike and it doesn't disrupt anyone else. Seat Positions - There are about 6 or 7 different seat positions, sliding the seat out takes some muscle. Overall a great purchase and great quality piece of equipment. Will recommend to all my friends.
Chenxiang L
acceptable for the price
Overall not bad for the price. However, the package does not protect the item well, it came in bad shape. Some connection joints are not manufactured to fit properly. I have to put some cardboard under some joint to make a firm connection. When riding on the highest level, the front part swings with the foot movement. Again, acceptable for the price [This review was collected as part of a promotion.]
tsameshi
The best exercise bike I've owned
I've owned 3 or 4 exercise bikes in my lifetime. I am currently 55 yrs old, overweight with a slight heart problem. I'm 5'4" tall but my inseam is suited for someone 5' tall. I drilled an extra hole. I started with a smaller drill bit & increased the size gradually. It was a fairly slow process. I have a portable computer table that fits across the bike. So I am able to play on my laptop, read a book, or watch TV. On the first day, which was yesterday, I rode it for 5 hours. Yikes!!! The console is very inspiring...fun to see how fast I'm peddling. Hopefully, the weight will start to melt off. I LOVE it!
gtpjerry
very pleased
My wife and I wanted to buy a recumbent bike to replace our antique sit up model. I came upon this one through a failed purchase attempt of this model on Craigslist. After a little research, we figured it would be a good one for a couple that aren't hard core exercisers. It was reasonably priced, didn't have a lot of unnecessary bells and whistles, and we could get it site to store in a matter of days. The bike is perfect for us. It was easy to put together, about a half hour. It fits our workout area well. It is comfortable and unbelievably quiet. I'm 5'10" and I pull out to the second position. My wife at 5'2" uses the closest position with a cushion behind her and says it works fine. Unlike other reviewers, I definitely feel a difference in the tension settings. My one recommendation would be concerning the hand bars. I've seen pictures with them placed in either of their 2 possible configurations, but we prefer having them mounted with the bars coming straight out from the frame with the ends angling upward. It seems a more natural position for your hands. I like that I can walk downstairs and get in a quick 30 minute pedal, especially with colder weather coming on. It also beats taking my bicycle out and fighting traffic, or having to haul it to a better riding destination. I would definitely recommend this bike to anyone just wanting a bike for casual workouts.