Intruder Mouse Trap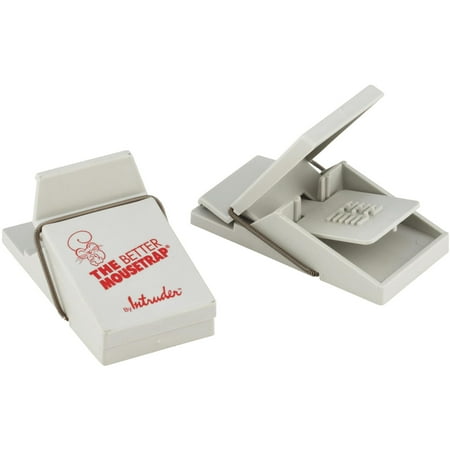 MSRP :

$58.99





Sale :

$7.9

Sold & shipped by ProMax Supply LLC
Product Description

Additional Information

Reviews
Product Description
Additional Information
Reusable, sanitary mouse trap. Press to set, squeeze to eject. Features a never-touch design making mouse handling non-existent. Child and pet safe, made with tough non-absorbent molded plastic. 30% more force than conventional traps. Grips mouse tightly and quickly without breaking skin, ensuring no messy blood or odors. Specifically designed grooves hold bait secure to guarantee trap success.
Warning: This product contains a chemical known to the state of California to cause cancer birth defects or other reproductive harm
Reviews
auntieof5
Very Little Snap Power!
I had read the reviews before purchasing these traps. Unfortunately, I should have placed more emphasis on those that reported that these traps are not powerful enough to actually kill with the initial snap of the trap which actually is more humane in my humble opinion than having to drown or kill an already terrified rodent. Obviously the concept of killing cannot be considered humane, however, living in the country with lots of rodent invaders, we have tried to capture and let go and the rodents simply come right back inside once they have found their initial point of entrance...I cannot risk the health hazard they present! I believe it is better to have a trap with one snap power and these do NOT have that power. They are indeed easy to set but I found by testing the power snap with my finger, the snap barely hurt....that will not get the job done! I will not use the sticky stuff nor the "slow kill" poisoning method; I went back to the original traps which always work fast and efficiently! I gave it a FAIR rating for ease of setting only! Sorry!
tazbear442
Fantastic
So easy and safe to set compared to the old fashion traps. No more worries about snapping the trap on your fingers. Someone finally invented a better mouse trap.
Wilson
Best mousetrap
Should be called "The Best Mousetrap". In Wisconsin the mice like to try to get into garages in the fall and this has been a big year for mice. I set out 2 old school wooden victors, 2 tomcat black pinch style, and 1 of these traps out by my shed. This trap out catches the other ones 4 to 1. I believe the trip mechanism is lighter on these. Plus the peanut butter stays on the bait tray better because of the textured surface.
NeedToGetDemChipmunks
Seems OK
I have been catching mice but no chipmunks. Seems to be strong enough for the mice, but other rodents shake it off.
fallcolors
Gets your mouse EVERY time
They cannot escape the jaws of this fabulous, reusable mouse trap. Easy to set and they don't break like some of the other plastic mouse traps.