Cricut Explore Air 2 Mint Machine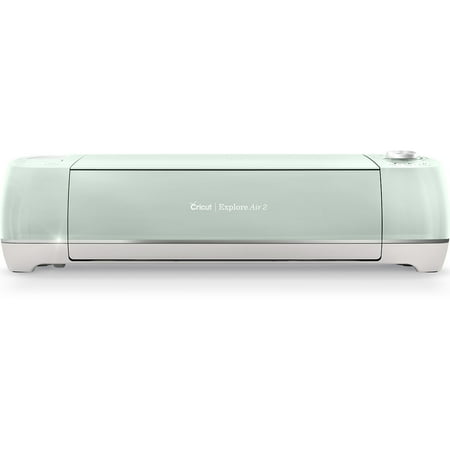 MSRP :

$249





Sale :

$196

Sold & shipped by Walmart
Product Description

Additional Information

Reviews
Product Description
Provo Craft-Cricut Explore Air 2 Machine. This machine cuts and writes up to 2x faster than the previous models and helps you make projects with over 100 different materials. Select from over 3,000 ready-to-make projects or make quick cuts from the extensive image library. This 9x24-1/4x9-1/2 inch package contains one machine with built-in wireless Bluetooth, one Cricut Design Space software & app, one German carbide premium blade, one USB cord and power cord, one accessory adapter, over 100 free images, over fifty free project ideas, one getting started guide, one pen and cardstock sample and one 12x12 inch StandardGrip cutting mat. Imported.
Additional Information
Cricut Explore Air 2 Machine-
Reviews
Ash
Love it!
Absolutely love this machine and this color specifically! I really wanted the mint one but this was the only one in stock at Walmart and I am glad it was. If you were thinking about getting it, just get it. You won't regret it! Pictures of some recent projects. 😊
Jeanie
Beautiful machine with amazing functionality!
I received the Cricut Explore Air 2 as a gift for my unbiased review. Background: I got my first Cricut machine in February of 2016, so I am still a bit of a Cricut newbie. It was the Cricut Explore, so I was going into this review with a mind to see how much the Cricut Explore Air 2 expands on the basic Cricut Explore. First Impression: Obviously one of the obvious changes in the new machine is the new color options! I received (randomly) the mint blue and I love it. The machine is very classy and sleek. The packing was very straightforward and clean - and I kept it to store my Cricut when I am not using it. Another first impression was when I opened up the machine and saw the cutting tool -- it has two parts (A) and (B) for the pen/stylus tools and the blade, respectively. This was very shiny and new to me. Kind of intimidating actually. Method: I ran this machine through pretty much every test I could imagine. I did six different crafts of different mediums to test out the different functionalities - all within 24 hours! I will walk through my findings with each craft. HTV (heat transfer vinyl): I am a totally newbie with HTV and it kind of intimidates me, but I wanted to personalize some baby girl onesies for gifts. The cutting went without a hitch. No complaints. I can't think of any issues with weeding either. Cardstock/Stylus Tool/Pause: I made a gift box (from a pattern on Cricut Access) with blue cardstock. I didn't read any instructions on how to use the stylus too, so I did have to do that twice, because I didn't fully insert the tool the first time around. But the box folded just fine. Sidenote: I didn't use Cricut cardstock, but I think I will next time. I wasn't thrilled with the quality of the paper. Another note with this -- I am pretty sure it was the project I tried to pause my cut. It paused, and then resumed normally, but I think it confused it because it paused itself a couple more times. Wasn't a big issue, I just hit pause again and it would continue. Vinyl/Cut-Write 2X Faster: I cut the same vinyl three different times, each time forgetting an important point of what I was trying to do. (1) The first time was great, no complaints. I just forgot to center my cut on my vinyl for my project. (2) The second time I used one of the new features of this machine -- faster cutting! I flagged it on and it recommended turning it off for more concise and accurate cutting, but I wanted to try it. It actually kind of alarmed me at the intensity of its faster speed - it wasn't hyper fast, but it was louder. I could tell the cutting was a little less perfect with this feature. I don't think I'll use it in the future - mainly because I am happy with the standard speed. -- Note, I had to cut again because I forgot to mirror my cut! Whoops! (3) The final time was mirrored and perfect. I easily weeded out my positive image as I wanted the negative to act as a stencil. I put it on the bottom of a glass pan and etched it. It was my first time etching and did well. (Note: I didn't use the Cricut vinyl, which I have used before and like. This was a cheaper off-brand vinyl that is more glossy and I have it in bulk, hence I didn't mind using it for this project.) Window Cling: I cut snowflakes in white window cling (Cricut brand). It cut perfectly and weeded beautifully. They are on our front screen door and my grandmother loves them! Pen Tool/Sticker: I actually used a different brand of printer sticker paper for this because I had it on hand. I used a Cricut Access image for a mermaid that the machine draws with the pen and then cuts around for a sticker. **The pen tool blew my mind. The alignment of the machine is impeccable. I can't wait to draw more coloring pages offered in Cricut Access.** I did do it on glossy sticker paper though, so make sure if you do that to leave your drawing to dry for a bit. I touched it right after and it smudged slightly (but you can't even tool - especially if you color it). That is more the fault of the paper than the pen. Leather Earrings/Pen Tool: I was also gifted faux leather sheets and I found a project on Cricut Access for some beautiful penned leather earrings. The penning actually took *forever* because it was so ornate. The leather itself cut perfectly. I did learn though that you need to position penned projects out of the way of the roller of the machine (the roller that moves your mat forward and back). It smudged one of the earrings a bit. Wi-Fi/Cricut Design Space App: This is probably my very favorite feature of this machine. The app is very very intuitive and walks you through everything (though I did have an issue finding some functionalities but they are all there - just because there are so many of them!). It was pretty impressive as well to me that it connected by bluetooth and I never had to pull out my computer. I could take my phone out of the room and watch the process of the cut while I watched TV. LOVED this functionality. It works beautifully. Overall: I am very pleased with this machine. It is very high quality and there is *so much* you can do with it!! There are going to be tiny things between the supplies you use and making sure you position things well, but overall it is a fantastic product and I absolutely recommend it.
Nita
Cricut Explore Air 2
Love the Cricut Explore Air 2. So many things it can do. It was extremely well packed when I picked it up at the Walmart pick up desk. It is simple to operate. The Cricut Design Space is most difficult to understand without researching all the different Youtube tutorials. You have to almost see others do it before you can even begin to use your machine however. The machine itself is beautiful and looks good on a desk. The blades are sharp and cut well when you set the proper dial. I love the pen feature as well. I highly recommend this machine.
Karen
Fun machine
This is one fun machine, I bought it for my daughter, for Christmas. The price was the same as other on-line businesses and easier to pickup at the store. My daughter has made t-shirts, signs and labeled all her containers in her craft room. Loving it.
Mbear
Easy to use!
I recently received the Cricut Air2 macine as a gift and I LOVE it! I am an SLP in the schools, and I am frequently making new therapy materials and visual aids for my students. The cricut machine is an excellent way for me to create fast and quality designs, patterns, and templates. Yes, there is a learning curve with it, however, the tutorial videos are WELL worth it to make the set up and first few projects so easy! I have little kids at home, so I love the option of being able to work on projects without having to be at my computer! I also like how it does all the work for me! I have always enjoyed making personalized cards, and this is just the machine to do it! I also love that I can use so many different materials and that it is so versatile- depending on what I'm wanting to make. The cricut website and tools are so user-friendly! I love it! The only complaint is from my husband: because I'm just coming up with project after project to do! I love it and am excited to keep exploring it's possibilities.