Honeywell Table Air Circulator Fan HT-900, Black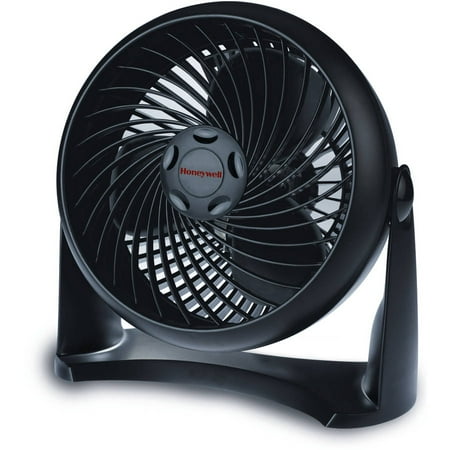 MSRP :

$14.94





Sale :

$11.99

Sold & shipped by Walmart
Product Description

Additional Information

Reviews
Product Description
The three-speed Honeywell Turbo Force air circulator fan is designed to deliver quiet, powerful, personal cooling. In fact, this Honeywell HT-900 fan is up to 25 percent quieter than other models currently on the market. Its adjustable fan head can pivot up to a 90-degree angle and either provide direct cooling or function as an air circulator. The Honeywell portable fan helps increase air flow so that your air conditioning and heating systems can be used at lower settings to help you save money year round. You can use the Honeywell HT-900 fan on desks, counters and tabletops, or wall-mount the portable fan to save space.

Additional Information

Honeywell Table Air Circulator Fan HT-900, Black:
When paired with an air conditioner or heating system, it can save up to 20% on their yearly energy bill
Aerodynamic Turbo Design offers maximum air movement
Honeywell air circulator fan can be felt from over 27' away
25% quieter than previous models
Fan head pivots up to 90 degrees
Three speed settings
Easily wall mounted
1-year limited warranty
Reviews
Romans1616
Longtime fan literally
I love these fans. I actually sleep with it on year round to block out the neighbors noise. I have not went back to the old school white box fans. I love that I can adjust the fan. It works very well, and is sturdy. No tipping over, or nothing. Just plug it in, and feel the sensational breeze. My family loves these fans. They may not be huge, but the get the job done.
Lilbundleofjoy
Dependable and quiet
I like the fact that the fan is small and quietly powerful. It helps me get through hot days and consistebtly blows cool air. I just love it!
TavT
Honeywell Fan
This fan is the perfect size for my work space. It's nice and quite it also puts out a lot of air!
Diamondsfire
One 3 yrs old & running great---Plus a new one!
The Honeywell Turbo Force Air Circulator Fan HT-900-WMT works great. It makes a strong circulating breeze. Works fantastic in both of my sons rooms. I went with the Flippi Vornado small desk top because of color mostly---I regret the purchase in terms of cooling comfort....as a comparison, The Honeywell Turbo Force lives up to its name. My sons, though adults are not the gentlest of souls when it comes to ANYTHING living in their bedrooms---LOL.... That being said this little Honeywell fan takes a licking & keeps on running & cooling just as if it were a brand new product. This was a site to home, free delivery purchase, fan if as pictured, arrived in perfect condition, and it arrived EARLY---all very good things!!!! P.S. (((My Flippi although cute, is no close 2nd...should be used only as a small quiet desk fan, maybe in an office or study desk situation))) Sorry for getting off topic--they were purchased at the same time. So hard to write about one without thinking of the other. :-)
Yasmine
This fan is perfect
It's quiet on the first setting. But with any fan, increasing to the 2nd and 3rd settings, increase the output noise level. I sleep very hot due to my foam mattress top. I needed a small fan to set on my night stand. This fan is perfect for what I needed it for. I run it on the 1st setting and this setting produces just enough air to keep me cool and still be able to hear anything in the house. I take it out to the living room during the day to add some air circulation to augment my ceiling fan. I turn it to the highest setting and the increased air flow has been keeping my air conditioner from coming on as much. It can move some air on the highest setting. I doubt you find a fan that is this quiet and able to move air for such a low price.