Honeywell 360 Degree Surround Heater, HHF360V, Black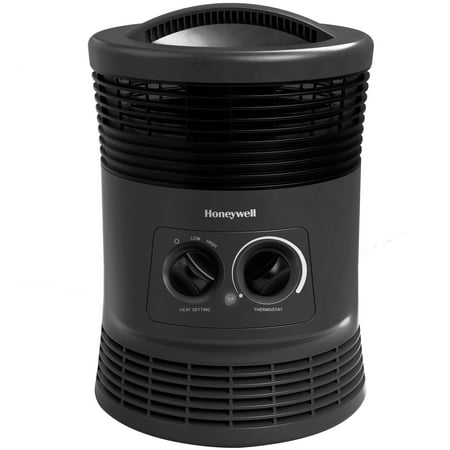 MSRP :

$29.48





Sale :

$28.42

Sold & shipped by Walmart
Product Description

Additional Information

Reviews
Product Description
Stay warm this winter with the Honeywell 360-Degree Surround Heater. Save energy with excellent safety features and the ability to control your comfort with this durable and functional heating unit. With a unique 360-degree design, this heater offers superior all-around room heating. This Honeywell heater comes with two different heat settings as well. It also comes with a rugged handle for added portability and convenience. This black heater features simple and intuitive controls and is incredibly easy to set up and install. It is ideal for homes, offices, work spaces and other smaller indoor areas.
Additional Information
Easy to use manual controls

2 heat settings

Adjustable thermostat

360 degree tip over switch

Overheat protection

Cool Touch housing and handle

Sturdy base

New and Improved design delivers more efficient heat output than prior model

Convenient carrying handle

Reviews
phycoinsc
Good, very efficient heater
This heater really packs a wallop! The fact that it shoots heated air out 360 degrees makes it quite efficient for a room heater. It comes with a longer than normal list of warnings, most importantly that it needs to be kept at least 3 feet away from everything. Interestingly enough, it does not have an auto turn off when tipped on its side. It comes with about a 7 foot cord. It can be set to go on and off automatically to a set temperature. It has a convenient carrying handle built right into the top. It runs at 2 temperatures/watt usages: low and high which could be energy saving. I'm used to having a front only heater so I found this one to be quite efficient. Would probably be really good in a room with a lot of people sitting around the perimeter and the heater setup in the center of the room. One thing did annoy me about it: it is run on a fan and that is quite loud. I normally have music or TV on and found I had to turn the volume up when using this heater. Overall I liked the heater and would recommend it.
AtlgrlinLA
Does the Job!
I ordered this heater for my daughter because she always complains about her bedroom being cold, especially in the winter. I must say that she actually has a point because it really is. I'd been looking for a small heater like mine that I have in my office; however, the prices have increased since I purchased mine years ago. That said, I saw this and decided to order. I was really drawn to its unique shape but, after using it, I can say it works very well. It definitely keeps the bedroom warm and toasty. It takes up minimum space and I love that it has the little handle at the top. The handle makes it easy to transport from room to room; although I haven't been able to get it from my daughter. It works! So, if you have a small room that always has a draft and you need a little heat I would definitely recommend. My daughter's bedroom is about 10 x 12 and this heater keeps it nice and warm. I'm sure it would work just as well for a room a bit larger.
fishingbuddy78
Honetwell Manual 360- Degree Surround Heater
This little heater is the best heater I ever had and I have had many. It comes well packaged. The box was slightly damaged however the heater was not because how well it was packaged. The instructions are easy to read and understand and very concise. One of the first things I noticed was the long cord. It is about 8 feet long. That is much longer than most heaters. This works well as I needs to be in the center of the room for it the function at it's best. It is light weight and can easily moved around even for people with weight restrictions. It is compact and about 11 inches high. The unit comes with a temperature setting and a high and low setting. I noticed when I first plugged it in it had a "new" odor. That lasted a short time, maybe 10 minutes. We are using it in our den which is in our basement. The room is approximately 12' X 20' and it has maintained a temperature of 72 degrees through out the room. Other heaters only kept a area warm. This little heater is quite. It is extremely safe as it has a built in shutoff when it is tipped over. This is important to me as we have a little dog. Other directional heaters could burn her. I would rate the Honeywell 360 degree Surround Heater as excellent. I would highly recommend it and would give it 5 stars.
roseladies
Everyone gets to enjoy some heat !!
My first impression was, "it's kind of small, how much heat could it possibly generate?" I was really surprised when I turned it on. The forced hot air heated up very fast and the 360 Surround heater allowed the area to warm up evenly. Unlike most heaters that are directional which only benefit the person sitting in front of it ,this heater gives everyone sitting around it the benefits of the heat it produces. I used the heater on the patio and it was just enough to take the chill away. I like the safety features which are "tip over protection and over heating protection in the event any one of these should happen it shuts off.The 360 Surround heaters has an adjustable thermostat and a two heat settings. The cool touch handle allows you to move it from room to room safely. The cost of operation is very low I figured it to be about 56 cents for a "four" hour period on high setting it operates on a 120 volt socket and draws around 12.5 AMPS so you won't need to change your electrical outlets to operate the 360 surround heater. The product is manufactured by Honeywell a trusted name in the Heating and cooling industries. I would recommend this product to any one looking for a small efficient heater.
tinkerwd
Heat in all directions.
The Honeywell manual 360- degree surround heater is less than 1 foot tall. It's black with control knobs on the side. You get to choose between low or high on one knob and control the intensity of the heat with the other knob. There are two vents on the heater. The one around the upper part of the heater puts out the heat. The vent on the lower part of the heater is more like a fan, I think it helps move around the heat from the upper vent. I didn't feel the heat that much on the low setting, but it really worked well on high. The smaller the room the better the results. Perfect to heat up a bedroom quickly. The cord is a good length. I was able to plug it in and stretch it to the center of the room. It's lightweight and easy to store because of it small size. I would definitely recommend this heater to anyone that needs a quick and easy way to heat a small room. Great if you like to be in complete control of how warm you keep a room.