Honeywell Quietset Whole Room 8-Speed Tower with Thermostat, Model #HY-280, Black with Remote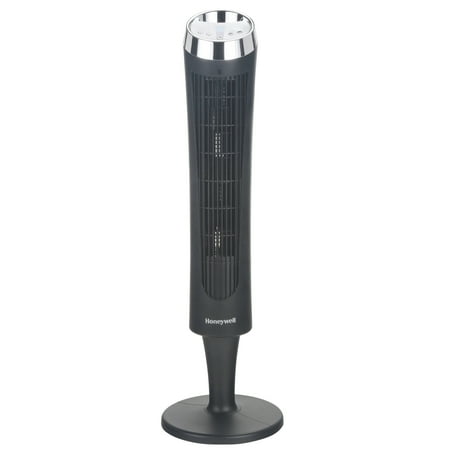 MSRP :

$101.43





Sale :

$0.98

Sold & shipped by eMain
Product Description

Additional Information

Reviews
Product Description
The Honeywell Quietset Whole Room 8-Speed Tower is available in a slim design that allows for increased user flexibility. Combining the very best aspects of strength and silence, this whole room fan is paired with Quietset technology that allows for control over sound and cooling. Choose from 8 different levels according to your own personal comfort and preferred sound level.The built-in thermostat can turn your fan down automatically if the temperature drops below your set level. When the temperature rises again, the fan speeds up. The fan can be also set to turn off automatically after 1, 2, 4 or 8 hours.The remote control allows you to adjust the settings from across the room without leaving your couch or bed. When not in use, the remote can be stored in the rear of fan. Notch design holds cord when unplugged, avoiding tangling and tripping. Perfect for cooling a medium to large room, this fan doesn't take up much space. This makes the HYF290B Honeywell Quietset Whole Room Tower an excellent selection for year-round fan for nearly any setting in the home.
Additional Information
Honeywell Quietset Whole Room 8-Speed Tower with Thermostat, Model #HY-280, Black8 speed powerful, quiet whole room coolingThermostat enabledOscillationSturdy BaseEasy set up and no tools assemblyRemote Control1, 2, 4 & 8 Hour Auto Shut-Off TimerTouch Button Electronic Quietset ControlsEnvironmentally Friendly - recyclable box, packaging & product1 year limited warrantyProduct Dimensions: 10.75"L x 8.23"W x 32.83"HCord length: 75 inches
Reviews
Floridatransplant1
Tower Fan
Bit of a bear to put together. It works fine. Not as powerful as I would like. I do like that it has a remote and that it oscillates. It would be nice to have it oscillate 360 degrees but I don't know of any fan that does that. I suppose if it was more powerful it might be off balance.
WhiteCloudRising
I'm Enjoying the Cool Breeze coming for this fan
So far this is a great Tower Fan. It was very easy to setup. I love the 8 cooling positions, and especially the calm when you are sleeping. I have it in my bedroom because I am a person that need my feet to stay cool. If my feet are cool my whole body is cool. The Tower is perfect for letting air blow on my feet. So far the fan has cooled down my room so much, I wake up freezing and having to turn it down. I will see what it does when we have 90 degree weather. I have not had to use my air conditioner yet, which is good. Love being able to control the fan from my bed with the remote. I also love that it does not take up much space in the room. It will also be a great fan for the winter, when the bedroom gets a little stuffy and I can't breathe. I think I made a good purchase. I love Honeywell fans, they last a long time. I still use a small Honeywell, I purchased about 12 years ago. Still runs great. If you need a good Tower Fan, purchase this Honeywell.
WISeB
Great fan
We have several of these fans at my work so I thought I would get one for home. The first one made a horrible squeaking noise but Walmart let me return it even though I didn't have the packing materials any longer (I ordered online for pickup). Unfortunately the Walmart policy is to re-buy the 2nd one (not just exchange it) and am waiting for a credit on my charge account. This second fan is perfect. This tower fan is so much better than just a round fan that blows hot air. I'm not sure HOW but this tower fan seems to actually cool the air! Also- they are very quiet. I highly recommend. I spoke with CSR Supervisor Brandon for help in returning the first fan which was defective. He was super nice and a credit to Walmart. However - I believe Walmart should re-think it's policy on having customers re-buy defective items instead of just making an exchange. Now I have to wait 2-3 weeks to receive a credit for the defective fan while I have also added the 2nd fan to my credit card bill.
Desiderata77
The Perfect Fan!!
I have been searching for the perfect fan and found it in this one. My SO hates the fan on at night I need a fan on at night, can not sleep without one. I like the white noise and started getting hot flashes so need the cool air blowing on me. I put this fan on my side of the bed it is so much quieter than the one I was using on sleep setting I can't hear it I put it up one setting and its enough to satisfy my white noise need; but I do prefer the white noise setting which is still much quieter than the fan I was using. I keep it close enough to the bed, we have 18" thick mattress so its high, the fan blows on me enough that I can feel it and it keeps me cool and my SO cant feel it. YAY finally our problem is solved. plus if I put it on the timer it will shut off after I fall asleep and is easy to put back on if I do wake up and need it back on. Remote works great but keep the fan so close I don't need it.
MissJessicaxx
Would be nice... if it worked.
After my reliable little fan broke, I thought I would splurge on a fan that fit my needs. In theory, the Honeywell Quiet Set fan is great for someone like me who needs a fan while they sleep. It has 8 settings, none of which are powerful, but provide circulation in a room. The first time I bought this fan, I had to return it the next day because the panel on the fan itself would not work. If I wanted to adjust the settings I could ONLY use the remote to do so, and I did not like that. When I returned it to walmart, I ordered another one - thinking that I just had bad luck with the first one. When I ordered the second one, the thermometer screen and button did not work. The screen flickered and gave non-existent numbers as if the electronic circuits on the inside were fried or broken. After two attempts, I will NOT be ordering this one for a third time. It was such a waste of time and cool air.