LINSAY 1.5" Smart Watch Executive with Camera and Micro SD Card Slot for up to 64GB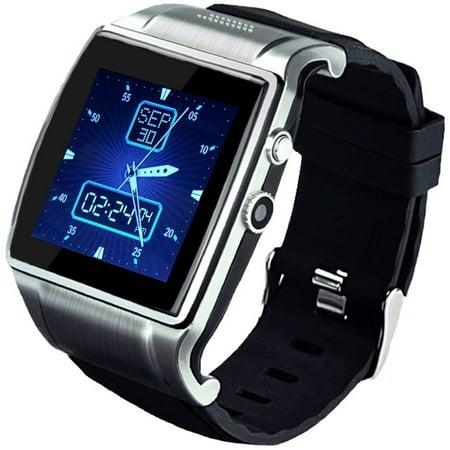 Sale :

$226.24

Sold & shipped by Walmart
Product Description

Additional Information

Reviews
Product Description
The LINSAY EX-5L Executive Smart Watch was designed to make daily tasks even easier synchronizes with phone, see phone notifications, view your phone book, calling, history, walked steps, and much more by taking a quick sight to your wrist. The 1.54-inch IPS screen makes watching videos and pictures a glad experience. The built-in HD speaker reproduces your music at high-quality audio. This Executive Smart Watch will make your daily actions more productive.
Additional Information
LINSAY 1.5" Smart Watch Executive with Camera:
Display screen: 1.54" touchscreen, 240 x 240 resolution
Network: Bluetooth
Built-in camera: take photos and record video
Sync phone: dial/answer phone calls, receive/send messages
Phone book, phone calling, calling history, messages alert/notice
Media: music player, video player, photo gallery
Sound recorder
FM radio (only in bundle options)
microUSB port: connect to charger
Card Slot: microSD supports up to 64GB
Built-in HD speaker
Built-in microphone
Reviews
theflo
Incredible Value
I bought a very cheap $12.00 Android watch just to see if the technology is something I would actually use. After 4 month I upgraded to this Linsay Smart Watch. I did not want to spend I-Watch money. SO this value at $59.00 was perfect and what an upgrade to the my previous cheap watch. The sleep monitor is detailed and incredible, keeps perfect accurate time, has a great look, huge screen, colors are bright, swiping is accurate. My only complaint, the band SUCKS. Going to buy a new band as soon as possible. Set up was super easy. I was hesitant about the BT notification but down loading Android Security eased my mind about downloading the app on my phone. Make this purchase with CONFIDENCE great value.
wNoahwithlove
Great budget smartwatch
Great budget smartwatch. Pros:1.Charge time is about less than 1 hour. 2.Great price. 3.Easy to setup4.screen looks HD to me. 5.Icons are as large as i want.6.Audio quality awesome. The only con is that I have not found a way to change the strap and id love this on different colors to match my everyday style.
Theresbennt
Wonderful additional device
This has got to be one of the best watch deals that I've ever seen. I used to have a an Apple Watch but if I went on on vacations and it got broken after it fell on the floor(I had paid more than $300 for that watch so that being the case I just don't feel like I should be spending my money in a watch knowing that nobody will help me should it fell on the floor and now im stuck with something that is constantly taking my money away non stop). I have no more hussless with this watch. my basic needs is to be able to see my notifications and also be able to reply to them mainly but I also like going on Hikes and taking pictures. My hikes usually take more than three hours to get to the point where I want to be at and usually by the time my phone is dead so what this wonderful watch does is just great. What is does for me? Well know if my phone is dead by the time im at the highest point of my hike i can go to my watch and play music or hear music, i can also record myself on videos(which is great because again usually my phone is dead by then but with the watch i can still use) i now dont need to be focusing on one device itself but now I have on an additional device that could help me on an emergency and also that I can connect my earphones to it .I am beyond happy with this device and I just don't know why I didn't get it before :).
marykatemu
great watch
The watch was a little new to setup however, once I did so, I found on it a very useful gadget. I have android 6.0 and it runs awesome. Thanks to the watch, I no longer need to use my phone to pickup calls(sometimes I'm on meetings and by having it on my wrist I can see whos calling without taking it from my pocket). The camera comes handy as well. As of right now, I'm thinking on getting a couple of them for the family.
Google
Watch
Great watch easy to use