Honeywell True HEPA Air Purifier 50250-S, White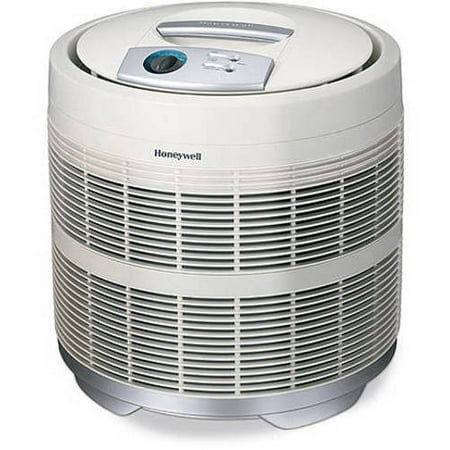 MSRP :

$199





Sale :

$149.99

Sold & shipped by Walmart
Product Description

Additional Information

Reviews
Product Description
The Honeywell True HEPA Air Purifier was designed for extra large spaces! The permanent HEPA Filter helps capture airborne particles 0.3 microns or larger, greatly reducing the amount of dust, pollen, pet dander, and mold spores in the air. It features 3 cleaning settings and a filter life indicator.
Additional Information
Reviews
MamaNett2960
Renewing & saving a Life
This product is literally helping to extend the life of my family member who recently moved into a dilapidated stale aired motor home which now is being transformed into a safer living space with clean air for him to breathe.
efgjr
Buy the Best.. too loud for living area..
When you have Issues with the Air in your Home.. you need this ... Yes it is Loud.. very loud.. On High.. in your bedroom put it on High for an Hour before you go to bed and when you go to bed turn in down to a lower Speed if the High Speed is a bother.. One more thing ... in the Winter it will put Cool Air out.. not a good thing... so keep it away from your Bed.. in the Summer with the Air conditioner on, I don't notice any temp change.. I love it and I can't sleep without it.. I have to say that I am on O2 at Night so Clean Air is a Concern.. You will Smell the Freshness .. Also it will Dry the air in the room.. sometimes this may be an issue .. I live in the Desert.. Stay on the Filter.. Clean it lots.. I Vacuum the 24000 Filter, when this white Filter turns Color change it.. and clean or Replace the Charcoal Filter.. I run mine 24-7 and have for over 7 years.. the Motor will not Stop .. Don't buy Non Honeywell filters.. why take a chance with your Health..
lbro
what a bargain
I bought the black which is the only model priced at $99. The cost of the filter and pre filter alone is minimum $60.-$70 so how can you go wrong? I actually came back for a second purifier so I don't have to drag room to room. Strange that they don't put model number on this item. The black is model 50255B. Its been discontinued, but the features/capacity of clean air is definitely equivalent to the 50250. As the white discolors over time, the black is definitely my preferred option. Yes, it's pretty noisy even at lowest level. Even more than my comparable sized Honeywell which died. But it just means its moving a lot of air around. It becomes white noise to me, but may not be the right choice for a light sleeper. (along with the bright blue light others have mentioned) which can be fixed with a piece of tape...no big deal. I love that the switch mechanism is now a knob. The soft push buttons on my 2 former honeywell purifiers are what failed, so this should help prolong the life.
tennisbum1954
Great Hepa Filter for the Home
This is my second Honeywell Hepa Filter Product. The first one lasted over 10 years, and would still work today if I hadn't lost it while taking it on a trip. This new unit is stronger--moves more air per second. It has three power levels. The highest is a bit loud, and could be difficult to sleep with. However, the medium and low levels are quiet. I use the medium setting at night, and high setting during the day (when I am at work). I have very severe allergies and without the unit, I can't sleep. I sneeze constantly in my house. But, with the Honeywill filter, I sleep easily and don't sneeze in the house at all. During the past two weeks, my daughter asked me to "take care of her cat for a month"---I should point out that I am allergic to cats. But, with the filter, the cat is not bothering me (whereas, I can't visit her house without having an allergy attack!--she doesn't have a Honeywill Hepa Filter). I've convinced my daughter to get one of these filters for her home too. It's a great product.
eaglenut55
awesome product
I had one many years ago and I had a house fire. The smoke damaged my product. I purchased the newer model 50250. It tells you when you need to replace carbon filter and eventually will tell you when to replace hepa filter. I purchased this product in 2005 and still not have to replace hepa filter. When the light goes on to change the charcoal outer liner filter, Oh my! The dust and I have 2 dogs and a cat, the fur flying around. This device also eliminates viruses (hepa filter) and odors (charcoal wrap around filter). This machine is just so awesome. I generally run on high 24/7. Does not use a lot of electricity. I have open concept living/dining area. Sometimes, just sometimes, I need to put it to med or low to hear the tv. But, this is very seldom. My daughter closing on a house and she wants one like mine. She has 3 cats and knows how good the machine is. So, just ordered the same product for her house warming gift, to be given by another family member. This machine takes a bit of space but, it does the job. Well worth it. I give huge thumbs up!