Honeywell True HEPA Air Purifier 50250-S, White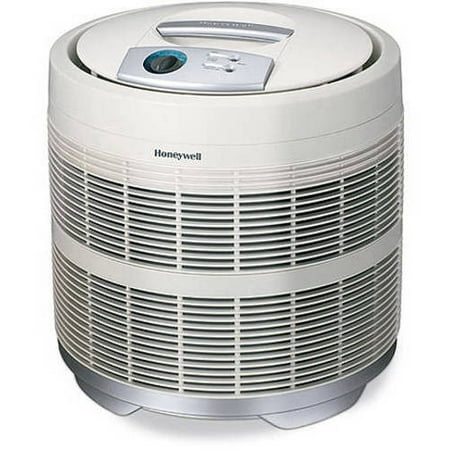 MSRP :

$149





Sale :

$130.04

Sold & shipped by Walmart
Product Description

Additional Information

Reviews
Product Description
The Honeywell True HEPA Air Purifier was designed for extra large spaces! The permanent HEPA Filter helps capture airborne particles 0.3 microns or larger, greatly reducing the amount of dust, pollen, pet dander, and mold spores in the air. It features 3 cleaning settings and a filter life indicator.
Additional Information
Honeywell True HEPA Air Purifier:
Doctors recommend True HEPA air purifiers***
Long-life HEPA Filter can be vacuumed to extend the filter life—replace in 3-5 years
Glass fiber HEPA filter captures up to 99.97% of particles as small as 0.3 microns*
Carbon activated Pre-filter helps capture larger particles like dust, lint, and fur and reduces common household odors.*,**
Intelli-Check™ Electronic Filter Indicator eliminates guess work—tells you when to change or clean your filters

*From the air that passes through the filter. Overall particle reduction depends on many factors including the amount of air processed, the pollutant type and the pollutant introduction rate into the environment.

**When operated with the odor reducing pre-filter. It is recommended that the pre-filter be replaced every 3 months to effectively reduce common household odors and gases in a room. This product does not reduce or absorb carbon monoxide gas. Make sure gas appliances are well ventilated.

***Based on 11/10 AQS survey results reporting 124 out of 172 (72%) of surveyed Allergists that recommend an air purifier to their patients, recommend "Honeywell" air purifiers.


Reviews
eaglenut55
awesome product
I had one many years ago and I had a house fire. The smoke damaged my product. I purchased the newer model 50250. It tells you when you need to replace carbon filter and eventually will tell you when to replace hepa filter. I purchased this product in 2005 and still not have to replace hepa filter. When the light goes on to change the charcoal outer liner filter, Oh my! The dust and I have 2 dogs and a cat, the fur flying around. This device also eliminates viruses (hepa filter) and odors (charcoal wrap around filter). This machine is just so awesome. I generally run on high 24/7. Does not use a lot of electricity. I have open concept living/dining area. Sometimes, just sometimes, I need to put it to med or low to hear the tv. But, this is very seldom. My daughter closing on a house and she wants one like mine. She has 3 cats and knows how good the machine is. So, just ordered the same product for her house warming gift, to be given by another family member. This machine takes a bit of space but, it does the job. Well worth it. I give huge thumbs up!
MsFaith07
Excellent Product
I purchased this product about two weeks ago, and wanted to wait until I could give it an honest rating before writing this review. I cannot tell you how many nasal sprays, allergy and sinus medications I have taken over the past ten years. I have a drawer full of them now, and had to take them every single day. When the pollen is high, I may as well lay down and forget about the day - nothing worked unless it put me to sleep. As far as the product; the BEST $129 I've ever spent in my life. I have not taken one single allergy pill and my 73 year old mother even commented on how cleaner the air smells, and she has not had any sneezing or watery eyes for the past two weeks either. We live in a three bedroom apartment and the rooms are about 140-150 square feet. I use it mainly in my room, but from time to time will move it in the living room, or her room. Trust me, there are no odors from the machine and its not noisy at all - except on high. I only turn it on high when I move it around; for 5 minutes, then I turn it back on low. Sleep is Sweet! Just a soothing sound to put me to sleep. Checked the filter today and saw just how much dust and other icky stuff I've been breathing in. Will definitely purchase another Honeywell product. Highly recommended.
archangel85
Awesome product!
Got this to eliminate cigarette smoke and smell. Seems to work very well. You can actually tell the overall air quality is much better.
allergychallenged
honeywell permanent true HEPA air purifier
I researched many Hepa air purifiers not just at WAL*MART but at all distributors, This product does really make a difference, I have COPD and I'm allergic to mold, this machine has made breathing easier. In a lot of the reviews people stated it was noisey, but it's no more noisey than a fan and being that I breathe better I can't and would not complain over a minor detail such as noise. I would recommend this to anyone with allergies, pets, and those who want to breathe clean air.
Imjustgreat
Great Product
ON everyones review they talk about NOISE. I'm going to put it in a scale you can use for your self. The low setting is as loud as a 10 in occulating fan on medium setting. The medium setting is as load as a 10 in occulating fan on High setting. And High sounds like ONE of those large Box fans on the high setting. I don't care about the noise because the THE FILTER REALLY WORKS................................... I used to see junk in my air all the time and my allergies were killing me. I felt better after about two days of filter use. And by the way to purchase the system with the lifetime filter just type in Honeywell Permanent True HEPA Air Purifier. Permanent is the KEY!