Baby Trend - Sit N Stand Double Stroller, Carbon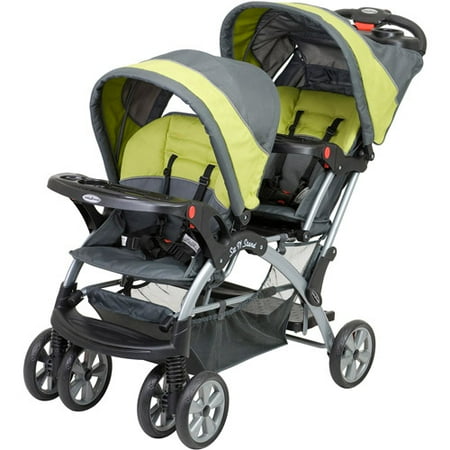 MSRP :

$159.97





Sale :

$133.46

Sold & shipped by Walmart
Product Description

Additional Information

Reviews
Product Description
Give your baby a comfortable ride and turn walking time into bonding time with the Baby Trend Sit N Stand Double Stroller, Carbon. It features front and back seats, so you can conveniently take two kids out in this stroller. With a durable construction, this Baby Trend double stroller can bear up to 40 lbs. It is compatible with car seats like Baby Trend, Evenflo Embrace and Discovery, and Britax Companion and Chaperone. With 5-point harness and infant safety boots, this baby double stroller creates a safe environment for your child. It has two full-size canopies to provide shade for your little one. While the 8" front and 8" rear EVA tires facilitate a quiet, comfortable ride, the foot-activated rear brake system comfortably stops this Baby Trend double stroller. You can take bottles of milk or your favorite drink in the two cup holders. Plus, it lets you to keep other essentials in the tray. For the ease of transporting, it comes with an easy-to-fold design.
Additional Information

Baby Trend Sit N Stand Double Stroller, Carbon:

Front/back seat for a child who can sit upright unassisted, up to 40 lbs and no more than 40"
Baby Trend Sit N Stand Double Stroller, Carbon, front seat features a 5-point child restraint safety harness
Jump seat (in rear) for a child at least 2-1/2 years old and no more than 40 lbs
2 full-size shade canopies on baby double stroller
Covered parent tray with 2-cup holders
Baby Trend Sit N Stand Double Stroller, Carbon, has 8" front and 8" rear EVA tires
Fixed wheel
Foot-activated rear brake system
Accepts 2 infant car seats (for better fit and performance you may beed to remove the canopy of the stroller)
Car Seats sold Separately
Fits the following car seats:
Baby Trend, 22 lbs and 30 lbs
Evenflo Embrace and Discovery
Britax Companion and Chaperone
Single-hand fold is fast and easy to use
Weight: 32.52 lbs
Assembly required
Model #SS76710
See all strollers on Walmart.com. Shop strollers including jogging strollers and double strollers. Save money. Live better.
Reviews
arimaur
UPC : 090014014506 - Baby Trend - Sit N Stand Double Stroller, Carbon - PickPanda.com
I LOVE THIS STROLLER! I have 2 kids, 18 months apart and this is a life saver. My 4 month old son's carrier (Graco) snaps in perfectly and my 22 month old daughter loves riding up in front. It was between 3 strollers and this was the winner. I bought it because the price was great and because the back seat is removable allowing us to keep using it as the kids grow. Yes, it is heavy but it was to be expected being that it is a double. I was worried that it wouldn't fit in the back of my pontiac vibe, but it did! It folds up easy and with a little wiggle of the front wheels it folds flat. The only thing that I found a little annoying is that the basket on the bottom is hard to get to, it's a good size but it's not easily accessible. I would definitely recommend this stroller. It rides smoothly and is easy to manuever. I've used it at the mall, restaraunts and for walks with no prblem. I am very pleased with its performance. I have had it for 2 weeks and I have already racked up some mileage on it. :)
Jim7773
Great for two kids 14 months apart!
Got this for my daughter who has 2 kids 14 months apart. Very helpful for every task that requires taking two infants along. All the extra space allows her to bring the "bag" and purse. Nice product.
lovingmom1279
Just what I was looking for
Have been searching for the perfect double stroller in the last 7 months. I decided to buy this because of the good reviews,features and the price. I picked it up at walmart with my sedan accord the box was big and wouldn't fit, but it worked in the backseat. Anyway, I was able to assemble it myself being 29 weeks pregnant and with a 23 month old around it was easy.We were even able to try all the options using my chicco infant car seat, tried it on front and rear, with my son front or sit n stand...was happy with the experience already and my husband liked it too, since I just showed it him online before purchasing.With Chicco infant carseat just be creative with how you position the seat because it's not going to be perfect click but i think it will work. We even tried rolling this on a carpet and it turns so easy and finally was able to open and close it easily with more familiarity of the stroller so i'm excited to use this in the the next few months..just 4 stars for now since haven't used it actual with the new baby yet.
AJE32
Affordable double
This item is perfect for my two boys. They are 15 months apart. Currently use one with car seat and other without. They both seem to love it, it is very sturdy and comfortable for them, and looks great. It is big and a little tough to navigate, but I think they all would be given the size needed to accommodate two kiddos! Takes up a fair amount of room in back of van.
Kylie
Great stroller. Helpful tips!
I bought the baby trend double stroller for my boys who are 2.5 years apart. I love the versatility and my boys are both very comfortable! It took maybe 10 minutes to put together and it looks very nice. The stroller is a little bulky, but folds nicely. Tips: it fold easiest if both trays are in their original positions and not flipped down. Also if you pull the stroller backward toward you so the front wheels spin around, it is much easier to fold and you don't have to fight with the wheels! The storage space could e a little better, but not bad overall. The only thing I wish was that both trays had 2 cup holders like baby trends single strollers. I also like that once folded, you can tilt the stroller and push it to where you want to store it, rather than having to carry it because the stroller is about 40lbs. It takes up a good bit of room in the back of my Chevy Equinox, so I wouldn't recommend taking it if you are grocery shopping, but other than that, I am always disappointed if I leave it at home!