CreativeWare™ Adjustable Bed Riser System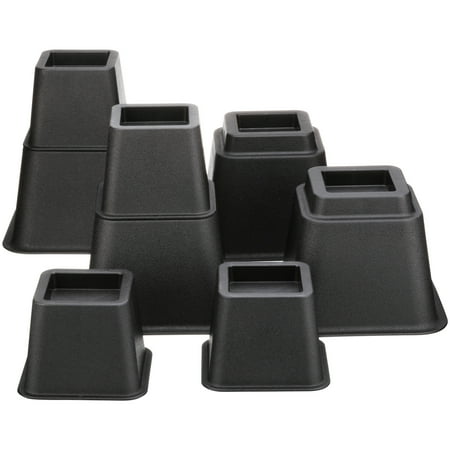 MSRP :

$14.96





Sale :

$10

Sold & shipped by Walmart
Product Description

Additional Information

Reviews
Product Description
Adjustable Bed Risers are an ideal way to raise your bedskirt off the floor or instantly create additional underneath storage space. With these in place, you can make room for tubs, boxes and other items. You can also enjoy the benefits of an elevated sleep space in a room with a television or windows, as you'll have a better view of everything surrounding you. The bed leg or caster fits securely into the recessed cup built into each one. With such a tight fit, you will not have to worry about excess movement or instability. With the home bed risers, you can elevate your furniture piece 3", 5" or 8" higher. They are made with quality materials to ensure they hold up against regular use. The Creative Bath bed risers also blend seamlessly with all frames and decor for a uniform look. Change the height of your furniture with ease using this simple-to-install product.
Additional Information
Contains 4 large and 4 small bed risers
Risers nest securely, with locking rings for stability
Durable, dependable plastic construction
Improve bed access for people with sore backs or impaired mobility
Instantly add 3", 5", or 8" of vertical storage space under any bed
Customizable: add as much or as little storage space or height as you desire
Can be used to raise head or foot of bed independently to help some medical issue
Reviews
NewYawkGurl
worth it !
i love this ! i was scared it was not going to fit with my yourzone futon, but it did ! my futon was so short then i put the small bed risers on it and it looked good, then i tryed the big bed risers on it and it looks awsome !
Sandra
nice
i got this system to loft my kids bed up a few inches to put there toy boxes underneath . i was warey at first . would ir hold. i specifically gotnit bc there legs of the bed are 3 inches wide and round. (older style day bed) . fits perfect. both girls sleep in the bed. and constantly up down. jumping on it. pillow fights etc.
thechemguy
It does what it says.
If using both risers together (full height), these get a little wobbly, but not unsafe. If using this with a queen size frame or larger, I recommend adding more supports under the frame. Most queen & king box spring warranties require more than 4 points of support underneath them. See the photo-- cut 2x4's are being used to add the extra support on the frame for a queen size bed.
luv4lyfe
"My table risers LOL"
I recently relocated and realised in my new home I did not have a built in breakfast counter like I had previously: so I was not able to use my four high stools. Then I remembered I had a long heavy duty folding table. However it was too low for the stools. I saw the bed risers and thought I would try to use these until I am able to afford a proper breakfast table. IT WORKED!!!! The table is now high enough to accomodated my stools.
DCnDC
Easy to use and Set up
I have lots of luggage and no where to store it so I ordered these. It took less than 5 minutes to set up. The only thing I had to consider was the center post (my queen sized bed had one). I didn't want to order another set just for one. My solution, 1/2" EMT conduit fit perfectly into the foot of the center post, and then 3/4" EMT fit around the 1/2" and fit over the post itself, and rested on the outer rim of the foot. Perfect support. I'm including a photo of the center post, and the bedframe with suitcases underneath to give an idea of how much clearance this gives.