CreativeWare™ Adjustable Bed Riser System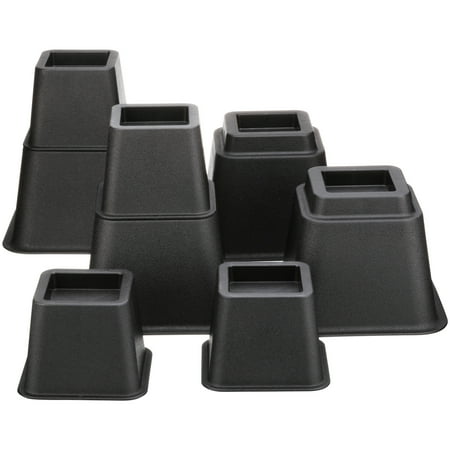 MSRP :

$12





Sale :

$9.21

Sold & shipped by Walmart
Product Description

Additional Information

Reviews
Product Description
Adjustable Bed Risers are an ideal way to raise your bedskirt off the floor or instantly create additional underneath storage space. With these in place, you can make room for tubs, boxes and other items. You can also enjoy the benefits of an elevated sleep space in a room with a television or windows, as you'll have a better view of everything surrounding you. The bed leg or caster fits securely into the recessed cup built into each one. With such a tight fit, you will not have to worry about excess movement or instability. With the home bed risers, you can elevate your furniture piece 3", 5" or 8" higher. They are made with quality materials to ensure they hold up against regular use. The Creative Bath bed risers also blend seamlessly with all frames and decor for a uniform look. Change the height of your furniture with ease using this simple-to-install product.
Additional Information
Contains 4 large and 4 small bed risers
Risers nest securely, with locking rings for stability
Durable, dependable plastic construction
Improve bed access for people with sore backs or impaired mobility
Instantly add 3", 5", or 8" of vertical storage space under any bed
Customizable: add as much or as little storage space or height as you desire
Can be used to raise head or foot of bed independently to help some medical issue
Reviews
Karnivore
Exactly as shown
You get 8 pieces. Four risers are 3 inches high and the other four risers are 5 inches high. I used the smaller set on my office desk and the larger set on my bed. OR you can use them together and you would have four risers 8 inches high. They are very sturdy and they lock together snuggly. The area on top of the 3 inch riser where the leg rests is 3 inches square and it has a solid 1/2 inch lip so that the leg does not slip off. Only drawback is that the black color does not match anything of mine. I may spray paint them the same color as my carpet. I will be ordering another set.
hokiepat
They Raise your bed to a New Level
These work pretty well. Although you should consider that if you have a bed skirt, it will no longer hit the ground, and you'll probably be able to see these large black feet extending from the bottom of the bed skirt. Other than that, it's as described, raises your bed to three different levels, pretty simple.
livein550sqft
A solution for the bedskirt problem.
Raising the bed makes it easier to get in and out. There is also a LOT of square footage for storage. There is no need to purchase expensive custom skirts to cover these. All you have to do is put an oversized flat sheet between mattress and box spring and let it fall to the floor. Get the biggest one you can find and then you can just fold it in the middle to get the length just right on the sides. Then put the mattress. I thought I might have to secure it with pins or something, but I haven't. It's been about 3 months and it hasn't shifted at all. I bought a single king flat sheet that is the same as the set of sheets/duvet/shams of my double bed. Since they are all a solid dark color it looks like a custom fit and nobody can tell I saved a fortune on a custom skirt. Not only that, but who wants all those pleats and frilly vanilly stuff?
thechemguy
It does what it says.
If using both risers together (full height), these get a little wobbly, but not unsafe. If using this with a queen size frame or larger, I recommend adding more supports under the frame. Most queen & king box spring warranties require more than 4 points of support underneath them. See the photo-- cut 2x4's are being used to add the extra support on the frame for a queen size bed.
Wifeofthefarmer
Just what I needed
The bed risers I choose to use were the 5 inch ones, so I put them on the 4 corners and stacked 2 each of the small 3 inch ones to put under the middle legs. They worked perfectly; no need to purchase another boxed set for the middle legs! They are strong and well made. The height is just right, and they are exactly what I needed. Not pretty, but a skirt takes care of that. Great product.