Portable Buddy Heater, 9K Btu, Propane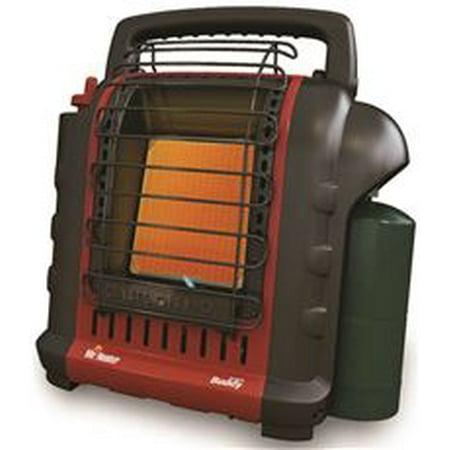 MSRP :

$111





Sale :

$79

Sold & shipped by Walmart
Product Description

Additional Information

Reviews
Product Description
North America'S Most Popular Portable Propane Heater! This Patented Radiant 4,000-9,000 Btu Liquid Propane Heater Connects Directly To A 1 Lb. Cylinder And Is The Perfect Solution For Heating Enclosed Spaces Like Large Tents Up To 200 Sq. Ft. The Expertly Engineered Size To Btu Ratio Is Augmented With A Fold Down Handle To Give This Heater Maximum Output While Retaining A Minimalistic Footprint. A Swivel Regulator Gives You The Ability To Adapt Usage From A Disposable Cylinder To A Remote Gas Supply With The Purchase Of A Hose And Filter. To Light The Unit, Simply Rotate The Knob To Pilot And Push. Then The Integrated Piezo Sparking Mechanism Will Take Care Of The Rest. With The Oxygen Depletion Sensor (Ods) And Accidental Tip-Over Safety Shut-Off You Can Be Sure That You Will Enjoy Years Of Comfortable Indoor Safe Heat.4,000 Or 9,000 Btu Per HourFor Use With Propane GasHeats Up To 200 Sq. Ft.Single Control Start KnobHi-Low Heat SettingsSwivel RegulatorFold Down HandleAccidental Tip-Over Safety Shut-OffIncludes Piezo IgniterRuns Off A 1 Lb. Cylinder
Additional Information
Portable Buddy Heater, 9K Btu, Propane
Reviews
jennifer
UPC : 089301320000 - Portable Buddy Heater, 9K Btu, Propane - PickPanda.com
Love it!! I have been using a Mr. Heater Head for years to heat in my travel trailer in the daytime, instead of space heaters. Every winter I had to move things around just to get a dedicated table top with room all around and above so nothing within couple feet burned. Granted, you still need to be careful!! My dog was afraid of old heater head because of the noise. This is quite, my dog actually lays in front of this one. Easy to start, no need to make sure you have matches. I bought a 5 foot hose and filter (some hoses come with built in filter) so I can hook it up to a 20lb tank, way cheaper then those tiny green tanks, and, I don't have to keep a wrench around, this is so easy to connect. Always keep a window cracked, I personally, never run it all night, I have friends that bought one and they run it most the night. I have noticed, ... because I love the door open and fresh air... the pilot light goes out easily with a strong breeze.
Luvdoutdoors
Love my Mr. Heaters
These Mr. Heaters are really dependable. This was my second mr. heater. My first one is the "Little Buddy" and I have used it for several years now. I leave it locked up in my shoot house during off-season and it is ready to heat back up in the fall. I got this one because it heats more BTU and has an adjustable heat- low or high. I now have one heater in each of my shoot houses. I highly recommend this heater.
gimmethecountry
Simply a must for any outdoorsman or lady.
Scenario- You are in your hunting tent, warm in your sleeping bag. But that inevitable moment comes where you can wiggle no more and it is time to "step outside" real quick and leave that warm cocoon. I keep mine handy by my cot so I can quickly light it and turn it on high, step outside for my "break", then come back in the tent to dress for the day's action. I hover over it a minute to warm up and by the time I am dressed, it's getting pretty warm in there! How big your tent is will determine how fast it warms up, but it is invaluable. It isn't recommended on the box, but on super cold nights, I have many times fallen asleep with it on low to keep the chill down. It goes about 6 hours max on one canister, then I pop a new one in when I wake up. It's nice to dress when it's actually warm and not below freezing! Takes a while for the body to warm up like that. Cozy.
PapasBrat
Really Great Heater
This thing is a cold weather lifesaver. I use it with a 20lb propane tank. A tank will provide great heat for almost a full month
Ree
Great item
Exactly as described. On low setting, it keeps my 39 ft rv comfortable in the 30's temp.