Simple Kind to Skin Cleansing Facial Wipes, 25 ct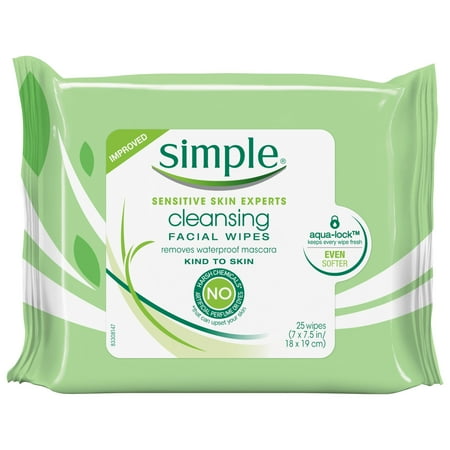 MSRP :

$5.89





Sale :

$4.46

Sold & shipped by Walmart
Product Description

Additional Information

Reviews
Product Description
Simple Cleansing Facial Wipes refresh and nourish your skin plus remove waterproof mascara. Our wipes contain a perfect blend of our purest possible skin loving ingredients with an added vitamin. These wipes are perfect for when you're on the go. They'll fit in your suitcase, your gym bag, your car, or anywhere you may need a quick touchup.
Additional Information
Simple Kind to Skin Cleansing Facial Wipes, 25 ct
Gently cleanses skin of impurities and unclogs pores, in the convenience of a facial wipe
Instantly refreshes and hydrates your face leaving skin feeling clean and refreshed
Contain no artificial colors, no perfume, no harsh chemicals that can upset your skin
Leave no greasy residue
New aqua-lock ™, prevents the wipes from drying out so even the last wipe is as fresh as the first
Dermatologically tested and approved
Reviews
Taylor13
Loved these!
I've been trying out a few different makeup wipes lately to see which one I liked the best, and so far none of them had worked like I wanted them to. I have sensitive skin, so just about every makeup wipe I've ever tried has broken my face it in a rash. Thankful, this brand was different! I was a little hesitant about these at first because I tried the Simple brand toner and did not like it, but these were very different. The wipes were wet enough to completely remove all of my makeup, and when I was done using the wipes I didn't feel a heavy residue left behind. One of the main things I was happy about was that these makeup wipes did not burn my eyes at all. I wear a lot of mascara, and I was able to wipe everything off really easily without making my eyes burn in the process. I also really liked that the wipes had a quilted pattern. They don't have a strong smell, and every time I've used them I haven't seen any makeup residue left behind and my face is always super smooth. I loved these so much that I actually went and bought a double pack of them so that I can keep using them! [This review was collected as part of a promotion.]
Taylor13
Left my skin feeling fresh and clean
I received this product free for testing from influenster but all the opinions are my own. I wear a lot of long lasting, super stay makeup, so having a good cleanser that works is a must. I've been using one brand of makeup wipes for quite a while now and really like them but I'm always excited to try new products. My first impression was that they are much softer than my usual wipes and I was really excited. My second impression is that they take a lot more swiping and wiping to remove my makeup. My eyeliner especially is very long wear, hard to remove liner. It took more effort to remove with these wipes than my usual. It did take all of my makeup off though, and left my skin feeling very clean afterwards. Overall, I do like the wipes and may be buying some more to use for days when I don't have as much makeup on or something. [This review was collected as part of a promotion.]
Eddi
Softer than the others!
I received a sample of these wipes from Simple Skincare and Influenster and I wasn't super excited about them. I don't wear a lot of makeup and I already had makeup wipes. After I had a friend do my makeup to have some pictures taken, I decided to give these a try and I was so pleasantly surprised! These wipes are softer than the wipes I was using previously and took fewer passes of the wipe to get all of the makeup off. They also didn't leave behind any sort of residue or sticky feeling. My face felt really nice afterwards. I've even used the wipes to just clean my daughter's face when it was a little dirty (chocolate chip cookie :-) and I didn't worry about it being to harsh for her. It turns out, I really like this product and will be buying them as soon as I need to purchase more cleansing wipes. This one is a winner. [This review was collected as part of a promotion.]
LadyHill
Simply Fabulous
I received these wipes in my influenster box and was excited to try them. We all know how tedious the task of removing a full face of makeup can be. I have admittedly gone to bed with it still on because I am too tired or lazy to take it off before falling asleep. These wipes change all of that! Simple to use, you can even keep them next to your bed or in your purse. I have sensitive skin and was worried these would burn or leave me red and irritated but they didn't! They took most of my makeup right off and left my face feeling smooth and refreshed. I only gave it 4 stars instead of 5 because I could not get all of the water proof mascara and eyeliner off without having to use water but otherwise it is an amazing product! [This review was collected as part of a promotion.]
pynklotus77
Convient and easy to use
I love the SimpleSkincare brand of products and I love the improvements to their wipes. Let me start of by saying the generous size was the first thing I noticed. Usually with other brands one would have to use up to four or five wipes to half the job that one wipe did. Secondly the texture was more cloth like and did not fall apart., thirdly the smell was very pleasing and overwhelming at all. And it contains no alcohol which can be irritating to the skin. I also double tested and washed my face after makeup removal to see how much was left behind on the cloth and was blown away there was no makeup left behind on the wipe. Conclusion gentle on the skin and tough on makeup removal. [This review was collected as part of a promotion.]