Neutrogena Ultra Sheer Dry-Touch Water Resistant Sunscreen SPF 85, 3 fl. oz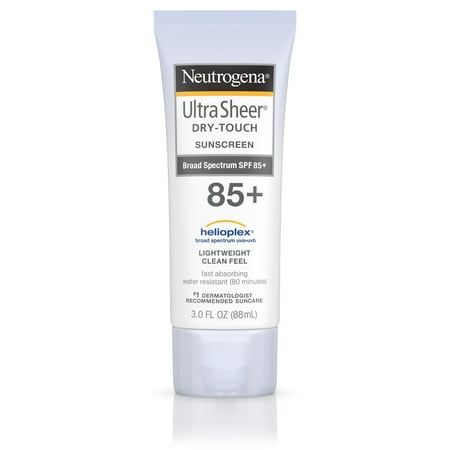 MSRP :

$12.49





Sale :

$9.45

Sold & shipped by Walmart
Product Description

Additional Information

Reviews
Product Description
Neutrogena Ultra Sheer Sunblock is a breakthrough in sun protection. It protects with advanced broad spectrum UVA/UVB protection and combines with dry touch technology to provide an ultra-light, non-shiny finish.
Additional Information
3-fl. oz bottle of water-resistant sunscreen lotion with Broad Spectrum SPF 85
Sunscreen lotion goes on easily and absorbs quickly for an invisible, weightless feel
Stabilized with Helioplex that provides superior sun protection against UVA/UVB rays
Dry-Touch technology absorbs fast for an ultra-light, shine-free finish
Dermatologist tested formula is non-comedogenic, so it won't clog pores
Ultra Sheer Dry-Touch Sunscreen is water-resistant for up to 80 minutes
Fast-absorbing sunscreen lotion formula is non-greasy and PABA-free
Superior sun protection in an ultra-light formula from #1 dermatologist-recommended suncare brand
Reviews
Leigh308
What a ginormous mistake!!
I purchased this last week Applied to my face, neck, chest, arms, hands, tummy, legs, & back. Sat poolside for 1.5 hours. When I showered I noticed bumps all over. It was our anniversary and while driving I mention to my husband my chest, arms, & legs were burning. I thought perhaps I had gotten a sunburn despite the sunscreen. Oh my gosh!! When I returned home I was covered in pustules from face to toes. The next morning when I awoke it was even more ghastly!!! At this point I didn't connect it to the sunscreen. I went to my pharmacist and was told it looked like an allergic reaction & asked if I used a new product. At first I said no then it hit me I had used Dry Touch. He said there you have it. It has zinc in it which is not suitable to everyone and is a common reaction. Holy cow!! He recommended hydrocortisone cream and Benadryl. I had to purchase both. Three days later there was minimal improvement so I went to see my Dr.. Aside from the 2 products I previously purchased, I paid for a dr. visit and a script for prednisone. I am now covered in scabs. It's gross!! I'm not happy and will never use Neutrogena products again! Stay clear of this stuff!!
SoCalGal
Sunscreen that absorbs into skin
I used samples from the dermatologist office. Wonderful sunscreen, very difficult to find in stores! Sunscreen goes on with a light feel to it. Best part it absorbs into skin! SPF 85! Need to put in more stores!
Emily99
SEVERE RASH AND BURN
I have used the ENTIRE bottle during my hot, sunny trip within 3 weeks. I use this sunscreen every 2 hours (as instructed) to prevent my skin from getting UVA/UVB damage. My skin is not sensitive, but this sunscreen changed that. It took an entire bottle to take effect on my skin, but when it did, it left me with a nasty ITCHY, red RASH that dried out my skin with a thick brown patch to where I applied; it left me in pain and it still has not recovered. I did some research and found out this sunscreen does NOT have zinc oxide as an ingredient, but instead 5 various toxic chemicals. Avobenzone and Oxybenzone is known to cause contact/photodermatitis and does not stay on the skin. These chemicals get absorbed into the skin and remains there for several days, causing damage. Be careful of this sunscreen especially if you have sensitive skin. ALWAYS read the ingredients and do your research.
amzingrl
Nice
Easy to use, light, no smell, little goes a long way Goes on nicely and doesn't make you feel oily, greasy or break out, plus it works! I have photosensitivity and not to have any sun exposure so this product is excellent in protection and saving me from reactions.
ConcernedMaleCustomer
Extreme facial rash for the 2nd time
I used this sunscreen and I did not get sunburned! However, my face broke out into an insane red rash. My face is swollen and feels like leather. There are a few little pimples on my face and no lotion seems to help soothe the pain. The first time this happened a few months ago I figured it was just because I had extreme sun exposure working on the beach. But since this happened again the day that I used this product, my fear has been confirmed that this sunscreen is the reason for the breakout. I use Cetaphil face wash and CeraVe face lotion daily. I used the sunscreen on my shoulders too at the same time because my body sunscreen ran out but there is no rash there. So I'm starting to think it is some type of reaction with other products that I use. Either way, this has caused me to lose all faith in neutrogena produts. They are just too filled with chemicals. I'm moving to something less chemical based.