Neutrogena Ultra Sheer Dry-Touch Water Resistant Sunscreen SPF 45, 3 fl. oz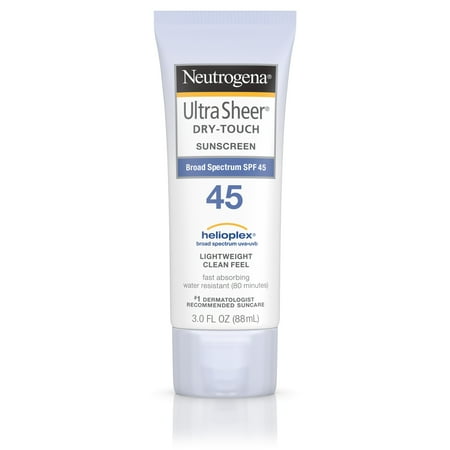 MSRP :

$9.35





Sale :

$8

Sold & shipped by Walmart
Product Description

Additional Information

Reviews
Product Description
Get powerful sun protection without the heavy finish with Neutrogena Ultra Sheer Dry-Touch Sunscreen. This Broad Spectrum SPF 45 sunscreen lotion with Dry-Touch technology absorbs fast for a clean, ultra-light feel and shine-free finish. This sunscreen is formulated with Helioplex Technology, which offers superior broad spectrum protection from aging UVA rays and burning UVB rays. Fast-absorbing and water-resistant, this non-greasy formula is non-comedogenic and PABA-free.
Additional Information
3-fl. oz bottle of water-resistant sunscreen lotion with Broad Spectrum SPF 45Sunscreen lotion goes on easily and absorbs quickly for an invisible, weightless feelStabilized with Helioplex that provides superior sun protection against UVA/UVB raysDry-Touch technology absorbs fast for an ultra-light, shine-free finishDermatologist tested formula is non-comedogenic, so it won't clog poresUltra Sheer Dry-Touch Sunscreen is water-resistant for up to 80 minutesFast-absorbing sunscreen lotion formula is non-greasy and PABA-freeSuperior sun protection in an ultra-light formula from #1 dermatologist-recommended suncare brand
Reviews
jas27
WHITE CAST???????
I usually buy their spa 30 ultra sheer sunscreen but I decided to save some coins and buy the twin pack of the spf 45, big mistake. I am African American. I don't know if people with lighter completions notice their paler or something but for me being of a darker complexion the white cast gets shown in all its glory. I mean it is as dry touch as it says for a spf 45. I thought the higher the spf the greasier it would be. But that fortunate thing is pretty irrelevant because I can not be wearing that sunscreen with the white cast, no matter how much the dry touch could be working for my skin. I made this comment in an effort to stick it to you neutrogena. I hope it worked. And btw, I always thought because a sunscreen is chemical it wouldn't have a white cast, that is why I buy your sunscreens in the first place. I expect no white cast!!!!!! at least put a label on the bottle or something stating "a whitecast may occur."
Michelle
Will Never Use Again for Swimming or High Activity
I pride myself in not skimping on skin protection for my family. Today I used this product on my children ages 9 and 6 at the swimming pool and it failed miserably. Even though it was more expensive than many other sunscreen options I was thinking it was money well spent because it was protecting their skin, but it didn't in that tonight they are very sunburned. They also complained that it stung when applied. I also used it, but am not burned, however, I only swam briefly compared to them. I put the product on thick and reapplied theirs and my own after about an hour and a half because it was a very hot day. We were out about 3 hours. I have used this product before and it performed fairly well so I thought it was an acceptable choice, however those times I was not swimming and was only out for limited time doing mild activity. It says "waterproof" but clearly did not hold up. Don't make my same mistake and use this on your children. I feel terrible!
Teri
Product works well. Container is awful
This is the second tube of Ultra Sheer Dry-Touch I have had. I had no issues with the first one but this container leaks like crazy. The lid fills with sunscreen and is impossible to get it all out so product is wasted. It leaks out the lid as well so it has to be packed in a plastic bag to avoid damaging clothing. Not a good design.
Teri
One of the better sunblocks...
I own the Factor 45 version of this product and I used this sunblock daily for school. After a year of going to Physical Education without sunblock, I noticed the formation of sun spots and discoloration. It happened gradually, but my skin has gotten better and the ususage of this sunblock has really aided in that. I have dry, somewhat sensitive skin with some oily spots. I find the application smooth and fairly non-greasy. It absorbs completely in about 15 minutes, though it is generally dry a few minutes after applying it. It protects well and left only a slight white tint that will go away. It has a scent but nothing that bothers me too much. It's one of the better sunblocks I've used but I may want to try something else just because I like to try new products I have gotten rid of my sun spots and my skin is much more even now. The sunblock is moisturizing, but with minimal greay-ness.
Cat2102
Rash
I have used this product or any of the other spfs of the dry touch sunscreen for years on my face and neck with no issues. Recent uses, since late June, have resulted in a blotchy red itchy rash, first time was after a couple days' cumulative use, next time it was the next day, most recently within hours. This is occurring whether with older bottle or bottle purchased within last 3 weeks. I don't have particularly sensitive skin, but no doubt that the rash is from this. Can't use it again.