Neutrogena Micromist Airbrush Sunless Tanning Spray, Medium, 5.3 oz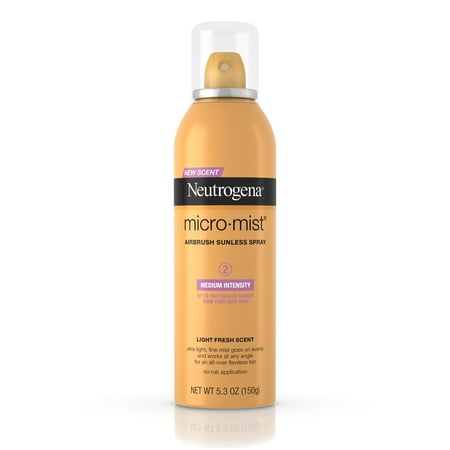 MSRP :

$11.92





Sale :

$9.97

Sold & shipped by Walmart
Product Description

Additional Information

Reviews
Product Description
Get a gorgeous, sunless tan with Neutrogena MICROMIST Airbrush Sunless Tan in Medium Intensity. This gradual tanning spray delivers an ultra-fine mist that applies like a professional airbrush spray to create a tan two shades darker than your skin tone. Designed for easy hands-free application, the self-tanning mist applies lightly and evenly, and dries in less than five minutes with no rubbing required. The one-touch continuous tanning spray works at any angle, so you can cover hard-to-reach places, including your back. Made with an oil- and alcohol-free formula, this sunless tanning spray contains witch hazel, a natural ingredient known for its skin-soothing properties, and is also non-comedogenic so it won't clog pores.
Additional Information
5.3-ounce bottle of sunless tan spray
For a gorgeous, sunless tan
Go two shades darker than your skin tone
Ultra-fine mist for even coverage
Works at any angle
No-rub application
Oil-free and alcohol-free
Reviews
littlecitylady
agodsend
i have been looking for something simple that would work for a while now ive tried i think all the gradual tanning lotions and have only been disappointed like another reviewer commented other products have a very chemically sour smell to them that this one does not have i was so happy for this product it is my first tan spray but i like the choice at the store to choose between a whole bunch of numbers from 2 up that could help other people with darker skin tones i for one tried the number 2 first as i can only describe my skin as resembling milk! >:/ i didnt want to make a big mistake by going too dark or causing uneven staining i spot tested first and it developed so pretty when i applied over the rest of me i was so happy with the results i am not dark but i dont look deathly pale i wonder how they do it it looks very natural on me and the price is great for my budget im nineteen and this product was a sinch for me i would definitely recommend to my gfs!
mom2kaden
This works great!
I used to tan in the tanning bed until I had a baby and now there arent too many times I get the chance to leave the house without him. I bought this after reading a lot of good reviews. My biggest worry was that this would turn me orange. I have naturally fair skin, and after one use I already saw results. The second day, I put on another full layer over my whole body and am now seeing quite a bit of difference. After TWO times. I think one can will last me 3 good all over body sprays. I will not continue to use every day, just wanted to see how it would look. I think I will use this every few days, so I am thinking 3 cans a month. That is around $30, I used to pay over $30 to tan at the salon and this is MUCH better for you, you can do it in your own home, and it's super easy! I will definitely continue using this product and recommend it to everyone.
vabeachmom37
Best I have used so far
I have used plenty of sunless spray tans and lotions and this is the best I've used so far. It's easy to spray and doesn't have that "sour" smell like other sunless tanners do. There is nothing worse than having that smell on you all day long, so I was thrilled to find this product! I only use it on my legs. I spray and still make sure to rub it in so it's guaranteed to be even. I also use my hair dryer on the cool setting to dry my legs a little after use. Of course, I always exfoliate before even spraying/. I could seriously buy an entire case of this sunless tanner!
bubba
So far, so good...
I purchased this product for the first time yesterday after debating for a long time which brand of self-tanner to get. I decided to go with Neutrogena since I had read so many good reviews about it. Last night before bed I sprayed a little bit onto my stomach as a test. I didn't exfoliate. This morning I had a look but I could not tell a difference. But then a couple of hours later, i noticed my stomach was indeed slightly tan - it looked natural, no orange color, no streaking. I was pleased with this since I had only sprayed a tiny bit. About 30 minutes ago, I showered and exfoliated and sprayed my whole body. After about 10 minutes [when about 90% of my body was dry] I redid my legs and butt and chest. It takes longer to dry than it says on the bottle and for the color to set in...but other than that I have no complaints. I am now dressed [even though my butt was not completely dry] and can't wait to see the results later today, or, tomorrow morning. I will come back and write another review!
Nikkiah
Great natural looking color...
This is the only drugstore brand of self tanner that is comparable to high end self tanners. It's right in line with brands like clinique and st. tropez. I use clinique mostly, but occasionally I like to spray this on my face and neck. My toner takes self tanner off so I have to reapply often. I also have my husband spray this on my back. It lasts on my back for 4-5 days then fades off pretty evenly. I am very fair and I get great color- no orange It's very easy to apply and dries fast- no streaking as with tanners that you have to rub The mist really is micro-mist so you need good ventilation... I spray it in my bathroom while holding my breath, but then I have to run out. If you breathe it in, it will make you cough for sure. The smell isn't horrible- smells of self tanner, but not as strong as some.