Bumble Bee Chunk Light Tuna in Water, Canned Tuna Fish, High Protein Food, 5oz Can, Pack of 4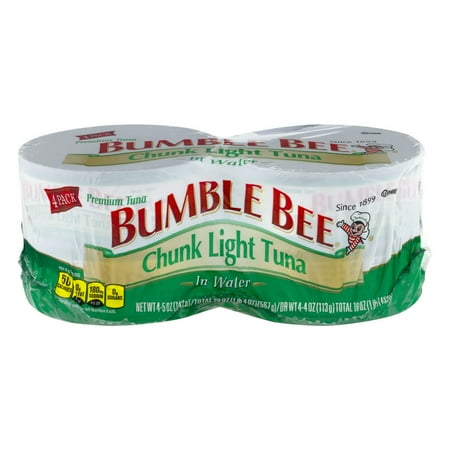 Sale :

$4.12

Sold & shipped by Walmart
Product Description

Additional Information

Reviews
Product Description
Enjoy a health meal with the Bumble Bee Chunk Light Tuna in Water. It is an excellent source of omega 3 and protein. Bumble bee has been committed to bringing premium seafood to America's tables since 1899. We are dedicated to the sustainability of ocean resources, eco-friendly manufacturing, and are proud to offer a full line of nutritious products and meal solutions. This 5 oz. canned tuna fish meets American heart association food criteria for saturated fat and cholesterol for healthy people over age 2. While many factors affect heart disease, diets low in saturated fat and cholesterol may reduce the risk of this disease. It is completely dolphin safe and has 0g carbs. This Bumble Bee Chunk Light Tuna in Water is almost shredded so it easily mixes into a traditional tuna salad and has a nice mild flavor.
Additional Information
Wild Caught

Gluten Free and Kosher

Packed in Water

High protein food
Ready to eat
Perfect for lettuce cups, wraps, stuffed peppers, or any seafood recipe you are creating

5oz can (4 cans in total)

Reviews
4Hmama
not good
No good, Chicken of the Sea is much better, I am very unhappy that I cant order that online. I am loving getting a lot of my groceries ordered. We have a crummy walmart store, and our local grocery store is no better. This bumblebee tuna has small bones often, and just doesnt have a very good taste.
allgone
A lot of mush
There were absolutely NO chunks or even small pieces of tuna in this can, impossible to drain 'water' and/or 'vegetable broth' from the can. In larger letters it said 'packed in water' then said something about vegetable broth being added - why? I purchased this product on line because it was offered there. I'm 79 years old and hope to never forget this experience and try this product again in my lifetime.
Missy
Bumble Bee chunk light tuna in water
It was awful. Gave it to my sister-in-law for her cats.
Bri22
Tuna looks like it went through a blender
I thought I just got a bad can but have gone though 6 of them now and they are all the same. The tuna looks like it has gone though a food processor or a blender. The can says "chunk" light but it's really more of a shredded tuna. Fortunately I bought it for my dogs and they don't seem to mind. Surprisingly the Walmart brand is better and a little cheaper.
CaliCutie
Not a single chunk
It looks like tuna flake soup because it's flakes in water. I have a hard time with the fact they still say chunk on the can because there aren't any in any of the 3 four packs I purchased.