(4 Cans) Bumble Bee Chunk Light Tuna in Water, Canned Tuna Fish, High Protein Food, 5 oz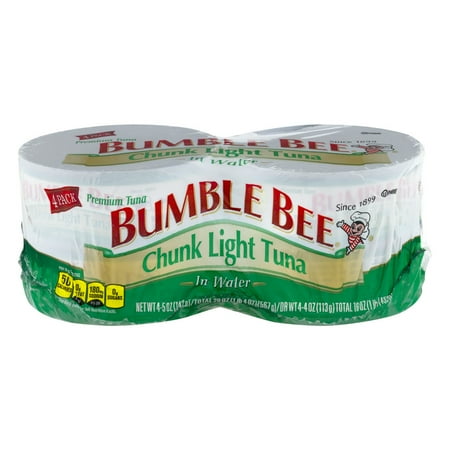 Sale :

$4.39

Sold & shipped by Walmart
Product Description

Additional Information

Reviews
Product Description
Bumble Bee Chunk Light Tuna in Water is ideal for most recipes that call for tuna. Chunky, and versatile, it can be used in dishes ranging from a cool refreshing salad to a warm hearty casserole. It's the perfect 'better-for-you' ingredient if you are looking to add lean protein to your diet. Bumble Bee is an advocate for living a healthier lifestyle and offers a variety of recipes to support your Health & Wellness goals. You can find all of our delicious recipes and more on the Bumble Bee website. See Bumble Bee website for full nutritional facts.
Additional Information
Reviews
4Hmama
not good
No good, Chicken of the Sea is much better, I am very unhappy that I cant order that online. I am loving getting a lot of my groceries ordered. We have a crummy walmart store, and our local grocery store is no better. This bumblebee tuna has small bones often, and just doesnt have a very good taste.
allgone
A lot of mush
There were absolutely NO chunks or even small pieces of tuna in this can, impossible to drain 'water' and/or 'vegetable broth' from the can. In larger letters it said 'packed in water' then said something about vegetable broth being added - why? I purchased this product on line because it was offered there. I'm 79 years old and hope to never forget this experience and try this product again in my lifetime.
Missy
Bumble Bee chunk light tuna in water
It was awful. Gave it to my sister-in-law for her cats.
Bri22
Tuna looks like it went through a blender
I thought I just got a bad can but have gone though 6 of them now and they are all the same. The tuna looks like it has gone though a food processor or a blender. The can says "chunk" light but it's really more of a shredded tuna. Fortunately I bought it for my dogs and they don't seem to mind. Surprisingly the Walmart brand is better and a little cheaper.
CaliCutie
Not a single chunk
It looks like tuna flake soup because it's flakes in water. I have a hard time with the fact they still say chunk on the can because there aren't any in any of the 3 four packs I purchased.