Plax Advanced Formula Plaque Lossening Rinse, Soft Mint, 24 Fl. Oz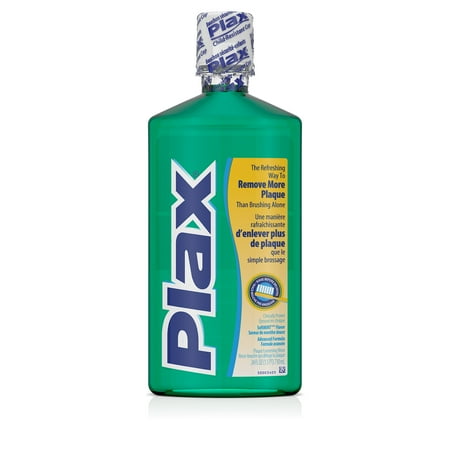 MSRP :

$11.37





Sale :

$4.97

Sold & shipped by Walmart
Product Description

Additional Information

Reviews
Product Description
Plax Advanced Formula Plaque Loosening Rinse, Softmint helps loosen and detach plaque for a cleaner, brighter smile. Clinically proven to remove more plaque than brushing alone, this patented rinse prevents plaque build-up, which can lead to dull-looking teeth, bad breath, and an unpleasant film in your mouth. Use the rinse before each brushing for cleaner, brighter, fresher teeth. Plax Advanced Formula Plaque Loosening Rinse has a refreshing Softmint flavor to leave your whole mouth feeling fresh and clean.
Additional Information
16-ounce bottle of rinseLoosens and detaches plaqueClinically proven to remove more plaque than brushing aloneFor cleaner, brighter, fresher teethDesigned specifically for rinsing before brushingRefreshing Softmint flavor
Reviews
Cave
Plaque rinse
Play Advanced Formula Plaque Loosing Rinse, soft mint helps to loosen and detach plaque for a cleaner, brighter smile. It is clinically proven to loosen more plaque than just brushing alone. Patented rinse prevents plaque buildup which can lead to dull looking teeth and bad breath and unpleasant film in your mouth. Using this rinse before brushing for a cleaner, brighter, fresher teeth. It has a refreshing soft mint favor. It does loosen the plaque so that when you brush you can brush away the plaque. Had a lot of plaque on the back side of my front teeth. After using it for a couple of days there is no plaque on the back side of my front teeth. The soft mint leaves your breath smelling good. I like that all you have to do is rinse your mouth with Plax Advanced Forumla Plaque Looing Rinse and then brush your teeth like you would normally do and the plaque is brushed away.
lorna444birds
Cleans your teeth
Plax does and good job in helping to get the plaque off your teeth. All it takes is a tablespoonful swished around in your mouth for 30 seconds. When I brushed my teeth after the first use, I noticed a difference right away. By the fourth treatment, all visible plaque was gone. The only drawback for me is it burns the back of my throat a bit. For me, that's well worth having cleaner teeth.
TheCheerfulBlogger
PLAQUE ATTACK!
The initial thing that I'd learned, about this product, is that Plax is a rinse & not a mouthwash. The bottle is vibrant & the scent of the rinse is very nice.The soft mint flavor is very accurate. The scent is more appealing than the actual taste of the rinse. What's more, it leaves a bland, somewhat stale after taste in your mouth. The product does an effective job of loosening & breaking up of existing plaque. I'd actually, visually, witnessed it. The rinse foams up while in use & you can feel it working. It also brightens your teeth which is a bonus which you can watch happen while you use the rinse over a small period of time. This product isn't complicated, all you have to do is rinse for thirty seconds twice a day, & brush your teeth, for amazing results.
IdahoWolfie
great flavor
Plax-Refreshing way to remove more plaque-soft mint flavor. I am doing a trial of Plax and seeing if I get the results it says you will. It's a good sized bottle and it will last a while. I have been using it for just over 2 weeks. You are to use about one tablespoon before you brush your teeth rinsing vigorously for about 30 seconds. I really worked it around in there. Then spit it out. It does have a pleasant taste, not overpowering. Says to brush, then brush thoroughly with toothbrush and paste. I don't mind using it and know they do recommend your rinsing your mouth prior to brushing so this can't hurt. I can't tell for sure if it is making a difference, but I have noticed another member of the house brushing there teeth more so they can use it too. So that is a good thing, my teeth are clean, and they feel clean. I prefer to do the before you brush rinse that the after, but I haven't ran this by my dentist yet. I will ask him though and my dental hygienist. I have never used Plax before so am very curious to what they will say, and how my check-up comes out. It's worth a try and if it encourages kids to brush more without a fight that is a win for sure. I am going to keep using it so I can ask the Dentist. If it helps get my teeth plaque free better than not using it, then that's a good thing. I was surprised that it tasted good.
KmmeF
Plax mouthwash
This product was received through spark program. My husband and I both tried the mouthwash to try something new, but didn't expect Plax was intended to be used before brushing. First it is good to use while rinsing and swishing around without having the strong alcohol tingling sensation that most mouthwashes have. I've used Plax before and after brushing since Plax gives a good aftertaste in mouth. I would recommend this product to someone who has sensitive gums since most mouthwashes have a lot of alcohol in it. Lastly, this is a good product for everyday use to help with dental/gum issues.