Eustachi Eustachian Tube Conditioner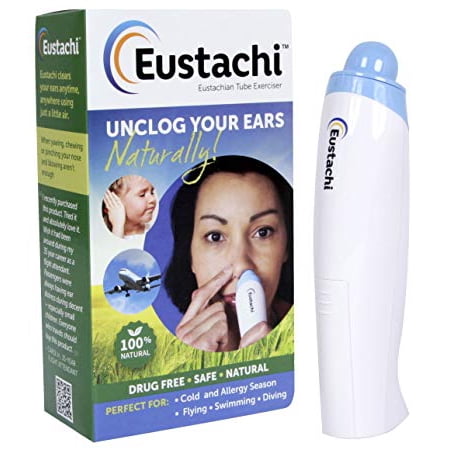 Sale :

$59.95

Sold & shipped by Walmart
Product Description

Additional Information

Reviews
Product Description
The Eustachi Eustachian Tube Conditioner unblocks plugged ears by helping exercise the Eustachian tubes—all you have to do is swallow. It's quick, safe and easy to use. Eustachi works with your body's natural mechanism for clearing your ears. Swallowing and yawning normally clear your ears. When swallowing isn't enough the Eustachi helps using just a little air. Recommended and used by physicians, parents, chiropractors, airline pilots, scuba dive instructors, cold and allergy sufferers and more.
Additional Information

Eustachi Eustachian Tube Conditioner:
Unclogs your stuffy, congested ears instantly and naturally
Unblocks Eustachian tubes anytime, anywhere using just a little air
Ideal for cold and allergy season, flying, swimming and diving
Safe for kids and adults
Drug-free
When yawning, chewing or pinching your nose and blowing aren't enough
Easy to use
Spot or wipe clean after use
Eustachian tube conditioner features an ergonomic design for comfort
Recommended and used by physicians, parents, chiropractors, airline pilots, scuba dive instructors, cold and allergy sufferers and more.
Package includes an instruction manual
Requires 2 AA batteries (not included)
Reviews
Slr57
Finally! I can hear!
After a severe sinus infection and bronchitis, an allergic reaction to the first round of antibiotics, steroids and a number of over the counter and herbal medications, I made an appointment with an ENT. I continued to search the internet for any reasonable way to clear my eustacian tubes and came across Eustachi. Honestly, I was skeptical when I made this purchase because nothing else I had tried had helped. What a surprise! The first time I used this my ears partially cleared and I could hear out of my left ear for the first time in a month. My right ear, that had partial hearing at times, opened right up. A few hours later I used it again and things continued to improve. I am now on my second day and am still making progress. A few hours after use I experience increased pressure and decreased hearing so I use it again. I am just so relieved that I can hear again. Definitely take a sip of water before you start the machine - it makes it so much easier to swallow.
Relief
Unclogged my ears
Occasionally my ears get clogged after a flight, but it usually goes away after a day or so. About a month ago,my ears were clogged in a similar way, but it also felt like there was fluid in my ears and that someone was covering my left ear with their hand. It was hard to hear conversations and my voice sounded muffled when i spoke. I went to the doctor and he said he didn't see anything but that I probably had fluid in my eustacian tube but it would go away in a few weeks. I waited about a week,but was so annoyed that I started reviewing tips on amazon. After unsuccessful attempts with ear drops and ear candles, I saw the eustachi and figured I could give it a try. I didn't have instant relief, but after about 5 or 10 tries I was finally able to pop my ears. I kept popping my ears every couple hours for the next 2 days and now I'm 100%back to normal. If you are experiencing these symptoms you know how amazing it is when they are gone! I wish I had bought this sooner.
Liamrg09
Worth the 60 dollars for sure
Every so often my ears clog up and the fuid has a hard time draining. Before the eustachi i was cracking my ear lobes taking antihistimines that completely drained me and lastly would go to the doctor and get spray. A few weeks back i got a spray i used for a week which helped but my ears only started bothering me again a few days later. I did some further research online and found the eustachi and saw all the positive reviews so i bought it. The first day i got it i tried it a few timed and my ears felt full but i heard the popping. The next day i felt 100% better better than i felt in weeks. T I used the eustachi a couple of times after and the true test was getting on an airplane. My ears were better and the flight didnt bother me. This machine should be promoted better and works great its worth the money to feel like yourself again.
MKMK
Worked well for one year - I ordered another one.
This worked very well. It lasted exactly one year. I just ordered another one. I fly with it and use it every day. I brought it with me on my last trip a week ago. It was not working on the flight home.
ClearlyHearing
So simple yet so effective and worth every dime!!!
Had clogged Eustachian tubes and hearing everything muffled and "underwater" for 3 1/2 months. Had this happen numerous times in the past and the ENT always wanted to put tubes in my ears. That did work but very expensive! Tried Sudafed, prednisone, Flonase, holding my nose and blowing air out with mouth closed....tried everything recommended to me. Then I googled it and found this! Other reviews sounded just like my situation so decided to try it and SO GLAD I DID!!! So simple...but started working with the first try!! I COULD HEAR AGAIN!!! YEA!!!! Thank You! Thank You!!