Women's Satin Stretch Wireless Bra, Style 1960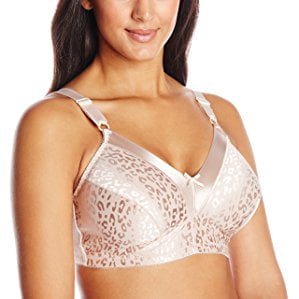 Sale :

$14.68

Sold & shipped by Walmart
Product Description

Additional Information

Reviews
Product Description
Just My Size Full Figure Satin Stretch Wirefree Bra, Style 1960
Additional Information
Just My Size Women's Satin Stretch Wireless Bra, Style 1960
Silky two-section cups give you naturally contoured curves
Allover knit-in stretch ensures sleek fit and freedom of movement
Wider non-stretch straps adjust in front for convenience
Stretchy satin back resists ride-up and smoothes out bulges
Sexy matte-&-shine pattern adds a touch of luxe
Back close has two to four rows of adjustable hooks & eyes, depending on bra size
Same as Just My Size Wirefree Bra Style 1960 sold in stores See all Just My Size Bras on Walmart.com ?
Reviews
Catinacat
Extremely comfortable and Fits !
I have been buying and wearing these bras for I imagine over 30 years they are the most comfortable wearing bra that I have found since I am extremely large breasted it takes a well made and long lasting bra too Keep up with my usage. I wear my bras 24 hours a day. It is more comfortable for me to wear my bras at night to sleep with. I wish the designers could make some kind of addition 2 my bras because of my size I sweat very much under my breast so I use a small washcloth up under the front rib of my bra to absorb the sweat so that I do not get infections like I used to. I know that I am not the only woman who suffers with this problem but are too embarrassed to say so. Please Help ???
PMBL
Extremely comfortable and Fits !
I have been wearing this bra for many many years. I love it. I have been very disappointed of late. Of course they quite making colors in my size, but okay I will wear white forever I guess. I am okay with that. The last 4 I bought does wrinkle on the seam lines and shows through my clothing. And today I was going to purchase 4 new ones but now they don't have my size 40DDD. What's happening here? Am I going to have to search for a new bra?
jk20
Best bra ever
I have bought this style for over 15 years. I love it. As years have gone by I have gained weight now I need a bigger cup size. I hope they soon start making more of the 50DDD so I can continue to buy.
KiwiCate
Straps Too Short
First thing I noticed when I put bra on was the straps were way too short. Due to the cost of returning them from New Zealand was able to find a home for them here! I have bought others and not a problem unit I received latest order and also find another different style the straps are too short. .
smitho65
larger sizes
To who it may concern I just LOVE this bra but the problem is you never have my size 38DDD OR 40DDD in colors black, red, nor the brown color when will these be coming back