Women's 1973 Comfort Strap Lace Wirefree Minimizer Bra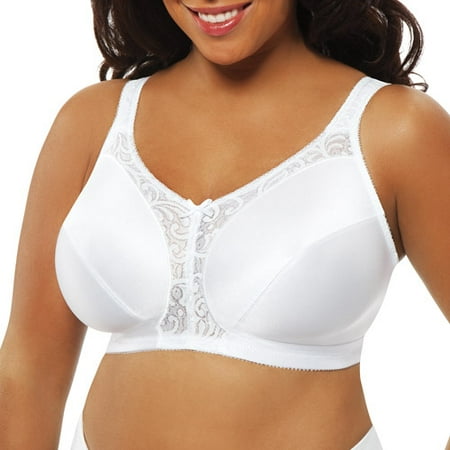 MSRP :

$21.048





Sale :

$15.12

Sold & shipped by HerRoom and HisRoom
Product Description

Additional Information

Reviews
Product Description
Additional Information
JMS-Comfort Strap And Lace Wirefree Minimizer Bra-1973
Perfect for fitted blouses.
Softly seamed non-stretch wirefree cups reduce bustline by up to 1.
5 inches so button-down tops fit better.
Lace-covered cushioned straps help relieve shoulder strain.
Wide plush bottom band keeps bra securely in place without rolling or ride-up.
Shimmering satin stretch back.
Reviews
Buckybadgerfanatic
BEST bra I've ever had!
I have a large chest and it has been difficult for me to find any bra that doesn't make me look so huge. I am 53 years old and this is the FIRST bra I've ever had that actually makes me look at least a size smaller, if not two! As soon as I put it on, I couldn't believe the difference in my shirts! It's as if I had a breast reduction and it only cost a fraction of the real thing! LOL If you're on the fence about ordering this bra, ORDER IT! You will NOT be disappointed!
loveslibraries
Good Bra
It only comes in white. It pouches out just a little in the middle. However, I think larger women are tired of the uni-breast. Wearing one separate cup for each breast might help, as in a dual-bra scenario. This softer fabric by the cup top is slightly accommodating for overflow. Since it doesn't come in 48J, the rib band folds under. The adjustible backstrap has 5 clasps and only a coulple inches of adjustibility. The shoulder straps widen near the back, which limits the amount of shoulder adjustibility to about 2". These bra straps are too wide to function with plastic racer back converter add-ons. It's too bad the shoulder straps are not removable for clear strap days. The cups have good support, although they are too thin like all affordable bras. Modesty begs another fabric layer, which could also smooth the cups for today's sheer fabrics.
glad i can order online
favorite for years
I've been wearing this style bra for many years and I love it. However, this style is becoming hard to find in the stores. I was able to finally track it down, but wouldn't you know that, sadly, the store that is getting ready to close. So, I am pleased to discover that I can order this style bra online. Also, it's the only style and fit that I like -no padding, no underwire, etc...- It's a simple, straight forward, slightly feminine without being too much so, covers where you want to be covered, just the right amount of support, non wearing this just to please a man bra. It's a "just my size" and a just my style bra. :)
Lori4
Best Minimizer Ever
I have been wearing this bra for years and it's the only bra that doesn't make me look huge. It provides adequate support with no uncomfortable wires. I hope they make this forever.
NancyfromWA
Great minimizer!
I had a couple of these bras from years ago that I just wouldn't throw away because they worked but they were definitely showing signs of age. I looked for this bra in Roamans and other online stores with no luck. I was SO happy to find it here! I was sick of buttons coming open or blouses gaping open with my "normal" bras. This bra is comfortable yet somehow minimizes your bust so clothes fit better. I was so happy to find this bra again, I bought 5! THIS time I'll remember what company I bought them from!