Honeywell 5-2 Day Programmable Thermostat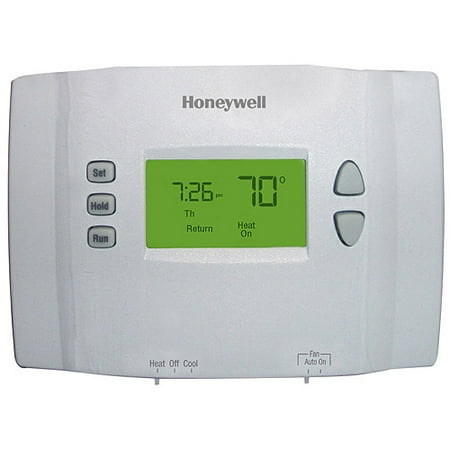 Sale :

$24.48

Sold & shipped by Walmart
Product Description

Additional Information

Reviews
Product Description
The Honeywell 5-2 Day Programmable Thermostat is another option for customizing your thermostat to your schedule. The 5-2 Programmable Thermostat let's you program weekdays separate from the weekend, each with four program periods per day. The Honeywell 5-2 Day Programmable Thermostat applies the simple programming logic found in many conventional formats with control buttons and a large viewing screen. The result is a very easy-to-use programmable thermostat that responds to your choices and schedules for optimal comfort and energy savings. The large, backlit display shows room temperature, set temperature and current time all at once. You'll enjoy the convenience, energy savings and consistent comfort that one can expect from the thermostat leader. Save up to 33 percent on your heating or cooling bill when used as directed.
Additional Information
Honeywell 5-2 Day Programmable Thermostat:
The Honeywell Energy Saving Thermostat has a backlit display
Precise temperature control
Easy-to-use and install
Weekday/weekend programming
1 program for the weekdays and a separate program for the weekends with 4 program periods per day
The Honeywell Energy Saving Thermostat provides energy savings
Savings may vary depending on geographic region and usage
Basic operation keeps programming easy
Precise temperature control of +/-1 degree F to maximize comfort
Does not work with heat pump systems with back-up heat, multi-stage heating/cooling systems and electric baseboard heat (120-240V)
The Honeywell Programmable Thermostat has a 1-year warranty
Reviews
Seedee40
Simple to use
It's a great price and it does everything it's designed to do. I have heard complaints of a complex setup, but the only thing that could be simpler is a non-programmable thermostat. Anytime you don't want to fool with the programming of this model, just push "Hold" and it is the same as a manual thermostat. When you push the "Set" button, set the time. Keep pushing the "Set" button to set the day of week. Push "Set" again to program weekday events. There are four events per day, Wake, Leave, Return, and Sleep. You set the time of the event, push "Set", set the temperature for that event, push "Set", program the next event, etc. After programming the weekday events, it goes to weekend programming and you do it the same way. If you want to just change the program of one event, push "Set" repeatedly until you get to that event. After your change, press "Run" and you're done. It keeps the temp pretty close to the setting, never more than one degree difference, but most times exactly at the set temp.
nothappy
beware
dual zone heat and ac. bought this for upstairs. installed in summer and worked like a champ. in fall, turned on the heat pump and nothing. called local tech who found fuse blown. he said leave blue wire disconnected. I did and it worked great however, the outside heat pump unit never came on. it was using emergency heat which the unit wasn't supposed to be capable of. I put my old analog amer st back on. can't wait to see my electric bill. yep.. 24 bucks and worth ebooks very penny. NOT
BoRo
Program comfort
Easy to install and operate. Nice to program your comfort needs when you are gone or asleep!
abqmalenurse
Great!
Picked this thermostat up from the store. Came home, installed it and programmed it in about 20 minutes (using existing wiring). Works great! The timer is accurate, has programs for start, leave, return and sleep. Hold and run functions for sudden weather changes or if you're off your regular schedule. My only problem is that I did not know this model uses batteries but maybe I didn't read well enough. Only two AAA batteries and I expect them to last for a very long time.
Phil
Honeywell 5-2 Day Programmable Thermostat
The Honey well thermostat is an excellent buy , easy to install , very accurate and true to it's programming. After installing you can forget about adjusting the thermostat every day because it's all done for you for the times you have programmed it for. P.H