Surefire EP5 EarPro Sonic Defender Earplugs, Black, Medium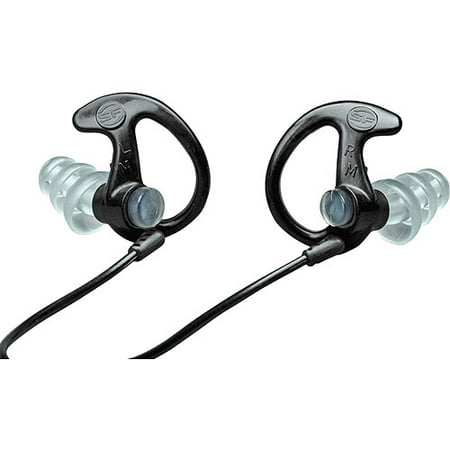 MSRP :

$14.96





Sale :

$11.49

Sold & shipped by Walmart
Product Description

Additional Information

Reviews
Product Description
Affordable, reusable "full-block" EP5 Sonic Defenders® Max utilize a soft, adjustable, triple-flanged stem to seal the ear canal and block out potentially harmful sounds, providing an impressive Noise Reduction Rating (NRR) of 26dB. EP5s are an excellent choice for industrial, tactical, and general applications where maximum protection against continual noise levels is desired and the ability to hear ambient sounds or conversations is not a priority. EP5s are made from soft but durable, hypoallergenic polymer for all-day comfort and an extended product life. Their patented EarLock retention rings lock the earplugs in place, while soft, adjustable triple-flanged stems provide secure seals in the ear canals. A low-profile design allows EP5s to be worn with a mask, helmet, or supplemental hearing muffs, as well as makes them more comfortable for sleeping.
Additional Information
Surefire EP5 EarPro Sonic Defender Earplugs, Black, Medium:
"Full-block" design provides 26dB Noise Reduction Rating (NRR) to protect against potentially harmful noise
Soft, adjustable, triple-flanged stems provide secure seals in ear canals and all-day comfort
Made from hypoallergenic medical-grade polymer that's soft, comfortable and durable
Patented EarLock retention rings utilize seven contact points to lock earpieces in place and fit the same way every time
Low-profile design allows you to keep them in place while wearing a mask, helmet, hat or while using supplemental hearing muffs
26" polymer lanyard included
Reviews
donmindsavin
Surefire EP5 EarPro Defender Earplugs
I like wearing these under a pair of muffs at the range, I'll wear them under a pair of Howard Leight Pro electronic muffs too. Make sure to put them in your range bag when your done shooting & not in your pocket, because I must have pulled something out of my pocket & one fell on the floor, my Pomeranian took care of it for me. They can be worn by themselves also, no need for the muffs if you don't want to double up. Whatever you do though, NEVER shoot without hearing protection. You can't replace your hearing when it's gone.
Mike
Surefire
The earplugs are easy to use and work very well. However my pair are not the same style as the small size ear plugs that I ordered at the same time. The small pair have a hole through the canal plug that can be open or capped to allow moderate sound in or capped out. The medium size that I received is the same sound deadener as a pair of $1.50 plugs from Lowes or Walmart. Actually the company provided free earplugs work just as well. The Surefire plugs are more comfortable but not for $15.00 compared to free. I like the small style and use them every day at work.
JMartin
Great earplugs!
I have always had issues finding earplugs that would fit due to having small ear canals and these work great. These earplugs work perfectly for any situation, they are even comfortable enough to sleep in if needed. I was a little reluctant at first because of the price, but they are worth every penny!
nikkibabe
Does not work
Purchased to muffle loud sounds. Did not work at all. Very disappointed. Wish I could return and get money back, but have opened the package.
JAMESMILES21
Great for the range
Great for hearing protection at the range. I use this in conjunction with regular over the ear protectors. Keeps my eyes fresh!!