Wagan 12V Auto Soft Velour Heated Seat Cushion with Lumbar Support, Grey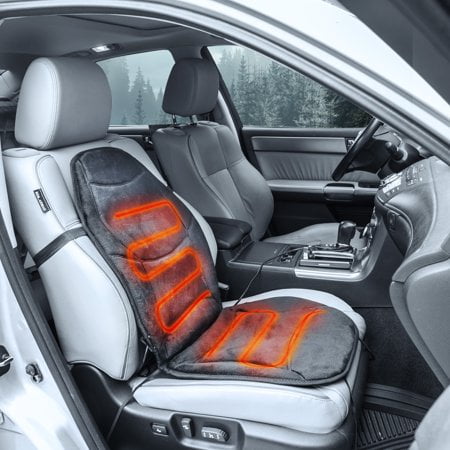 MSRP :

$32.38





Sale :

$33.4

Sold & shipped by OJCommerce
Product Description

Additional Information

Reviews
Product Description
The Wagan 12 Volt Heated Seat Cushion, Grey with Lumbar Support, is a great item to have in your vehicle during cold weather. Made with a super-soft velour feel, the Wagan 12 Volt Heated Seat Cushion, Grey, provides ultimate comfort and warmth. This seat cushion with lumbar support is easy to use: simply plug it into your vehicle's 12V outlet to experience soothing heat and relief for your tense, aching muscles after a long, busy day. The Wagan 12 Volt Heated Seat Cushion in Grey features a convenient high/low/off switch control to set the heat setting to your preference. This ultra-plush Wagan Heated Seat Cushion also provides lumbar support for the lower back. It comes with a 4.3" DC cord. The Wagan Heated Seat Cushion comes with elastic straps and hooks in the back of the cushion and is universal fit for most vehicles. The Wagan 12 Volt Heated Seat Cushion is lightweight and portable, so you can easily move it from one vehicle to another.
Additional Information
Wagan 12V Auto Soft Velour Heated Seat Cushion with Lumbar Support:
Essential item for cold weather driving
Soft velour and polyester provides comfort
Plug into vehicle's 12V outlet
Heats up quickly
Provides lumbar support
Remote control has high and low settings
4.3' DC cord is connected to the cushion
40W power consumption
Elastic straps and hooks in the back of the cushion secure the cushion to your seat
Universal fit for most vehicles
Lightweight and portable so you can take it from one vehicle to another
Optional AC adapter is available for home and office use
Perfect for cold climates
Color: Grey
Reviews
christmasflower
UPC : 084367943828 - Wagan 12V Auto Soft Velour Heated Seat Cushion with Lumbar Support, Grey - PickPanda.com
I was worry about the reviews. Then I saw the same product in other website with fairly good review but selling couple dollar cheaper here. So I decided give it a try. It arrived pretty fast in a huge box. It is not sliding at all even I don't use any of the straps. It heat pretty quickly and as other said, low is plenty hot. The material is pretty comfortable to touch. Love it. Good Buy!
ASMB
Highly Recommend
The fabric is very nice, it is wearing down a little but only because it is velour and that is the nature of the pile but by no means is it wearing out. The seat heats up in less than a minute. I used to have heated leather seats and when I changed vehicles I thought I was going to have to settle for the cold but this seat cushion is a perfect replacement and works great. Best value in a purchase I have made for a very long time.
FLscrubjay
Heats back and seat perfectly
This heated seat cushion keeps my back and hip nice and warm. It keeps my joints warm and relaxed during long rides so I'm not as stiff when I get out of the F250 Ford Truck. Woks as well as the built in heated seats in our VW Jetta. I did have to add a small bungy cord between the seat and back to hold it in place on the large seat in the F250 because I tend to slide out to exit the truck. Works great for my arthritis pain.
Shihpoochon
Love the Heat!
Really cranks out the heat and cushion stays in place. Worth the extra money to get a low/high option because it gets overly warm on High. Love it! My only concern is always remembering to unplug it. It's easy to forget and it will drain your battery even when the car is not running.
Mark
Love the Heat!
So it worked for 3 days on the 4th it had no power, found blown fuse in power supply , changed fuse , every time you plug it in , fuse blows , now it blows the fuse to my power supply in my vehicle. So i dont plug it in anymore, don't know what im going to do with this piece of garbage.