MFR DISCONTINUED 120910 8 Day Programmable Automatic Pet Feeder for SMALL Dogs and Cats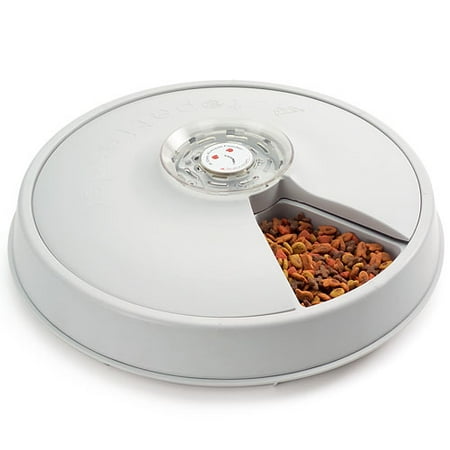 MSRP :

$179.97





Sale :

$84.99

Sold & shipped by Healthypets
Product Description

Additional Information

Reviews
Product Description
8 Day Programmable Automatic Pet Feeder can be programmed to feed your pets up to 8 days. This feeder can also be use for dispensing medication to pets. Unlike other 5 day feeder, 6 day feeder in the market our this 8 day feeder can be programmed with a digital timer to set the time of day
Additional Information
8 Day Programmable Automatic Pet Feeder can be programmed to feed your pets up to 8 days. This feeder can also be use for dispensing medication to pets. Unlike other 5 day feeder, 6 day feeder in the market our this 8 day feeder can be programmed with a digital timer to set the time of day the pet is to be feed. This enables providing medication for pets up to 8 times/day or 1 medication up to 8 days. The same is true for feeding the pet canned food or dry pet food. Holds over 96 ozs of food - 12 ozs of canned food or dry food per compartment Veterinarian recommended for diabetic pets Recommended for providing medicine for pets Provides wet canned food for pets that have to be given canned food To get more health information on your pets needs and the benefits of the automatic pet feeder Autopetfeeder works for small sizes pets such as cats, dogs, ferrets, pigs, ducks etc. The 8 day feeder features a digital timer with battery backup, manual override switch and test switch and up to 8 programs per day and daylight saving feature
Reviews
pawprint
great for feeding cats
I got this when I could not find a petsitter for just a couple of nights over the holiday. The product worked out great and the best part was my cats could here my voice at mealtime. The feeder makes noise as it turns to the next meal, but does you voice after this, so the cats did not come over and get scared. There is plenty of room for food for even a small dog. The only compaint at all is that when programming you have to go through all 8 times you want the thing to open and then you cannot go back a preview what you put in. Once you put in your times though, as long as it has battery power it will remember this programming for the next time. It cost money initally, but is really saving me money in the long run, so I can leave for the weekend and not worry about petsitters.
livinlarge2
It works if you can figure it out
I bought this for my diabetic cat so I could feed him 4x/day. It was VERY complicated to program, but I finally figured it out. There are several quirky things about it (like noon registers on the clock as "00:00"; and it has 8 compartments, but the lid only fits on in 4 positions -- very annoying), but after you get it programmed and understand its quirks, it works as it should. It is awkward for the cat to get his head into the narrow part of the bowl, but he has adapted and regular feedings have helped his condition. The ice packs are practically useless (thaw really quickly, and there really ought to be 8, so 4 more are frozen when you change the food; I have dealt with this by just freezing the food). All in all I would recommend it because it really does work pretty good and I don't see anything better on the market.
cMMmm
The lid does not fit well enough to prevent pets from smelling the food that is in unopened dishes. Greedy pets can easily destroy this machine. Additionally, after 3 days of use, the feeder stopped turning. It would beep at the set time, but a food tray would not be opened, even after the machine was reset. On another note, the manual says that the feeder takes 3 AAA batteries, while it actually uses 3 AA batteries. Based on my experience, I would recommend NOT buying this product.
NYMommy2one
Awful!
We receieved our feeder and put it all together and the programming module was broken. To their credit, the company sent us a new one fairly quickly but made us spend upwards of a half an hour trying to program and reprogram the unit to no avail. When we received the new insert, the feeder seemed to be great. We set it all up and watched as our cat stalked the feeder. Then, we watched him nudge it a few times and, within a few minutes, he learned how to nudge to cover backwards to open a new bowl of food. We could not figure out how to prevent this so we had to return the product. We were very disappointed. We had read that this happened with another reviewer but had read so many reviews we thought it was a fluke. Apparently not. Do not buy this.
NavyLadee
does not seal well
I thought this would be the perfect answer to medicating my cat while I travel. I've discovered the easiest way to pill him while I'm gone is to break it up over wetfood and he'll never pay attention to the pill. So I set up 6 days of food/meds but scheduled it so I could have someone there to ensure that he ate the food (my cat is deaf) and it was working as it should. (I was concerned that with no seal, the food would dry out by day 4,5 and 6.) The next morning when my backup showed up, my cat had eaten all 6 days of the food/meds. After calling the vet and explaining what to watch for, I just waited it out to examine when I returned. When I got home, I cleaned out the tray and discovered that leftover wet food was indeed dry and crusty on the 7th day so knew I couldn't let it go that many days as advertised. But I also put small amounts of food in several trays and tightened down the lid to see if I had done something wrong in setup. I watched again and realized that I too could smell the wetfood from a near permimeter. This apparently was unbearable for my cat, as I watched him eat the food, move the lid with his paw (not easy for him but not too difficult obviously) and move onto the next compartment. This was definitely not the answer I was hoping for. However, I keep hoping that I can think of some way to improve the lid's suction on the compartments because the idea is good.