Nostalgia, Cotton Candy Party Kit, 21 Oz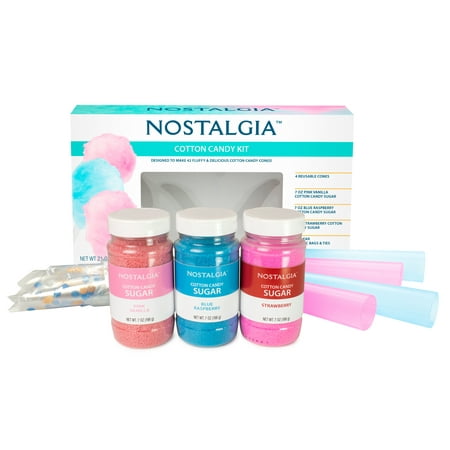 Sale :

$19.99

Sold & shipped by Walmart
Product Description

Additional Information

Reviews
Product Description
For a fluffy and colorful treat, get the Nostalgia Electrics FCK-800 Flossing Sugar Cotton Candy Kit. It's meant to be used with Nostalgia Electrics Cotton Candy Makers, and adds a whimsical touch to any gathering, from a kid's birthday to a family reunion. Imagine the smiles of surprise and enjoyment when you quickly make a special creation with the Nostalgia Electrics flossing sugar cotton candy kit. It's fun to use, and you'll end up with the cone you want each time. The cotton candy refill kit comes with three 7-oz jars of flossing sugar, in Pink Vanilla, Strawberry and Blue Raspberry. The names of the flavors sound yummy and will get everyone excited to have a taste. The kit comes with four plastic, reusable colored cones in different colors and 10 plastic bags with twist ties and makes about 42 delicious servings.
Additional Information
Nostalgia FCK800 Cotton Candy Party Kit:
Cotton candy maker makes up to 42 cotton candy cones
One 7 oz jar of pink vanilla flavor cotton candy sugar
One 7 oz jar of blue raspberry flavor cotton candy sugar
One 7 oz jar of strawberry flavor cotton candy sugar
This cotton candy kit includes 4 reusable color cones and 10 clear plastic bags and ties
Make colorful clouds of candy from the comfort of home
No known allergens
21 oz pack
Designed to be used with all Nostalgia cotton candy makers
Model number: FCK800
Reviews
davey5280
Fine Product, but not Necessary
I used this flossing sugar along with the Nostalgia Electrics Cotton Candy Maker. That product advertises that it works with flossing sugar and hard candy, so I experimented with a variety of hard candies (lifesavers, dum dum pops, candy canes), granulated and fine granulated sugar too. What I found was that some of the flossing sugars work well, but no better than hard candies (especially lifesavers!). Also, the "fun factor" is much greater turning a hard candy into a uniquely flavored cotton candy treat. It's expected that the flossing sugar will make a more consistent or better product, and there's some truth in that, but not all flavors make good cotton candy and I didn't like the taste of some flavors (nor did my 7yr old). So I'd suggest that the flossing sugar is a good starter kit, and a good standby to have in the house, so buying a pack isn't a waste of money ---- but it's not what I mostly use to make cotton candy.
pegs84
Fluffy cotton candy-needs very hot machine
We first used the hard candy to make the cotton candy in the Nostalgia machine. Sometimes it worked and other times it didn't come out fluffy (grass like). But, it made very little, which disappointed my daughter...We bought this to see if the powder would work better. It definitely does!! At first, we didn't think it worked because nothing happened when we put the sugar in. We had warmed the machine up for about 5 minutes before adding the sugar. Apparently it needs to be hotter because we just left it on and waited and a few minutes later the cotton candy started forming. It came out nice and fluffy and made way more than the hard candy. I would definitely recommend using this sugar kit. Just make sure you heat the machine enough, and wait a few minutes after pouring in the sugar if it doesn't work.
JollyPanda
Taste is okay.
I got tired of paying a lot of money for cotton candy at the county fair (not to mention we could only buy it in August). My daughter LOVES cotton candy, so I bought a machine for her to make candy year-round with her friends. The machine uses both sugar crystals (this item) & hard candy. The sour apple flavor is so-so (we preferred the sour-apple hard candy version; these were Disney Princess candy canes that were a year old!) & the blue raspberry flavor is relatively good. We haven't tried the pink vanilla flavor yet. I don't have any use for the bags (would be good if person is planning a party for kids, but you better have a LOT of sugar to make enough to fill them properly). The machine came with 4 reusable cones, which are similar to these (the difference is color--these are white, while the ones with the machine are pink & blue). Can't say that I would truly recommend these to a friend. I would suggest getting a machine that can use hard candy & then you can buy a lot of different flavors at a dollar store.
Haln
Kind of small bottles
The bottles that came were rather small. We have found that regular sugar mixed with drink mix spins out very well and is much cheaper.
Lavendervanilla
Love this flossing sugar
Bought this flossing sugar to go with the nostalgia cotton candy maker. The flossing sugar was so easy to use and tasted just like I purchased the cotton candy from the state fair. The texture was the same as well as my daughter and I pulled it off the stick. Delicious. Love love love. Looking forward to trying more nostalgia products.