Lifetime Adjustable Portable Basketball Hoop (Rubber Basketball Included), 90491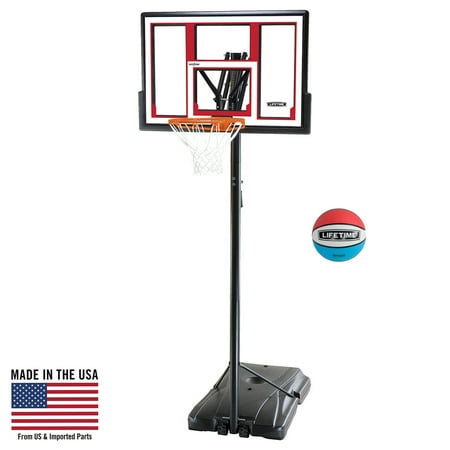 MSRP :

$200





Sale :

$164

Sold & shipped by Walmart
Product Description

Additional Information

Reviews
Product Description
The Lifetime Pro Courtside 48" Portable Basketball System has the essentials you need to set up and start playing basketball. You can put it in your driveway, on your patio or on any hard surface. It can also be set up at parks or schools. The set features a 48" shatterproof Fusion backboard and a Slam-It rim. It contains a strong arm height adjustment mechanism that allows you to adjust it from 8' to 10' so younger children can play as well. This set is adjustable to suit the needs of the small to the tall. This basketball backboard system with basketball includes an all-weather nylon net. It also has a 3" diameter sturdy round steel pole and a 31-gallon heavy-duty portable base. The set comes with a lively multicolored basketball. It provides all the gear needed to start playing basketball with your friends. The Lifetime Pro Courtside 48" Portable Basketball System provides a stable rim and backboard for hours of hard play.
Additional Information
Lifetime Pro Courtside 48" Portable Basketball System with Basketball:

Lifetime basketball system with basketball features a 48" shatter-proof Fusion backboard
Strong Arm height adjustment mechanism
Basketball backboard system with basketball adjusts from 8'-10' high
Black Slam-It rim
Lifetime 48" Portable basketball system with all-weather nylon net
3" diameter round steel pole
31 gal portable base
Assembly is required
Reviews
janetphil
Not Bad for the price. Recommended.
Other than the Walmart's finest customer service and fast shipping. The product is Very sturdy and the price is reasonable. Also Professional looking and it's very easy to assemble. We Would definitely recommend this product.
HandyDad79
Be careful with the instructions
Overall, I think this is a great basketball goal and you can't beat the price. In fact, after it came in, I realized that 2 other kids on our block have the same one. I am an Engineering student and had difficulties with the instructions. Pay close attention to the diagrams as many times the images of bolts or screws are not obvious and you will be forced to go back and put them in later. This is why it took me over 5 hours to assemble it. The instructions are sometimes vague and the pictures of bolts that you must install are not shown off to the side, but rather in front of images in the background which makes it hard to see everything you have to install each step. I also had to buy a lock nut or two myself because they were missing, but I was out less than a buck. Lifetime customer service also rushed me another ball pump because mine was broken right out of the box.
gregokla
Great Basketball Goal!
This basketball goal came with lots of parts but they were all there. I put it together by myself in two or three hours. I read reviews that criticized the manual, but who reads manuals anyhow? The pictures in the manual actually came in handy. Attaching the backboard to the pole could have been difficult, but since I used a portable table (like the manual suggested) it was fairly easy. I am impressed with its outstanding quality, great Wal~Mart price, and super-fast FedEx delivery. Now I need a score board!
Grandmotherof5
Love the goal but not the assembly
After three and a half hours we finally got the goal together and realized some of it was wrong and had to redo it. There are no words in the instructions.....only pictures. I had a neighbor man that was going to help me and after looking at the Manuel he said he couldn't. I hired a retired maintenance man because he had worked at a school and figured he had done these before. He said it was the hardest thing he had ever put together. The goal itself is very nice but so so hard to assemble.
mofel
Lots of fun!!
I purchased this online after I saw it in the store for $199. Plus, this one comes with a good ball and a bad pump. The pump broke before the ball was even filled but who cares as I didn't purchase it for the pump. It took about 2 days to get to the store which is the fastest site to store purchase I've ever made. We've played this every day that hasn't rained. I would NOT recommend trying to slam dunk like my son keeps trying too. Overall this was well worth the price. Very sturdy if assembled & positioned correctly. It did take a while to put together seeing how I had to call for reinforcement.