Duracell Coppertop Duralock AA Batteries - 100 Pack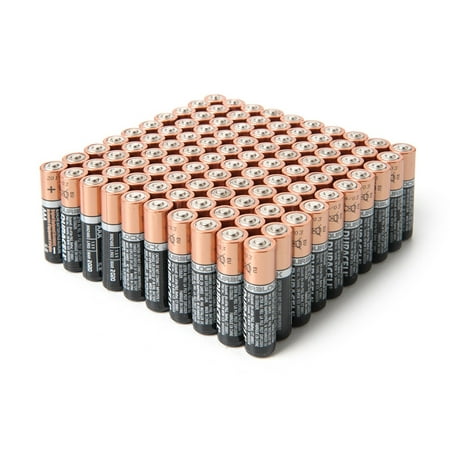 MSRP :

$89.64





Sale :

$39.99

Sold & shipped by Shuzy Rock Inc
Product Description

Additional Information

Reviews
Product Description
Duracell Coppertop Duralock AA Batteries - 100 Pack
Additional Information
Product Description
Duracell with Duralock Power Preserve Technology - 10 Year Storage Life
The power you've always trusted can last up to 10 years in storage. Duracell with Duralock Power Preserve™ Technology means these CopperTop batteries deliver long-lasting power when you need it most. Many of the battery-powered devices you use in your home are powered most efficiently by CopperTop batteries.
| | |
| --- | --- |
| | Duracell with Duralock Power Preserve™ Technology means your AA, AAA, C, and D CopperTop batteries have up to 10 years storage. |
| | CopperTop batteries have been engineered to deliver just the right amount of power for your household devices. They're reliable sources of power for flashlights, toys, alarm clocks and more. |
CopperTop batteries can power most household devices, including:
Toys
Remote controls
Flashlights
Clocks
Radios
Smoke alarms
Reviews
Carderco
Almost half the life is gone in these AA batteries
I just received my batteries from you all. Really fast delivery. But the batteries are 4 years old. They have a Mar 2024 expiration date on them. That means they have been laying around for 4 and a half years almost. The shipping time was impressive. But I do not expect these batteries are near what they should be. They may work for a short time, but not long after 4+ years already gone.
jwhitak
Batteries from BrooklynBatteryWorks
I have used very few of the batteries that I purchased. When I placed the order I paid extra so they would arrive before Christmas so my child would have plenty of batteries for the toys he was getting for Christmas but my order arrives three days after Christmas. When I contacted them to question why they arrived so I never received a reply from them. Also, when I opened the batteries there was a note in the box asking for a review only it I could give them 5 stars. I I could not give 6 stars please on not give a review because they wanted only excellent reviews. If you need this product in a timely manner I would purchase from someone else. The batteries themselves appear to be good as far as I can tell. My child's toys are still running on the batteries that I purchased from Harbor Freight at a cheaper price. My complaint and review is with the service of the company not the product. I would give this product a good rating but the service deserves a 1 star rating. In fact, I could not even submit the rating until I gave it a good rating.
Jake
Duracell Coppertop Duralock AA Batteries
The batteries are exactly as represented. The expiration date on the batteries is 2026 purchase in 2016. Shipping was on time. I am happy with the results.
TVG
Batteries
Good price but only 6 year left on a 10 year battery life
Hammer
Verrrry poor handling
The batteries came in a bag LOOSE making contact with each other. The bag was warm because the batteries were shorting out and draining. I checked 20 of them and 20 percent of those were drained at least 10 percent.