Dremel Mm20-07 Multi-Max 2.3 Amp Corded Variable Speed Oscillating Multi-Tool Kit, 6 Accessories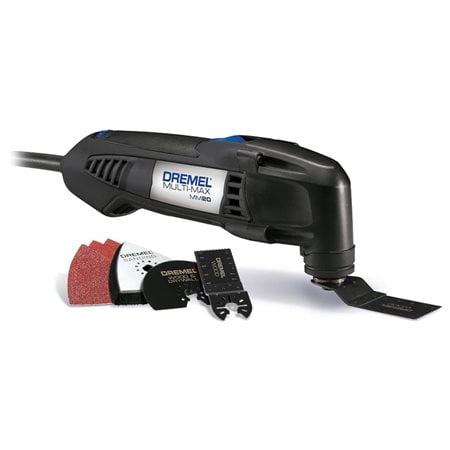 Sale :

$72.4

Sold & shipped by Walmart
Product Description

Additional Information

Reviews
Product Description
The Dremel MM20-07 Multi-Max Oscillating Tool Kit is ideal for professional or home use. This device moves back and forth to provide you with powerful and high-performance results every time. It features a 2.3-amp motor and the Quick Fit System for fast accessory changes. The professional tool kit can be used by handymen, craftsmen or construction workers. It has an ergonomically optimized soft grip for a comfortable hold and easy control. This instrument has a compressed design for simple access to tight areas. The compact tool kit is capable of handling all kinds of applications. It has a speed range of 10,000 to 21,000 orbits per minute to provide you with optimal precision and control. It also includes a 7' durable rubber cord for a wide working range and safe operation. This piece of equipment is reliable and it can help you remodel, repair and restore your home.
Additional Information
Dremel's MM20-07 2.3 Amp Multi-Max Oscillating Tool Kit combines the versatility of the Multi-Max oscillating tool with a well-rounded set of accessories to allow users to tackle a wide variety of tasks around the home or jobsite. From electrical repair to woodworking, and remodeling to crafting, the MM20-07 is the ideal go-to tool for sanding, cutting, refinishing, buffing, restoring, and more. This means that conventionally complex projects are now accessible for the typical homeowner. The Multi-Max is equipped with a motor 50 percent more powerful than Dremel's previous iteration of the Multi-Max Oscillating Tool, immensely improving optimal performance. A separate power switch and speed control maintain speed settings for ease of use and consistency. The Quick Fit interface means that you can swap accessories twice as fast as with comparable oscillating tool systems, translating to more efficiently completed projects. The Multi-Max was specially designed with user comfort and functionality in mind. Therefore, strategically placed vent locations and a larger fan keep the tool running smoothly and coolly, making use over longer periods of time more comfortable than ever. Its ergonomic design features a narrowed soft-grip zone and a lightweight body that make it a snap to reach into tight work spaces. All Dremel oscillating accessories are compatible with the Multi-Max, further expanding the variety of applications it can tackle. Motor is 50 percent more powerful than Dremel's previous iteration of the Multi-Max Oscillating Tool . Quick Fit interface allows you to swap accessories twice as fast as competitors giving you more efficiently completed projects. Strategic vents and a larger fan keep the tool running smoothly and coolly adding comfort for prolonged use. New black color design helps user differentiate between Dremel's oscillating tools. Includes: 2.3 Amp Multi-Max Oscillating Tool - MM20, Wood Flush Cut Blade - MM480, Wood and Drywall Blade - MM450, Hook and Loop Pad - MM11, (3) Sandpaper Sheets.
Reviews
WalterA
Dremel oscillating tool review
I used this tool to modify vinyl fencing panels for an outdoor shower. I don't know how else I would have completed the job. I had another Dremel previously and found it so helpful and safe.
crow24179
How did I live without it?
I needed this or a similar tool for exactly one project, two cuts, here at the house. No one rents them and no one I know owns one. So I bought this Dremel. Further along into this project, it turned out I wasn't going to need it. But it is a power tool, after all. So I left it unopened for a couple of weeks, debating or whether or not to return it. Well, a new project reared its ugly head. In fact, I just finished it. Yes, I "could" have gotten it done without the Dremel, but it saved so much time and made the work much easier. And I am already seeing many more opportunities to use it. No regrets. It is indeed a fine tool.
000000jdl
Great purchase
Great product been looking for the best price point found it at Walmart I own other Dremel products. Big fan
Dnhannah
Great purchase
I bought this as a gift for my husband. He does a lot of small home projects. He is also a plumber. He said that it is the perfect tool for his needs.
Robert Mack
Great customer service
My old Multimax was starting to have some performance issues so I contacted the folks at Dremel. They asked that I send it in to be looked at for a possible repair. Even though the item was at least 4 years old (I thought it was just 2) they replaced the item with a brand new one. To make the experience even more over the top, they threw in an accessory that I did not already own. I was prepared to pay for the repairs as I love the item and find it amazingly useful but they over delivered. Many thanks to Pat and Dremel for standing behind their products and delivering more than one should expect. I look forward to my moulding project!