Dremel 3000-N/18 Rotary Tool Kit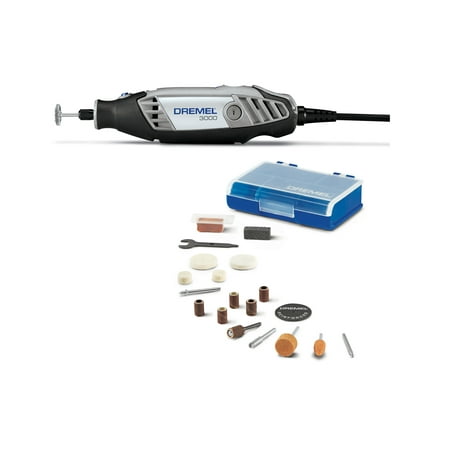 MSRP :

$82.99





Sale :

$57.97

Sold & shipped by Walmart
Product Description

Additional Information

Reviews
Product Description
The Dremel 3000 Rotary Tool is a must-have item in any workshop or garage. Use it for all your cutting, grinding, sanding, carving and polishing needs. It works with many existing accessories and most attachments. This Dremel rotary tool is one of the quietest and most efficient implements on the market. The EZ Twist nose cap allows you to change accessories and attachments quickly, without the need for a separate wrench. This Dremel 3000 Rotary Tool can be used in a variety of applications, and the efficient fan design and side vents make it comfortable for extended periods of use. The replaceable brushes are sure to save you time and money. With a ball-bearing construction, the motor is designed for long life and quiet and cool operation.
Additional Information
Dremel 3000 Rotary Tool:
Improved design and ergonomics
The variable speed rotary tool features EZ Twist nose cap with an integrated wrench, eliminating the need for a separate wrench
More efficient fan design and side vents make it comfortable for extended use
Symmetrical design
Fits all existing Dremel accessories and most attachments
This variable speed rotary tool can be used in a wide range of applications

Cutting
Grinding
Sanding
Carving
Polishing a variety of materials

Variable-speed Dremel rotary tool from 5,000 to 32,000 RPM
Cool-running ball-bearing construction allows for smooth and quiet operation
Replaceable motor brushes extend tool's life
Dremel rotary tool includes a 2-year warranty
Reviews
DlRsr
Once you have one!
I had a Dremel along time ago. Thru a divorce, it grow legs and walked off. No one know when or where it went too. At 75 I am doing Diecast as well as plastic 1/18th, 1/24th models again. It was time for another Dremel. When my new one came and the first time I used it. It was old home week again. Fun to use. You just look at what you have built and smile with pride. I am a 7 1/2 type builder. Show and tell quality not museum quality. Just buy one and start smiling.
ceramicslady
Dremel
I bought the Dremel 3000 variable speed with the engraving bits to use in making polymer clay stamps. I first etch out a mold and use the dremel for that purpose. It works great!! The variable speed makes it easy to control the work I am doing. Very happy with my purchase!!
YoYoTangle
Dremel Never Dissapoints
I have been using Dremel products for over 40 years and I am always impressed with there quality and surprised they can provide it so economically. I am a professional wood carver and always have from four to five of these surrounding me so that I don't have to change bits constantly as I am working. This is my first with the new EZ change in the head of the tool. Even better. It works slick. And they always seem to be improving the variable speed switch so that it lasts longer . These switches in the past have over a period of time developed "drop outs" in them. Places where when you try to set the speed in that area on the variable the tool just stops, and you have to move it up and down to find a sweet spot where it works again. I used to think this was caused buy sawdust in the tool but I don't think that's the whole story. I have cleaned mine and to no avail. But this problem doesn't occur until about two years of heavy use.
husky346
DOA
I got the 3000 as a Christmas gift. It would not even turn on for one second. This is uncalled for. Obvious no quality control at the factory
Saddles88
NO COLLET!!!!!
Made a trip to town just to purchase my Dremel tool. I purposefully bought one that seemed complete with attachments and its own storage case. Even the picture on the front of the box showed the tool with an attachment in place, which requires a collet. However, there was NOT a collet included, and it was not just left out as stated in one of the Dremel responses. The box does not mention anything about the fact that you have to make another purchase to even use the tool. After rechecking the list, it only mentions a tool, one attachment (not a collet), and 25 accessories (no collets). Even the materials list did not mention a collet. After reading the fine print, it states that "not all tool kits come with a collet". Most come with one collet but there are four available. SO, at least make it known on the box that you must make another purchase before using this product. The picture on the front of the box with an attachment is very misleading!!! I am very upset!!!