Dremel 7300-N/8 4.8V Cordless Two-Speed Rotary Tool Kit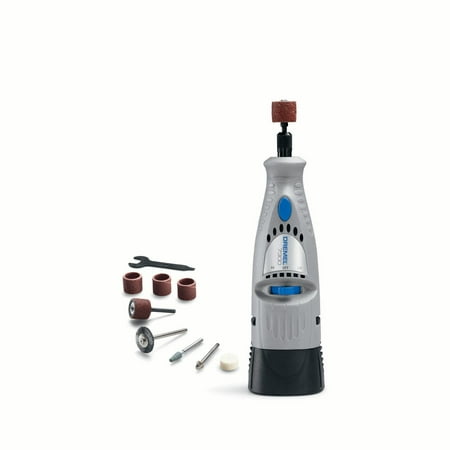 MSRP :

$27.99





Sale :

$21.59

Sold & shipped by Walmart
Product Description

Additional Information

Reviews
Product Description
This rotary tool is Co.mpatible with all Dremel bit accessories.
Additional Information
Two speeds 6,500 and 13,000 rpm to match the proper speed required
Compact and lightweight for easy handling
Two-year warranty
Removable battery pack lets you use additional packs for continuous use
Reviews
Jbyrd
Well, kudos dremel. Not so much walmart
Great item. I have never been dissapointed in Dremel. I would like to thank Walmart in Waynesboro VA though. One used attachment and a crumpled instruction set. I was a tad dissapointed at that. At least tell me it's used? This was right out of the box.
JennaGail
7300 for professional dog grooming
7300 for professional dog grooming is not effective. Initially it may work, but given even a month of wear, it is no longer worth using. I am so tired of being let down by dremel for this field. Our new dremel at work is the micro. It has a lot of nice features like the light at the end, the small size, and the adjustable speed. However not having removable batteries sucks. The charging stands are a pain. The dremels have to be played with for a few minutes to even get it to register that they are on the stand. Then you have no assurance that when you step away they will continue to charge. I want to love dremel, my husband as a carpenter loves dremel. I unfortunately am bound to them and their unthought out products because of this. Grooming is a large and growing industry, PLEASE come up with a REAL, EFFECTIVE, and DURABLE product for my industry. Requirements: Quiet Minimal vibrations Powerful Removable battery Light on the end Adjustable speed settings...NOT high low Not bulky Please make this for our industry. I would pay big bucks for a Dremel that fits this criteria.
DoItYoursef
A great tool for trimming a dog's nails
I purchased this Dremel to trim my dog's nails. It works very well and is a lot less traumatic for my dog than cutting the nails or using a higher speed tool that produces more heat. The smaller size makes it much easier to handle.
JuliaIII
Great!
I know this is a handy-man/woman tool but that is not what I use it for. Having watched my pedicurist use this same tool on callouses and tuff nails, I decided to save some money, bought one and now do my pedicures at home. Smooths rough heels too. Be careful and don't hold it on one spot for too long. It is very powerful. I LOVE THIS!!!!
M54H
It's Practically Useless
You may be able to get a few very, very light jobs out of this tool. If you try to do something that requires any amount of pressure, it will just stop. I'm not trying to cut through 3" steel, but it should not be so weak that it can only file fingernails. Even after a 24 hour charge, it will run at high speed for maybe 2 minutes; it's practically useless after that. I would definitely not recommend this to anyone. Get the corded rotary tool and save yourself the hassle of returning this one - because that's what you'll do if you buy it.