Dremel 7300-N/5 4.8V MiniMite Cordless Rotary Tool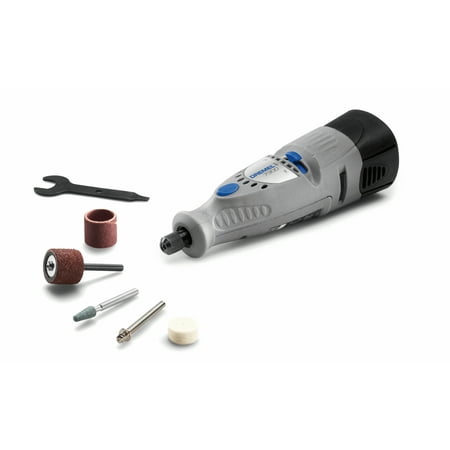 MSRP :

$44.99





Sale :

$21.47

Sold & shipped by Walmart
Product Description

Additional Information

Reviews
Product Description
Make the small tasks easier with this 7300-N/5 4.8v Dremel Rotary Tool, 7300-N/5 4.8v. It is compatible with any Dremel accessory and is cordless and ultra-portable for added convenience. This tool is an excellent choice for tackling most any household, hobby or small craft job. The Dremel cordless tool operates on two rotary speeds including 6,500 and 13,000 to better suit the task at hand. With the versatility that it offers, you can drill, sand, shape, detail and perform minor repair work at home, in the shop and in places where you will need some extra help. The MiniMite cordless rotary tool comes with a three-hour charger and a removable battery pack. This tool is easy to handle for fatigue-free use and easily fits even in smaller spaces for simple storage.
Additional Information
Dremel 7300-N/5 Rotary Tool:
2-speeds: 6,500 and 13,000
Cordless
Removable battery pack
Dremel cordless tool: 3-hour charger with LED light
Compact and lightweight for easier handling and less fatigue
Reviews
pplofwalmartdotcom
Don't expect to get much done with this tool.
Unless you have a very specific reason to buy this, don't waste your money. Swing the extra $10 and get the corded version. This cordless version, while not bad in comparison to the corded version as far as effectiveness goes, leaves a lot to desire in the battery life. If you only need it for short amounts of time it's fine. But, if you plan to use it for more then 20 minutes, you are going to wish you had the plug in version. On a full charge you will get 20 to 30 minutes on low speed, 15-20 on high speed. And don't expect to get a full cycle out of it anyway. As the battery starts to lose charge you will also lose torque and performance is down hill from there. After that you're going to have to plug the battery back into the charger and wait 3 to 4 hours for it charge up again. A two hour job has taken me two days to complete. As far as features, it uses all the same attachments that the others use and it has two speeds, high and low. If you think that this is the one you need to get, please, talk yourself out of it and go for the plug in version. You'll thank yourself later.
gmm80
Great tool for trimming dog toenails
I've always had an issue with trimming my dog's toenails. She's a 65 lb chow/husky mix, very sweet, but HATES having her nails trimmed. I adopted her when she was four, and her nails have always been longer than desirable, and it's a long process to get them shorter without causing pain to the dog. I was considering a PediPaws, but those "As Seen on TV" products tend to be pretty low quality, so I decided to fork out a little more money and get the Dremel. I couldn't be happier with it. I used to have to lay my dog on her side, and sit on the floor with one leg over her so she couldn't jerk her leg back when I was trimming her nails. After a couple of treatments with the Dremel, she'll lie still without resistance while I do her nails. Plus, if I ever want to use the tool for other things, I have that option, which you can't do with the PediPaws.
FeistyBeast
Love it, good for skiddish dogs
I like so many others got this for grinding my dogs' nails. I have 2 dogs. One is 100 lbs and hates the traditional clippers. I got tired of paying petsmart to grind/trim his nails. I got the dremel and I just tell him give me your paw, he obeys and I grind away. He doesn't even blink. I also have a small 15 pound dog who scared by loud noises. She was wary of this dremel at first. I just sat her in my lap, let her get used to the noise. Then I started grinding, the touch of it to her nail startled her and she tried to wriggle away. Once she realize it didn't hurt I was grinding with her in my lap and she was licking my face the whole time.
shelovesdogs
Great for groomers!
I love to use this tool for nail grinding dog's nails. They sell the same Dremel in pet stores(Only difference being there is a paw print on the front), but it is significantly more expensive. Works fast and efficiently. My one complaint about it is that the switch wears out and you have to toggle it to make it turn on, but this is probably due to consistant every day use!
CpsMeme
Dremel for foot callouses
I have huge callouses that show up on the sides of my big toes. I take this dremel and get them off in minutes! It's so much faster than using one of those hand-held callous sanding stones that you have to scrap back and forth. That takes too long and doesn't really work on my callouses as well. This dremel does the trick in less than 3 minutes! A charge lasts long enough to do both feet. I plug it in and charge it for the next time. You'll love it for your callouses - quick and easy!