Dremel 220-01 Rotary Tool WorkStation for Woodworking and Jewelry Making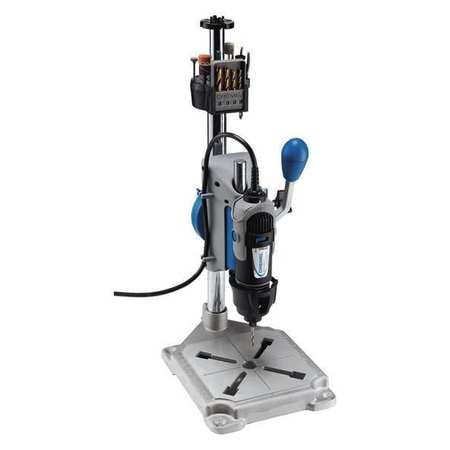 MSRP :

$49.89





Sale :

$44.97

Sold & shipped by Walmart
Product Description

Additional Information

Reviews
Product Description
Be prepared and organized for any job with a Dremel Workstation 220-01. It is a drill press, tool holder and flex shaft stand all in one. The Dremel drill press includes four clamp openings to hold it securely in place. The base provides a sturdy workstation, while the engraved inch and metric ruler allows for more accurate measurements and holes. The crow's nest allows for easy access to drill press tools, such as drill bits, wrenches and screwdrivers. Cord managements clips are included for power cord storage. Drill, polish, sand, grind and cut your way to amazing projects with a Dremel Workstation 220-01
Additional Information

Dremel 220-01 Rotary Tool WorkStation for Woodworking and Jewelry Making:
Articulating drill press drills perpendicular and angled holes in 15-degree increments, up to 90 degrees horizontal
Dremel 220-01 rotary tool WorkStation has tool holder that holds it at 90 degrees horizontal for tasks such as polishing metal objects, sanding different shapes and grinding metal pieces
Flex shaft tool stand allows telescopic adjustment to any height between 16" and 29"
Reviews
Unknown Customer
Steadies the hand nicely for small work
I build models of trains and buildings for train layouts in all scales. As I get older, I'm not as steady. Not wanting to snap off tiny drill bits, I bought this drill press attachment. Since it takes a bit of effort to install the Dremel and to take it back out again, I bought a spare corded Dremel inexpensively on eBay and have permanently mounted it in the press. The only short coming is the Dremel drill chuck does not handle the tiniest number drills. I have a full size precision drill press for these rare tasks. For everyday model building it's always ready and very handy. Without the drill press you need to hold the work in a vise and the tool with two hands due to its torque. With this attachment one can hold the work with one hand and move the drill with the other. And the drill press holds the standard Dremel drill set nd Dremel tools. Very organized.
bob23451234
Poor quality from Dremel
This drama work station is made out of plastic. Therefore there is so much movement of the entire Dremel when melted in the workstation that going for him in a position to a down position do you lose accuracy buy up to 1/8 of an inch and the Dremel will move left to right in the workstation by as much as 1/8 of an inch as well. therefore he repeatability in accuracy of this workstation is extremely poor. Very disappointed in the workmanship and quality of the workstations from Dremel
dpfans
Dremel Drill press is awesome
I needed something to hold my dremel so I could drill a straight whole through glass and this press works great. I was hoping it would work but had my doubts. Well no more! This drill press is awesome! I am pleasantly surprised.
nutthomas
I would prefer less plastic, more metal design?
its great for round the house little stuff, because of the drill chuck and collets you can't go u p in diameters very much, but it works good for what it is, Dremel should just create a little milling machine for the house hold hobbie guy because I make knives and too buy tools costs so much, maybe just make a whole line of mini band saws and drill presses and milling machines and laiths it would be awsome puttem out for bout $150.00 apiece I would buyem all?
Wixixix
Great and easy.
I got this tool for my dad for his birthday, and he LOVES it, It is really easy to use and very officiant. What really gets it all worth wild though, is the price extremely low. I would recommend this tool.