Dremel 670-01 Mini-Saw Rotary Tool Attachment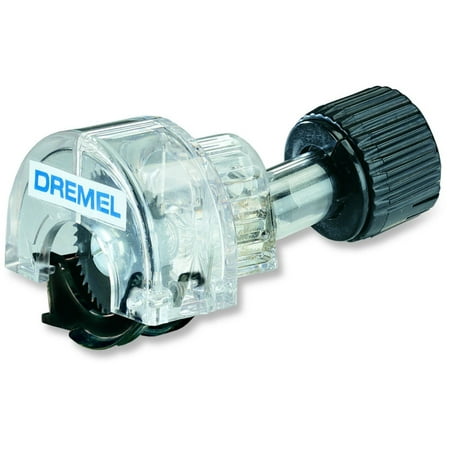 MSRP :

$22.61





Sale :

$20.52

Sold & shipped by Walmart
Product Description

Additional Information

Reviews
Product Description
The 670 mini saw attachment is a unique, innovative rotary tool attachment that allows you to cut through wood and wood-like materials like never before. Attaches to the rotary tool in seconds and makes clean, straight, perpendicular cuts up to 1/4" thick. Use for DIY, hobbies, crafts and modeling. Cut through paneling, install a heat register, build birdhouses and doll houses, and use it to make model ships and airplanes. Quick connect system attaches to Dremel rotary tool in seconds. Features include angled throat allowing for straight, perpendicular cuts, clear housing for better visibility, directional guide indicating direction of cut and line of cut and a lower guard that retracts when not in use to ensure safety.
Additional Information
Quick connect attach system
Make clean, straight perpendicular cuts up to 1/4 In. thick
Clear housing provides better visibility
Reviews
DREW86
mini saw issues
i got the mini saw and when i tighten it onto my 8220 rotory tool the entire piece free spins and i dont think it is supposed to do so..
movieguymz
Broke my dremel
I used this a couple times on small projects for thin wood and it worked fine. Then, I used it today to cut through a thicker piece of wood covered in vinyl flooring. The wood and vinyl combined were the exact max depth of the blade, so I expected it would have to work hard to get through it. On and off it would smoke from heat so I'd let it cool off and startup again. Then, the motor just died. Total use before it killed the motor was about 5 minutes. Clearly the blade was too large for my dremmel to handle. Like using the engine of a small sedan inside a tractor trailer. My dremmel is a corded variable speed 75th aniversary edition dremel, not sure which model number.
Eagle
Works good
Only issue I had was the instructions. No where did it say what was included so I spent way too much time trying to find the screw and adapter only to find them in another package with more instructions. Using the arrow on the edge of the gaurd was pretty accurate.
seldredg
One of the worst tools I've ever owned
I thought I could cut balsa and thin hobby plywood with this like a circular saw in construction. Have yet to be able to figure out how to use it, and there's no how-to documentation or support (I wrote). The plastic head rotates around the axis and makes the whole tool want to rotate backwards while being used. The blade guard has so much tension it's impossible to force it over the edge of a piece unless you use two hands and push hard. Once going it wants to stop and bind and I don't know what's stopping it. Not the 1/16 ply. I even tried putting the tool in a vice and using it like a table saw. I know how to use tools, but this one is beyond me. Nice gift for your worst enemy. To be fair, I did write about my problems and the retailer was willing to give me a full refund even though I had used the item. I declined thinking I could figure out. I couldn't.
Reynell
Can't get it to work.
Just bought this tool. Read instructions, screwed it onto my dremel 285 and the shaft lock button won't work with the tool in place to add the blade and screw. Maybe I'm doing something wrong but you would think that it would work just like all my other accessories.