Profoot Triad Orthotic Mens 8-13 Insoles, one pair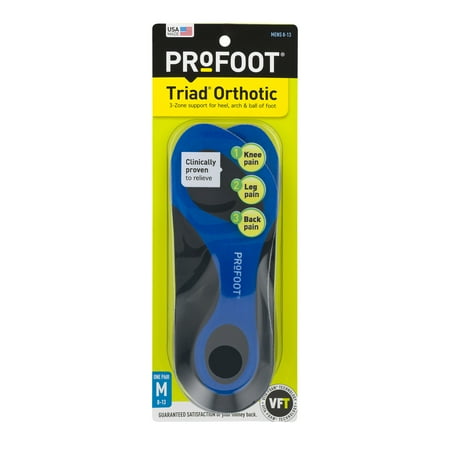 MSRP :

$8.57





Sale :

$4.87

Sold & shipped by Walmart
Product Description

Additional Information

Reviews
Product Description
Triad Orthotic Mens 8-13Studies show that a common cause of knee, leg and back pain is poor foot alignment.Triad Orthotic inserts help correct poor foot alignment to promote relief of knee, leg and back pain. You'll feel a dramatic difference from the very first step. The triple-action ergonomic design aligns your foot, provides comfort, and supports the three zones of your foot: ball of foot, arch, and heel.Triad® Orthotics are 3/4" length to allow toes to move freely inside shoes and prevent cramping.3 Zones of Cushioned Comfort1 Cradles the ball of foot and prevents that burning sensation2 Comforts and supports arch3 Cushions heel from impact
Additional Information
Product FeaturesClinically proven to relieve: knee, leg and back painOrthotic design delivers targeted relief3-zone support for heel, arch & ball of footMade with vita-foam® technologyProfoot, Inc.,74 20th St.,Brooklyn, NY, 11232.www.profoot.co© 2013 Profoot, Inc.Profoot, Triad and Vita-Foam are registered trademarks of Profoot, Inc.
Reviews
hummmmmmmmm
Junk don't fit
These in no way will fit a size 8-13 men's shoe way to small my shoes 9.5 se pictures how small
jmstr
Works for me
I've suffered from plantar fasciitis for about two years and have tried various insoles. These Profoot Triad Orthotics have helped me tremendously and now I can walk normally again.
Shadunqua
A Most Excellent Product At A Great Price!
Putting this set of Triad Orthotics in my shoes truly took me from The Agony Of De Feet to The Thrill Of Victory. My feet used to hurt SO bad - but I always said it may hurt, but I can't kick . . . . . . . . . . and can't stand, shuffle, walk, run or dance or anything that required being on my feet for more than ten minutes. It was so easy: you take out the insoles that are in your shoes now, and then just put these in. I have tried many such foot care products, but this is the first one that really helped me, and this is the second set I have used, going back seven months - I know they really work.
sdw12594
Great!!!
Great insole for any shoe. Instantly makes feet feel better. Really helps with plantar fiscitas
Barbara
Better than expensive orthotics
My husband gave me a pair of Profoot Men's Triad Orthotics because they were a little small for his size 12 shoes. I put them in my sneakers and loved them!!! They are like walking on cushions. They helped me a lot more than the custom-made orthotics for which I paid almost five hundred dollars. The only problem was when the first pair needed replacing. I couldn't find the men's Triad Orthotics anywhere. The women's Triads were too small. I finally find them at walmart.com and bought several pairs.