Profoot Pro Clearz Fungal Shield, 1.0 FL OZ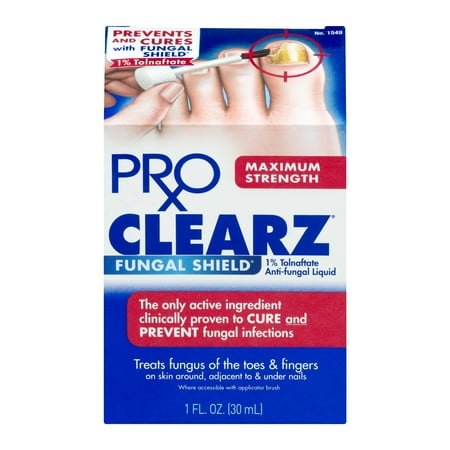 MSRP :

$8.36





Sale :

$5.32

Sold & shipped by Walmart
Product Description

Additional Information

Reviews
Product Description
Profoot ProClearz Fungal Shield can be used on the toes, fingers and on skin around the nails. It includes a brush-on applicator to easily reach the areas with fungal infection. This ProClearz antifungal liquid is maximum strength without the need for a prescription. It penetrates the hard surface of the nail to prevent the spread of fungus and helps promote the growth of a healthy new nail.
Additional Information
Profoot ProClearz Fungal Shield, 1.0 fl oz:Treats fungus of the toes and fingers on skin around, adjacent to and under nailsIncludes brush-on applicatorDesigned to reach skin areas around and under nailsConvenient pen dispenser has superfine tipKills the fungus that affects healthy nailsReaches infected areas others can'tMaximum strength without a prescriptionActive ingredient is clinically proven to cure and prevent fungal infectionPackage contains 1 fl oz of antifungal liquid for nails
Reviews
BlueFlameAngel
Put it in a spray bottle
I've been using this for a week and it's working pretty well for me. I too had trouble with its quick-dry formula at first, dipping the brush and applying several times in a row or trying to pour out a drop or two directly on my toenails. So I bought a little 2oz fingertip sprayer from the trial-size section, poured the contents in the sprayer and Voila! Works like a charm, not to mention the fact that it covers more area which makes me feel like I'm getting rid of the nail fungus no matter where it's hiding, all with less struggle on my part.
FrequentShopper
Effective
This product works, even under the toenails. You do need to be consistent with using it though. In order for it to work under the toenails, you have to try to wiggle the brush down under just a little bit. It takes some time for under-nail fungus, but you can see and feel an immediate difference around the nail bed, and on any skin, this includes between the toes. Out of a number of things i've tried, this one is the better of the less expensive products. I recommend keeping a routine of it morning and night, even once you think the fungus is gone, mainly to prevent any recurring problems. After a few months, it might be safe to stop using, but i've only been using it a few weeks now.
Rosane
I need a new one
Good night, my name is Rosiane and I'm from Brasil. My Friend bought this medicine for me one week ago, she was traveling to Miami and when she arrived here and gave me the bottle,,all the liquid had evaporated living just a white layer around the lid. How could I get a new one ?
TwinkleToes
Yes, it actually works, but...
So I have, as so many others, tried many different products. Almost all say that they it will not work for "nail" fungus. However, I liked that the carrier of this medicine is acetone. So many others are creams, etc. and are difficult to get all the way under the nail. So, I used this diligently and DID notice a change! A couple of notes... 1.) I am very careful to clean out any debris, or even just dead skin cells, out from under my fingernail, with a metal nail file (easy to disinfect after each use) each time I apply. It won't work, or work as well, if there is debris under the nail, blocking it! I make sure to drip it UNDER the nail. I have not had to file the top of my nails to get it to work. And use it AT LEAST TWICE A DAY. Especially before you go to sleep. That way it has a chance to work overnight, without being washed off. 2.) I have noticed that if I stop using it, sadly, the fungus will come back. However, out of everything I have ever tried, this actually works and you cannot tell from looking at my fingernails now, that anything is wrong. I took the time to post this, because this has been a miserable issue to try and solve, and I am so grateful to have something that, at least, keeps it at bay. Hope the tips help for others trying it. Good luck!
Ljohn21
Works on Fingernail Fungus
I bought this a few months ago for fingernail fungus where the nail bed was exposed. (Directions say it will NOT work when applied to nails.) My fastest results have been with fingernails that became infected recently (a month or 2 before applying ProClearz). The fingernail fungus has now been gone from 2 nails for 6+ weeks with no sign of reinfection. I am thrilled! On fingernails that have been infected for years, I see great improvement in appearance but it is taking longer to get rid of the fungus completely. Since there is no exposed nail bed, I have been filing the nail surface to thin the nail. I apply ProClearz to the nail tip, sides of the nail as well as the surface of the thinned nail. This is working but since the nails have been infected for so long, the fungus takes longer to kill. I continue to see progress so I will continue treatment. The appearance of these nails has improved so much that they nearly look normal (healthy)!