As Seen on TV Bell + Howell Taclight LED Flashlight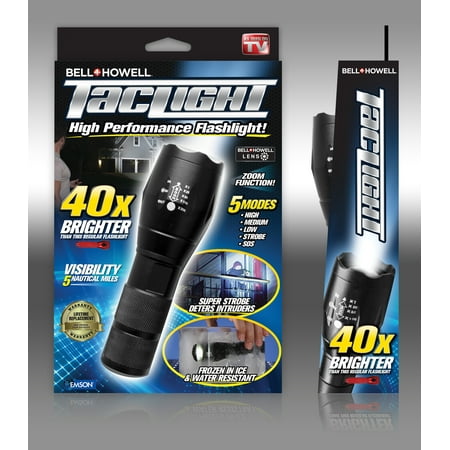 MSRP :

$59.99





Sale :

$17.14

Sold & shipped by Walmart
Product Description

Additional Information

Reviews
Product Description
The As Seen on TV The Bell and Howell Taclight - High Powered Tactical Flashlight is made from aircraft-grade aluminum and can withstand extremes of temperatures, from freezing to boiling. It is water-proof and shock resistant Modes: high brightness; Medium brightness; low brightness; Strobe (intermitent flashing); sos (emergency signal) Functional: taclight has built-in zoom function and high-powered bulbs are 22x brighter than your regular flashlight (2 nautical mile visibility) Portable: 5.4 inches L x 1.6 inches width. Taclight is small enough to fit in your pocket, handbag, or car compartment, so you can take it with you wherever, whenver Energy-efficient despite the high-powered functionality taclight is environment-friendly and cost-efficient. Bulbs last more than 100,000 hours
Additional Information
The As Seen on TV The Bell and Howell Taclight - High Powered Tactical Flashlight is made from aircraft-grade aluminum and can withstand extremes of temperatures, from freezing to boiling. It is water-proof and shock resistant Modes: high brightness; Medium brightness; low brightness; Strobe (intermitent flashing); sos (emergency signal) Functional: taclight has built-in zoom function and high-powered bulbs are 22x brighter than your regular flashlight (2 nautical mile visibility) Portable: 5.4 inches L x 1.6 inches width. Taclight is small enough to fit in your pocket, handbag, or car compartment, so you can take it with you wherever, whenver Energy-efficient despite the high-powered functionality taclight is environment-friendly and cost-efficient. Bulbs last more than 100,000 hours
Reviews
JMicheal89
Everything but the switch
The light is very bright, it feels well constructed and it works as advertised and cost me a reasonable $15. The major flaw I find immediately is the switch, you have to cycle through all 5 modes after turning it on in order to turn it off. Meaning, press once = brightest setting, 2nd click = slightly dimmer, 3rd click =lowest brightness, 4th click = strobe, and 5th click = SOS mode. A far as I've tried you must go through all of them to to turn it back off, for me, that is very annoying. I recently purchased a "Pro-4 Tactical" light from Big-R for $10 two days prior. On this flash light the switch is much better. Full press= brightest mode/ Full press again= off. Half press after initial full press and it cycles through all 5 modes. The Pro-4 Tactical is almost identical in size and shape but it is not as bright as the Bell and Howell light.
dolly
Junk
i thlought it was klike the 1 i got from another co.
Mina
Junk
I love how bright the light shines! What is annoying is that in order to turn it off from the high setting you have to click through the rest of the settings (regular, low light, strobe, SOS) in order for it to turn off. There should be a separate button for those settings and a different one just to turn it off.
Beau
Junk
Great light for size. Didn't lik how it turns off. Have to go through all lights