READYBATH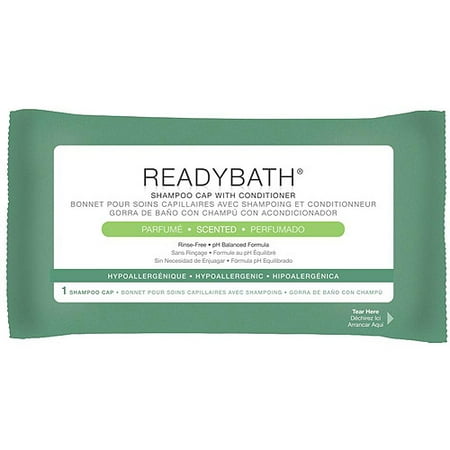 MSRP :

$8.41





Sale :

$6.69

Sold & shipped by Evers Direct
Product Description

Additional Information

Reviews
Product Description
RDYBT HR SHMP CNDTN IN CAP RNS FR FRML LTX LQD
Additional Information
Medline ReadyBath Shampoo Cap:
30 caps per case
Shampoo and condition in one rinse-free step
Completely disposable hair cap, no cleanup required
Heating the cap provides a warm and soothing feeling
The massaging action stimulates scalp and comforts the individual
Reviews
CNPS
No Shampop, yahoo
The first thing I noticed was how substantial one cap was. And you only get 1 cap per package.It is certainly laden with product. I heated the cap for 30 secs. It has a very light pleasant scent. Since I have a problem with many perfumes and scented products, this was a nice surprise. No sinus acting up from the scent. The cap is large. I have waist long hair was able to fit all my hair into it. Still had plenty of room to massage my scalp. I felt heat from the heated cap. 30 secs was plenty to heat in microwave. It was pleasant and soothing. There seemed to be enough product to completely coat my hair. I did this for a good 5 mins to make sure I got the product in the cap thoroughly distributed. I kept checking under the cap for suds and signs of soapiness. I found very little to none. Hair appeared wet and felt wet, but not greasy. However, I found that the hair close the scalp was not as clean as I would have liked. The ends, on the other hand, were clean to the touch. I did not wash my hair form the time I ordered the cap which was about 10 days. I wanted to give this cap a real workout. Needless to say, my hair was greasy and snarled. The scalp hair felt and looked like I had not shampooed for 2-3 days, but it still got most my hair on the ends clean. Good for 10 days of build up. Not only was it was a bit cleaner but no snarls. My hair takes longer to air dry when I use conditioner. Same thing when using the cap. Although my hair was not very wet, it took about 1/2 hour to dry enough to say it was dry. I would say using these when camping, recovering from illness or an infirmity, are worth the extra cost. However, they are a bit pricey when purchased individually. Buying by the case, it an investment, but the cost dramatically down when purchasing a case, making it a smart buy for those times when you can't get to shampoo.
Love2Shop715
Not Great/Not Terrible
I was happy to be receiving the MEDLINE READYBATH SHAMPOO CAP because it's a very useful thing for me. I have Epilepsy and get EEG's which is testing of my Brain function and in order for them to do that they attach electrodes to my scalp. Sometimes it's just for over night and at other times I have had it on for days so it's very hard and uncomfortable to have those removed. Of course trying to remove the glue that they attach the electrodes is quite a feat. I was first introduced to this type of Shampoo Cap in the hospital and it really is a great thing. The ones in the hospital were a lot more soapy and worked much better. This seems to have very little soap (foam). It did wash my hair nicely but if I did have anything in my hair I don't think it would have done the job. It says scented but I personally didn't smell anything which for me is good. I assumed it would have smelled like medicine but as I said no aroma what so ever. I feel this would be a great item for anyone who is unable to take a shower or bath yet you do have to wash it out so you would have to have access to a sink or have someone help you rinse your hair. I also think I would find it useful for when your in a pool and want to give your hair a good conditioning. The reason I did give it 3 stars instead of 2 was I really do like that you heat it up in the Microwave NO LONGER THEN 30 SECONDS. I have a 700 watt small Microwave and just did it for 20 seconds and it was a perfect temperature.
KarlysMom
Not worth buying
I decided to try this because I thought it would be a fast and easy way to wash my hair because it's really long. It was definitely not what I expected! I followed the instructions which said put the cap on your head and massage it in for 2 - 3 minutes. I felt like it wasn't doing anything and my hair was barely even getting wet. I took the cap off after like five minutes and my hair was still basically as dry as it was when I started. A few parts were barely damp but it did not clean my hair. My hair was still oily at the roots and didn't look like I even attempted to wash it. I added a pic of the cap before use and my hair after I took the cap off. I wouldn't waste my money on this product. Just go ahead and do it in the shower and save yourself some time and money.
chinamom62
UNEXPECTED GREAT RESULTS
At first, I was skeptical that a "waterless" shampoo could deliver effective results. I was very wrong! The cap is very similar to a shower cap but with a material inside the cap that's similar to a felt which is infused with lots of some sort of liquid. The outer part of the cap is made of a substantial plastic material with a loose elastic at the ends--very, very similar to a shower cap but with an inner portion which has a liquid built into the inside part of the cap. I was so anxious to try this product that I shampooed my hair at 10 PM after coming in from work. The instructions says you can put the cap in the microwave for no more than 30 seconds. And, believe me, that is more than enough. When I placed the cap on, the warmth felt very soothing. I massaged the cap while it was placed on my head. I did this for approximately 5 minutes or until the warmth began to wear off. It was followed by drying my hair with a towel. The first thing I noticed was how soft and silky my hair felt. I have short, curly, gray hair and often times, my curls are dry and go in every which directions even after a regular shampoo & expensive conditioner. I was very impressed in that the Medline ReadyBath Shampoo Cap did an excellent job in taming my frizz and curling my curls. I would dare say, the Cap did an even better job than a regular shampoo. The next morning, my hair felt just as soft and silky as the night before when I had actually used the cap. This product is great for travel or for someone who needs a quick shampoo when time is of the essence and you need to have your hair looking great. It can very effectively be also used in hospitals and nursing homes for bedridden people or on anyone. I only wish I had received at least a dozen of these caps because now I am wanting to use this cap more often. The cap is quick, easy to use and leaves hair soft and silky! Love it. I highly recommend this product and would definitely, most assuredly purchase this product again.
onlineshopperwalmart12345
Medline ReadyBath Shampoo Cap
Medline ReadyBath Shampoo Cap is a convenient, refreshing way to keep hair clean and manageable when the use of a tub or shower is unavailable. The Medline ReadyBath Shampoo cap is a shower cap that has a special shampoo and conditioner built in and requires no rinsing. I followed the instructions to my understanding, The Medline ReadyBath shampoo cap can be heated up in the microwave for 15-30 seconds for a soothing warm shampoo. I didn't feel it even wet my hair that much and I didn't like the smell. I ended up rinsing my hair and it felt dryer then usual for days.didnt like this product at all