Medline Powder-Free Synthetic Vinyl Exam Gloves, Large, 150 Pack, Case of 10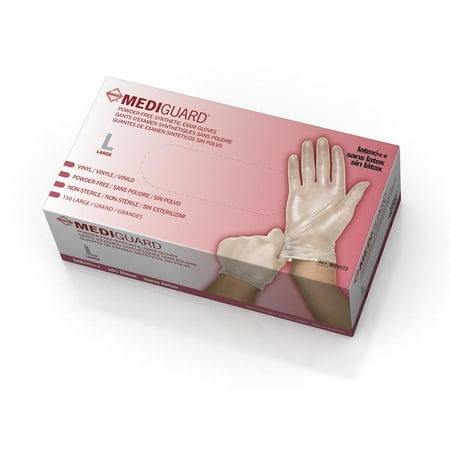 Sale :

$53

Sold & shipped by Walmart
Product Description

Additional Information

Reviews
Product Description
MediGuard Select Synthetic Exam Glove are a cost-effective alternative that's perfect for general patient care. New technology has improved the tactile sensitivity and durability of these quality latex- and powder-free gloves.
Additional Information
MediGuard Vinyl Synthetic Exam Gloves - MSV513H
Reviews
MizzLBC
ALL PURPOSE
I received this product free from the Spark Reviewer Program and I absolutely love this product and it is very useful. I find myself using these things for many different things. We have a pit bull and he has his own little fenced in area so he goes to the restroom in his little area so we have to go out and clean it up because no one wants a smelly yard. So I put these on while I am outside doing yard work. I also find it useful to use these when I am cooking certain meats. I do not like the feel of meat and the indigents when I am making meatloaf so these gloves come in handy. These also come in handy when the kids are sick and I do not want their germs on my hands. This way I can pick up clothes and covers and clean without the stuff rubbing off on me. I highly recommend this product to any and every one that has kids, a pet, or anything. I have sensitive skin and before I have used some gloves that irritated my skin real bad, these did not do that and I really like them and they are durable.
Sernriya
Lab Trainee Easy Practice
I'm a final year Medical Laboratory Technician and I'm constantly within the lab doing routine practicals. These are perfect gloves for me as I have large hands and sometime within my school lab they can run out of the large one so it's handy to have your own! Or sometimes it seems like S-M-L or One-Size-Fits-All are what local stores offer. I guess they do not realize that One-Size-Fits-All is a misnomer. It is too big for small hands and too small for large hands. These Medline gloves fit my hands perfectly and are easy to get on and off. In the lab we also use the vinyl types for sensitive hands but these work find as well as they are powder free and synthetic. These gloves are tough and pliable too - not a flimsy thin vinyl that tears easily and not a tough plastic that doesn't move with your hands. [It's nice to finally find a glove that doesn't leave me with an inch of plastic flapping finger tips!]. If you're not a medical student, these gloves are perfect for regular household cleaning if you're sensitive to certain chemicals that release some sort of residue on your fingers.
EthansMom74
New Brand Favorite
I love rubber gloves but hated them just as much because of the powder-like chalk they'd leave behind when I took them off. I have long nails and the chalk would be underneath my nails and cuticles. Since going natural, I do a lot of treatments throughout the month that the gloves are used for. I tried these because I didn't know anyone made powder-free gloves. Loved them so much I threw out the other box I had under the counter. The large size fit my fat fingers perfectly, lol. That was another problem I had with other gloves too...a 'large' never fit and I'd rip the gloves trying to get them on, or worse, while i was working with items that leave stains on your skin. These were a thicker grade of plastic that had just enough give to be snug without squeezing my hand too tight. They didn't rip and I'm very happy with this product.
SPgorilla
Good glove for those with latex allergy
I'm not allergic to latex, but decided to give these a try because of the countless latex gloves that I've torn putting them on. The first thing I noticed is that they feel a little odd. Then I realized that it's because they're made of vinyl not latex. I wasn't sure how easy (or hard) they would go on since they're powder free, but they went on real easy. Because they're made of vinyl and not stretchy latex, I had to pull down on a couple fingers of the glove to get it to fit tight against the tip of a couple fingers. I found that my hands didn't sweat wearing these gloves like they do with the (tight fitting) latex gloves. The other thing that I noticed is that after taking it off I didn't need to wash my hands to get rid of the smell of latex, powder and sweat. I intend to buy these in the future instead of latex.
JP37
Great gloves for everyday tasks
I have used Latex gloves for years to protect my hands from harsh cleaners, chemicals, and grease / oils when performing a variety of jobs. The heath ramifications of contact with many common substances are not something many people consider. While I am not allergic to Latex, one issue I had with Latex gloves is the smell. After removing the gloves and washing my hands the smell would remain. These gloves have no offending scent! They are not as stretchy as a Latex glove but they do fit snug and provide reasonable stretch. They don't bunch in the palm when your hand is cupped which is nice. They seem to be a little tougher than Latex and hold up very well when in use. Overall I couldn't be happier with these gloves.