Sunbeam Rotating Dial Scale (SAB700)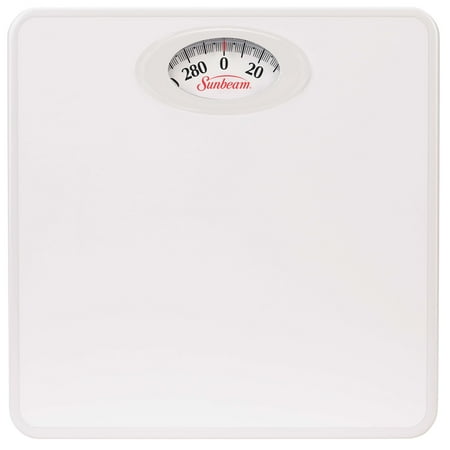 MSRP :

$7.78





Sale :

$5.6

Sold & shipped by Walmart
Product Description

Additional Information

Reviews
Product Description
With the Sunbeam Rotating Dial Bathroom Scale, you get the tools you need, and it doesn't take up space. This model has a compact footprint, making it ideal for small bathrooms. The Sunbeam bathroom scale features a classic dial in black and white that is easy to read. This weight scale has a 4.5" rotating dial that is easily visible for an accurate display. It comes in a white design, making it suitable to match most bathroom decor themes. The scale measures up to 300 lbs in 1-lb increments, so it is ideal for weight watching.
Additional Information
Rotating dial scale measures weight up to 300 lbs. in 1 lb. increments
4.5-in. dial shows weight measurements clearly
9.8-in. by 9.8-in. platform offers ample standing room
Compact footprint ideal for use in bathrooms and bedrooms
Clean look with white finish
Reviews
Amarande
Works Fine For Me
I just got this scale last week after visiting my doctor. Since I had just been weighed during my dr. visit, I figured I'd be able to correctly judge how accurate this scale is. Unlike other reviewers who had problems with false weights, this scale always gives me an accurate reading that is consistent. I even weigh myself three times in a row and it tells me the exact same weight each time. I was reluctant to buy this scale at first because it's so cheap and the reviews werent so great, but its actually not a bad scale for such a low price. However, if you have feet bigger than a size 10, it may be too small for you.
customer09
check to see if it works
It wasn't showing the right weight, but after I called them, the recording said that the scale has to be on an even surface. It was on my carpet in the living room. When I moved it to the kitchen floor, it showed the correct weight. I even tested it with 2 dumbbells that were 20 pounds total. If it's not working, try it on a different floor.
unhappyconsumer76
junk
my digital scale says i weigh 163. just left doctor and there scale said 163. this piece of junk says 130 lol lol.
loretoaddor
DOES NOT WORK!
don't waste money on this, it simply does not work, when i use it it shows me (and everyone who has tried suing it) a weight with about a 30 (sometimes 20, sometimes 10) pounds difference from my actual weight, completely useless!
DFWMary
Scale
I really wanted a digital scale, but they were 3x the cost of this scale. I am glad I went with it. The scale is accurate, and seeing the lines to determine your weight isn't hard. Plus, batteries won't ever have to be changed.