Sunbeam Rotating Dial Scale (SAB700)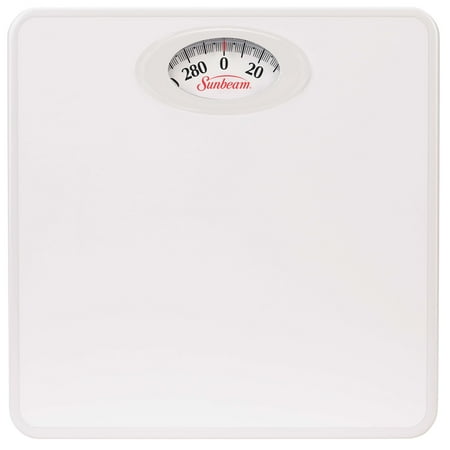 Sale :

$13.97

Sold & shipped by Walmart
Product Description

Additional Information

Reviews
Product Description
Easily measure your weight with the Sunbeam Rotating Dial Scale. This bathroom body scale measures up to 330 pounds in 1-pound increments. The large 4.5-inch rotating dial is marked with clear gradations, allowing you to determine your weight at a glance. Measuring just 9.8 inches by 9.8 inches, this personal scale is compact enough for use in bathrooms, bedrooms, and other areas where space is limited, yet its platform provides plenty of standing room. And with its elegant white finish and minimalist design, this scale has a clean look that coordinates with a variety of decors.
Additional Information
Rotating dial scale measures weight up to 300 lbs. in 1 lb. increments4.5-in. dial shows weight measurements clearly9.8-in. by 9.8-in. platform offers ample standing roomCompact footprint ideal for use in bathrooms and bedroomsClean look with white finish
Reviews
Amarande
Works Fine For Me
I just got this scale last week after visiting my doctor. Since I had just been weighed during my dr. visit, I figured I'd be able to correctly judge how accurate this scale is. Unlike other reviewers who had problems with false weights, this scale always gives me an accurate reading that is consistent. I even weigh myself three times in a row and it tells me the exact same weight each time. I was reluctant to buy this scale at first because it's so cheap and the reviews werent so great, but its actually not a bad scale for such a low price. However, if you have feet bigger than a size 10, it may be too small for you.
loretoaddor
DOES NOT WORK!
don't waste money on this, it simply does not work, when i use it it shows me (and everyone who has tried suing it) a weight with about a 30 (sometimes 20, sometimes 10) pounds difference from my actual weight, completely useless!
DFWMary
Scale
I really wanted a digital scale, but they were 3x the cost of this scale. I am glad I went with it. The scale is accurate, and seeing the lines to determine your weight isn't hard. Plus, batteries won't ever have to be changed.
SCPerry
Doesn't Ever Reach Zero
Perhaps the first time I stepped on the scale it was set to zero afterward it was always OFF. Would go to zero only when you apply weight to it, all of your weight! Just doesn't work, get a better scale.
ngan
Basic scale for the price
I got this for under ten so it's a good value. It is a basic bare minimum feature type of scale that can only sensitive to increments of 1 pound. I had to do a lot of adjusting at first to get the needle to stay at 0 lb. I had to step on the scale, then off, adjust to 0, step on the scale again, step off, adjust to 0 again, repeat 5 more rounds before it was finally giving me a consistent weight. Now it seems to be doing just fine. The numbers are kinda small so you cannot quickly read your weight, that's another drawback. But this is very good for weighing luggage.