StarKist Chunk Light Tuna in Water, 8 pack, 5 oz. Cans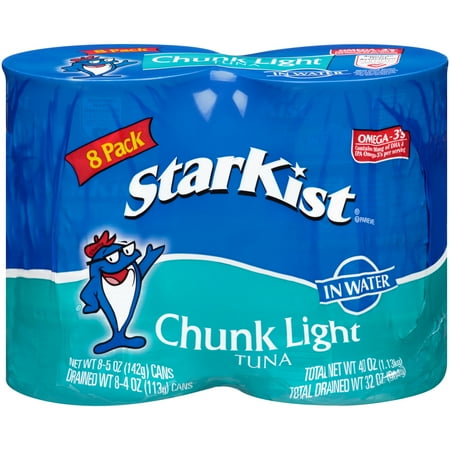 Sale :

$7.88

Sold & shipped by Walmart
Product Description

Additional Information

Reviews
Product Description
Additional Information

StarKist Chunk Light Tuna in Water:
Contains 90mg of DHA and EPA Omega-3's per serving
StarKist tuna in water is dolphin safe
American Heart Association Certified meets criteria for heart-healthy food
StarKist canned tuna is kosher
Reviews
DisappointedAgain2014
Many Dented upon arrival
Many of the cans were dented, some to the point I won't be able to open them. Will never order them again.
Luney
Was a good tuna, but...
I used to always buy this until the most recent one, the whole batch of 8 cans were full of bones! Some sharp and some wide hard irregular bits, probably thicker bits like parts of spine. Just digging them out of my mouth made me gag with disgust. Will never buy again.
Rainbo
So many bones!!
I've ordered this several times now. I really love tuna and this was relatively inexpensive. But I don't know what has happened to Sunkist's quality control!! The first time I started finding tiny bones and scales, I thought maybe it was a one-off, you know, bad batch or something, and patiently de-boned what was in the can. Then I found a HUGE chunk of spine in another can. Then I found more, and more, and more tiny bones and scales, to the point that I can say with full confidence that I think EVERY SINGLE CAN of this product has tiny bones and scales tucked into the meat and if you're going to eat any of this, you HAVE to spend at least 10 minutes carefully picking through each can you open up. It's DISGUSTING!!! I love tuna, but now I can't buy this anymore because they have obviously just given up even bothering with quality control whatsoever!! DO NOT BUY!
Cor9fx
A great deal!
I buy tuna for as low as possible and this was a great deal.
mikiep
Good !
Very good, actually seem to prefer this brand - somehow seems a nicer quality. I just drain well & add some mayo & Italian peppers, sometimes a bit of instant potato flakes to thicken things up & make tuna wraps or put on crackers. Bit more money than I like, but can help meet minimum for what they mistakenly call free delivery - not so free when you pay premium prices on almost each grocery type delivery items.