StarKist Chunk Light Tuna in Water, 5 Ounce Cans (Pack of 8)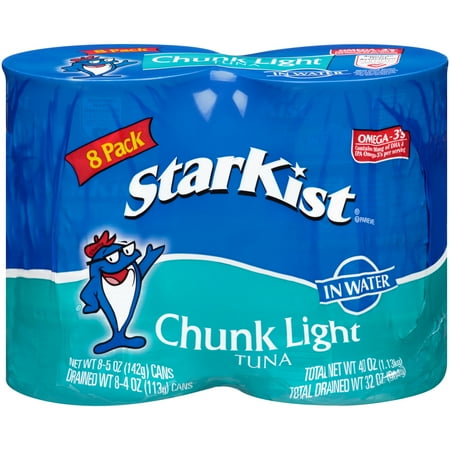 Sale :

$7.88

Sold & shipped by Walmart
Product Description

Additional Information

Reviews
Product Description
Additional Information

StarKist Chunk Light Tuna in Water:
Contains 90mg of DHA and EPA Omega-3's per serving
StarKist tuna in water is dolphin safe
American Heart Association Certified meets criteria for heart-healthy food
StarKist canned tuna is kosher
Reviews
DisappointedAgain2014
Many Dented upon arrival
Many of the cans were dented, some to the point I won't be able to open them. Will never order them again.
Luney
Was a good tuna, but...
I used to always buy this until the most recent one, the whole batch of 8 cans were full of bones! Some sharp and some wide hard irregular bits, probably thicker bits like parts of spine. Just digging them out of my mouth made me gag with disgust. Will never buy again.
Cor9fx
A great deal!
I buy tuna for as low as possible and this was a great deal.
Rainbo
So many bones!!
I've ordered this several times now. I really love tuna and this was relatively inexpensive. But I don't know what has happened to Sunkist's quality control!! The first time I started finding tiny bones and scales, I thought maybe it was a one-off, you know, bad batch or something, and patiently de-boned what was in the can. Then I found a HUGE chunk of spine in another can. Then I found more, and more, and more tiny bones and scales, to the point that I can say with full confidence that I think EVERY SINGLE CAN of this product has tiny bones and scales tucked into the meat and if you're going to eat any of this, you HAVE to spend at least 10 minutes carefully picking through each can you open up. It's DISGUSTING!!! I love tuna, but now I can't buy this anymore because they have obviously just given up even bothering with quality control whatsoever!! DO NOT BUY!
Frugaldefinesme
Cats usually eat it
Here is my assessment, honest and not the result of any gift or promotion. Pros: It was delivered to my address within a reasonable amount of time. It contains some protein. Cons: It's 35-40% water. Yet it states on the label that a 5 oz can yields 4 ounces of product. That has not been my experience. The remaining actual product, the "tuna," is mushy, smelly and tastes terrible! I tried to make tuna salad with it, added fresh green onion, chopped pickle and lemon mayo and it was still inedible. Although the dog seemed to enjoy it. But then she drags dead rotting fish in from the lakeshore and seems to consider it a delicacy as she happily munches on the bones. The cats eat it. Usually. Though that isn't exactly an endorsement since they also have been known to munch on raw birds, sweet little bunnies and more than a few squirrels. BTW. I grew up eating chunk light tuna sandwiches, when we could affort canned tuna, and they were very tasty. But after serving my mother-in-law one, she kindly explained to me that white albacore was the only way to go. She was right. But as long as Starkist keeps the price right, I'll still buy it for the dog and cats. Just not as a steady diet.