(8 Pack) StarKist Chunk Light Tuna in Water, 5 oz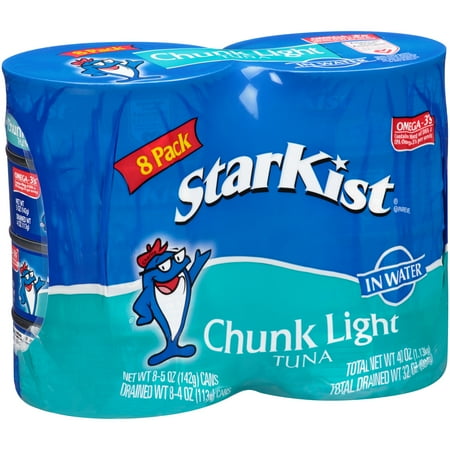 Sale :

$7.88

Sold & shipped by Walmart
Product Description

Additional Information

Reviews
Product Description
Additional Information

StarKist Chunk Light Tuna in Water:
Contains 90mg of DHA and EPA Omega-3's per serving
StarKist tuna in water is dolphin safe
American Heart Association Certified meets criteria for heart-healthy food
StarKist canned tuna is kosher
Reviews
DisappointedAgain2014
Many Dented upon arrival
Many of the cans were dented, some to the point I won't be able to open them. Will never order them again.
Bobbo
Price is right but the quality inside was suspect
Decent price but upon opening and using 4 of the cans, the tuna had numerous hard white flakes and dark scales throughout each can. Through many years of purchasing from many different stores and from Walmart as well, I haven't had so many opened simultaneously that had the aforementioned description inside of the cans.
Robin
Price is right but the quality inside was suspect
It takes longer than 2 days for me to get my items.
rarefruit
Is it only tuna?
So far I have only opened one of these 8 cans. It tasted like mackerel was added to the tuna. Much too fishy tasting for the tuna salad I made. I don't recommend this product.
Luney
Was a good tuna, but...
I used to always buy this until the most recent one, the whole batch of 8 cans were full of bones! Some sharp and some wide hard irregular bits, probably thicker bits like parts of spine. Just digging them out of my mouth made me gag with disgust. Will never buy again.