X-Acto KS Manual Sharpener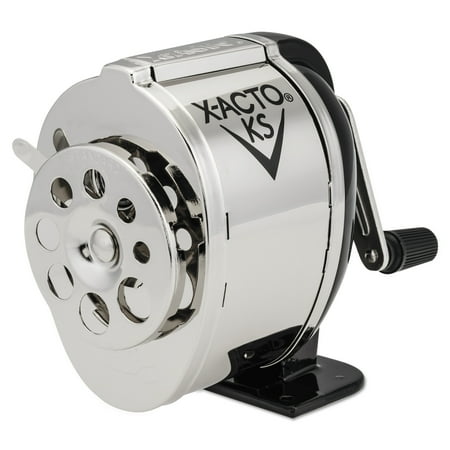 MSRP :

$22.04





Sale :

$9.93

Sold & shipped by Walmart
Product Description

Additional Information

Reviews
Product Description
Engineered for everyday dependability, the KS Manual Pencil Sharpener is built to meet the demands of high-volume environments. The classic classroom sharpener, the KS Manual utilizes dual hardened helical cutters to efficiently sharpen pencils to fine point tips. All-metal construction stands up to the wear and tear of student use, while the integrated mount with included screws allows for simple installation on a wall or desk. Sturdy and low-maintenance, the KS Manual Pencil Sharpener is designed to serve schools with ease.
Additional Information
Commercial-grade pencil sharpener for high-volume environments.
Dual helical cutters sharpen pencils with precision.
Mountable on wall, desk, or table with the included screws.
Adjustable to accommodate 8 pencil sizes.
Manual operation is easy for school children to use.
Model Number: 1031
Reviews
Momtohomeschoolers
oh sooooo happy!
We are a large homeschooling family, and put pencil sharpeners to good use! We've been unable to find an electric pencil sharpener that would last more than 3 months, no matter how top of the line we purchased. The issue was a major frustration to say the least! We even tried to go with the push lead auto pencils for awhile - those didn't go over so great either! After 10 years of homeschooling, we finally had a, "Duh!" moment, and decided to look online for a manual sharpener! They're not sold in stores these days that we've been able to find "0) This little sharpener was a great price with good reviews, a no brainer. We ordered site to store, and the item arrived at the store the next day! Our DD sharpened our entire (HUGE) collection of colored pencils for over half an hour until she got a blister - who knew a manual pencil sharpener could be so much fun, ha ha! It's a nice solid, well built tool and works great! Lovely, lovely sharp points "0) Can't believe I'm gushing over a pencil sharpener, but it's just a lifesaver around here. Plus it brings me back to my own grade school days - waiting in line to sharpen a pencil! If your're thinking about the purchase, do it. Sincerely, relieved homeschool mom~
jbeers
Old School Pencil Sharpener
I had no idea that these pencil sharpeners were not the the norm anymore. Everyone is using a electrical one or those really cheap hand held ones at my sons school, and at home. I bought this as I was sick of all the broken pencils the handheld ones creates, and to be honest I have not been disappointed. This is just like the ones I would use in grade school over 30 years ago. I recommend this to anyone that wants a great pencil sharpener for around $10. The install was easy, I mounted the sharpener in my garage so the pencil shavings would not get in the house. I have a 9 and 6 years olds and both can use it with ease. Love it!
PurpleDreamer
sharpener
this is a must for any family with school age kids woohoo no more searching for a sarpend pencil or a teeny tiny hand sharpener, this mounts right to the wall, it is very easy to clean and use
Mico146
Great sharpener.
Good quality. Better than those made of plastic. Remember to remove handle and sharpening mechanism to better access the screws for fastening.
RealDeal
Quality 1
The problem is there is 2 sharpeners out there called X-ACTO,,one is a very good sharpener and the other is a knock off and you don't know if you will receive the real one or the junk one..I've bought plenty of these ,only a few from Walmart,but another place,,,,big order they mix ,junk ones with the real ones..I have giving both these a real test,they real one I've sharpen 5,000 pencil,still going strong,the knockoff one is worthless