Queen Helene Cocoa Butter Face + Body Crème, 15 oz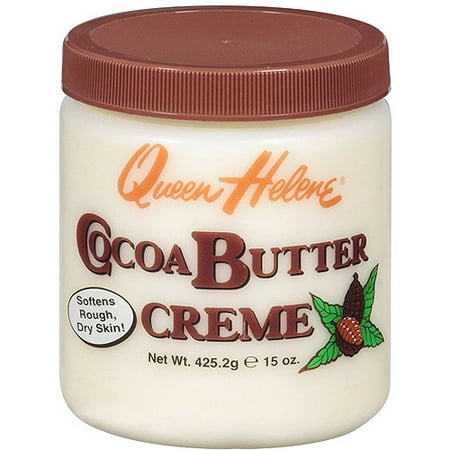 MSRP :

$4.47





Sale :

$3.13

Sold & shipped by Walmart
Product Description

Additional Information

Reviews
Product Description
Queen Helene Cocoa Butter Creme, 15 oz, softens rough and dry skin, making it feel smooth and more healthy. It is suitable for use on the hands, face and more. This dry skin cream is also useful for reducing the appearance of stretched skin.
Additional Information
Cocoa Butter Creme
Softens rough, dry skin! A blend of natural cocoa butter and pure lanolin in a non-greasy moisturizing base. Helps protect skin from the sun; excellent for use on skin over-exposed to sun or wind. Recommended as a facial creme for a day or night use, to cleanse and help restore and control essential moisture balance. Helps prevent dry skin wrinkles, lines and crow's feet. Ideal for massaging both the face and the body. Helps relieve stretched skin during and after pregnancy. No animal testing.
Reviews
iflytoohigh
Slimy, Yet Satisfying
Yes, I'm quoting the Lion King for my review title. But, it fits. This body cream (lotion?) is... something. I had read countless positive reviews about this product, which led to me wanting to try it for myself. I'm not sure if it's because I don't have exceptionally dry skin to begin with or what... but this product is so greasy and slimy. I'm a night showerer, so it isn't the end of the world that I'm covered in a light film for a good hour or two after application, but I would absolutely NEVER use this in the morning before going to work. The scent doesn't bother me, and I actually find the texture of the cream to be nice, but it doesn't absorb very quickly into my skin at all, which is disappointing. If you've got extraordinarily dry skin, then I can see this being a great choice for you. Otherwise, there are better (and equally affordable) options out there for hydrating and nourishing one's skin.
BigJose
Greasy, very greasy.
Greasy, very greasy. Mineral Oils is the first ingredient, followed by water, beeswax, parafin, cocoa butter... and a bunch of others. This is no where as good as other brands I've tried in the past, even at similar prices.
Cabinrock
Best Creme Ever
For years I had issues with dry skin, but in particular my face after I got out of the shower. I tried other products but they would sting when I placed them on my face, or they would have a foul odor. Queen Helene has worked for me for 6-7 years. I take it with me everywhere and it's an amazing product for dry skin! I would 100% recommend. Also, the container of creme lasts for a really long time!
Engdiva
The best moisturizer creme ever
I was recommended by my daughter to purchase this product, I was kind of Leary , but I tried it and believe you me its one of the best products for dry skin I've ever used
BossyShan
Great Product to buy
I love this and have been using it for years. I made the switch to body creams instead of lotions because they actually relief dry skin better especially during the winter months. I highly recommend this brand & I've tried several.