Casio Men's Alarm Chronograph Watch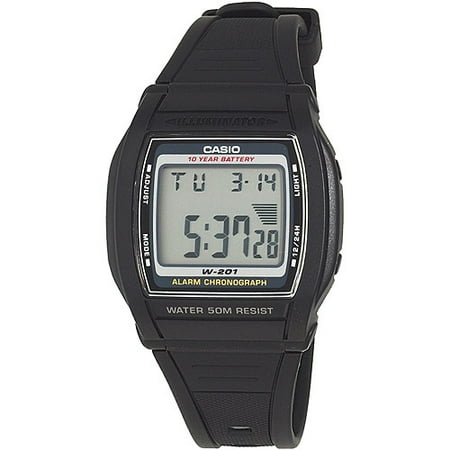 MSRP :

$16.95





Sale :

$11.65

Sold & shipped by Walmart
Product Description

Additional Information

Reviews
Product Description
Classic and casual, this no-nonsense digital watch from Casio provides dependable timekeeping and chronograph measurements in a stylishly simple design. The rectangular digital display on the Casio Alarm Chronograph Watch shows the time with seconds, day, month and date, and the LED light with afterglow makes it easy to read no matter the hour. The calendar is pre-programmed until 2099, and the time can display in either 12- or 24-hour format. The Casio Alarm Chronograph Watch also features a dual time setting, a 1/100 second stopwatch function, a daily alarm and hourly time signals. The black band and bezel are made of durable resin, and the case is made of stainless steel. Built to last, the watch is water resistant up to 165 feet (50 meters), offers a battery life of approximately 10 years and is backed by a one-year limited manufacturer's warranty.
Additional Information
Casio Men's Alarm Chronograph Watch:
Chronograph functions
Day and date functions
Calendar is pre-programmed until 2099
12- or 24-hour time format
1/100 second stopwatch function
The Casio Mens Chronograph Watch features a daily alarm
Stainless steel case
Gray digital dial
Black resin band
Buckle clasp
Quartz movement
Protective mineral crystal lens
The Casio Digital Watch is water-resistant to 165' (50m)
Case diameter: 36mm
10-year battery
Reviews
Teddy
Great watch for the price, except the band
This is a great watch for its price. It is quite accurate, gets a little faster after several months. The band is too easy to break. It costs about 60% of the cost of the watch for the least expensive replacement band you can find on the webs. I would pay more if this Casio watch comes with a more durable band. I bought new ones from Walmart instead of changing the bands. The old ones (two of them) are still working with broken bands. It is a kind of shame though.
Nettalkjunk
Great watch!
Casio watches in my opinion have always been the best value in watches that money can buy and the W-201 is no exception! I've own a Casio watch off and on since the early 1980s and so far this watch has lasted the longest of any Casio I've ever owned. It was purchased from Walmart back in 2010 for 10 dollars and it is still working! The only problem I had with it was the band got folded in a brief case and broke. The bands are made of rubber and will brake easily if this is done to them but other then that I have had no problems with this watch and even if the watch died tomorrow I'd still go back and purchase the same watch. This watch comes with a 10 year battery and so far I've gotten 6 years out it, not bad for 10 bucks. In any case this is a classic 4 button Casio watch with all the classic features such as stop watch, day and month, 24 hour/12 hour am pm, alarm, light and so on. I highly recommend this watch to anyone who is looking for reliability, function and value. You just can't beat this thing!
Steve654321
All i need in a wrist watch. It tell me the time .
Time digitally, date and day. No need to knoe the phases of the moon or to time a race or the time in sixteen countries. Justt a simple watch that has 4 buttons which makes it easier to set up. small and lightweight. not available in stores - anywhere. will return my $45 Casio for this $15 job.
Stephan
cheap and good
In my 30s and 40s I wore this Casio or essentially the same model and it was great. After retiring and having less need for a watch, I relied on my cellphone for time. But recently, at age 75, I decided I wanted to wear a watch again. Ordered this one online from Walmart, had it delivered to a neighborhood Wamart a mile from home, was email notified when it arrived, picked it up that evening without difficulty, and started wearing it. The only problem, the ONLY one, is that I now realize I have lost my high-frequency hearing, and I cannot hear the alarm if the watch is more than about 10-12" from my ear. No good for awakening me, a major factor in my desire to have a watch again. The watch itself is fine, functional in every respect that I wanted. The problem is with my hearing, not with the watch. So my dissatisfaction is not the fault of the watch. Test the alarm before buying if there is any doubt about your ability to hear high frequencies.
Tommy
Casio watch
This particular Casio watch is one I have worn for 30+ years. The watches keep running long beyond the lifetime of the band, but the cost of a replacement band is almost as much as replacing the entire watch. The watch is sturdy - I'm a retired carpenter and auto mechanic - to sturdiness is important.