Casio G-Shock DW9052-1V Men's Resin Digital Watch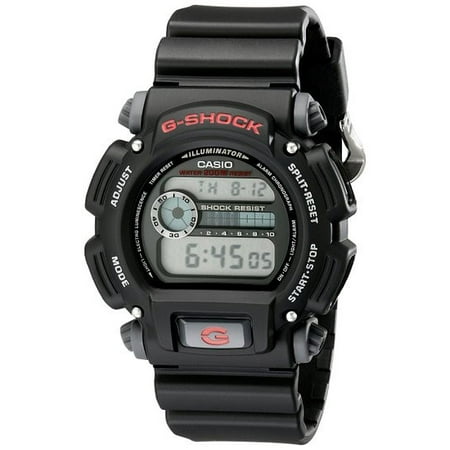 Sale :

$48.92

Sold & shipped by Walmart
Product Description

Additional Information

Reviews
Product Description
Get reliable form and function with the Casio Men's G-Shock Watch. The simply designed Casio G-Shock watch offers shock resistance that's great for your most vigorous sporting activities. The Casio men's watch's durable rectangular black watchcase measures 45mm wide and is matched to a comfortable black resin sports strap. The face has two opposing windows that show time and date, as well as a circular display for the stopwatch function, which can measure events down to 1/100 of a second for the first 60 minutes (and down to 1 second from 60 minutes to 24 hours). The Casio Men's G-Shock Watch also offers elapsed and split time modes, and 1st-2nd place times, and it includes a countdown timer with a 24-hour range. Other timekeeping features of this Casio men's watch include a multi-function alarm, hourly time signal that can be turned off and 12/24-hour formats. This Casio G-Shock watch also features an Auto Calendar, Afterglow backlighting and water resistance to 200 meters.
Additional Information
About this Casio Men's G-Shock DW9052-1VG Watch:
-Shock Resistant
-200 Meter Water Resistant (600 ft.)
-EL Backlight with Afterglow
-48.5 millimeters resin case with mineral dial window
-Quartz movement with digital display.
-Daily Alarm
-Countdown Timer
-Input range: 1 minute to 24 hours
-Measuring unit: 1 second
-Auto-repeat function
-1/100 second stopwatch
-Measuring capacity: 23:5959.99"
-Measuring unit: 1/100 second (for the first 60 minutes)
1 second (after 60 minutes)
-Measuring mode: elapsed time split time 1st-2nd place times
-Hourly Time Signal
-Auto Calendar (pre-programmed until 2039) 12/24 Hour Formats
-Accuracy: +/- 15 seconds per month
-Battery: 2 years on CR2016.
Reviews
Caleb
8 Years and Still Perfect
I give a little extra weight to long-ownership reviews of products so thought I would give my two cents here. Bought this watch over eight years ago as an honest-to-God impulse buy at my local Walmart. In the last eight years, I've subjected this watch to a very tough torture test. Heavy, day in and day out submersion into ocean water as a worked as a beach lifeguard in college, skydiving multiple times, several week-long hiking trips, extensive rock climbing, sub-zero conditions... I mean I could go on and on. This watch has been on my wrist in so many extreme conditions.. The fact it not only still works (with original battery), but has kept its look over this time surprises me. Not all well-made watches are hundreds of dollars. Just recently the movable overstrap that keeps the excess strap in place is starting to slowly rip, but I can just buy a new strap. I cannot recommend this product enough. This watch has been through everything with me and is responsible for the seemingly permanent watch tan on my wrist. I'll keep wearing mine until finally gives out, then I'll sure as heck buy another one.
taz13
Best I've owned !
After my service issued watch got busted in my first taste of combat, I bought one of these as a replacement. That was several decades and 5 wars back. After retirement it kept working just fine until I decided to retire it. If my second one last as good as I expect, I'll have to leave it to my nephew in my will. These watches take real beating without a moments trouble. My last one has been as high as 60.000 feet, and as deep as 270 feet. It was beaten on unmercifully and even took several close calls with I.E.Ds. If you want a watch that can take it better than you can, then buy one of these! The only problem, if you could call it a problem, is when you need to replace the battery it's best if you can find a Walmart or jeweler to do it for you. That can be a real beast if you don't have the right tools or know how.
dHHb
great watch
I work construction, which is destruction on a watch. This watch is solid, sturdy, and tough.
carrier77
Nice G-shock for the money
This was a replacement for my G-shock that cost more than twice what this did. I didn't expect much but I thought it was worth checking out. I was completely blown away when it arrived. It was just as advertised, an excellent value.
RussianBoy99
Great Watch
I really like this watch a lot because it is very durable wont scratch and is much more cooler than other watches i had. I had this for about 7 months now and really happy with the watch.